Losing your iPhone is a stressful experience, but there is a way to alleviate that a little. Take a deep breath and use Apple's security tools to track down your missing iPhone.
It's an unfortunate reality that smartphones are highly coveted targets for thieves. iPhones, in particular, are expensive and in high demand, which means they're a popular target for thieves. If your iPhone has been stolen, it can be a stressful and overwhelming experience. However, it's important to act quickly to protect your personal information and increase the chances of recovering your device. In this article, we'll discuss the steps you should take if your iPhone gets stolen.
Not to sound overly dramatic, but I think that sinking feeling that arrives the moment you realize your iPhone's missing is one of the worst feelings. Our phones are intrinsically personal, guarding our deepest secrets and personal information. Add to that the fact that losing a phone is a costly experience, and that feeling is compounded.
Should you find yourself frantically searching your pockets, backpack, purse or countertop for a missing iPhone, don't panic! Every iPhone comes with tools built into it that make it possible to secure your information and track down your lost phone with ease. Don't get ahead of yourself and feel comfortable quite yet. There are a few steps you can take to protect yourself, your information, and your phone.
Below I walk you through all of the steps you can and should take now, as well as what you need to do when your iPhone goes missing.
Step 1: Take a Deep Breath and Stay Calm
It's understandable to feel angry and upset if your iPhone has been stolen, but it's important to take a deep breath and stay calm. Panicking won't help you in this situation and may actually hinder your ability to take the necessary steps to recover your device. Take a few moments to collect yourself before proceeding.
Step 2: Use Find My to track your lost iPhone
The next thing you should do is use the Find My iPhone feature. This feature allows you to locate your phone, mark it as lost, and erase its data remotely. If you had previously enabled this feature, you can access it from any other Apple device by logging into your iCloud account and selecting Find My iPhone.
Once you access Find My iPhone, you can use the following options:
Locate Your iPhone
If your iPhone is still switched on and connected to the internet, you can use Find My iPhone to locate it. The app will show you the phone's location on a map. If the phone is moving, you can track its movements in real-time. This feature is helpful if you suspect that your phone has been stolen and you want to provide the police with its location.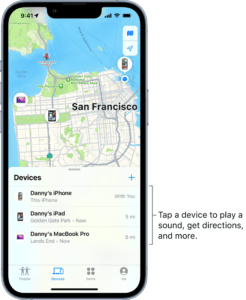 From another iPhone or an iPad
Open the Find My app.
If this is your device, tap on** Devices**, then select your iPhone. Otherwise, tap on **People **and then select your name.
You can see your device on the map, tap on** Directions** to get directions to your iPhone or even** Play Sound **(if using your own device) if it is nearby.
From iCloud
Either go to iCloud.com/find or go to iCloud.com, then select Find My.
Click on** All Devices**, then select your iPhone.
You can see its location on the map. Click Play Sound if you are close enough.
Put Your iPhone into Lost Mode
If you cannot locate your phone or suspect that it has been stolen, you can use Find My iPhone to put it into Lost Mode. This feature will prevent the thief from using your phone or accessing your personal information. You can also display a message on the lock screen to inform the thief that the phone has been lost and provide a phone number to contact you.
From an iPhone or iPad (that is yours)
Open the Find My app and select the **Devices **tab.
Select your iPhone.
Scroll down and tap on** Activate** under Mark As Lost.
Sign in, then click on All Devices.
Select your iPhone, then click Lost Mode.
Erase Your iPhone
If you cannot locate your phone or if you are concerned about the safety of your personal information, you can use Find My iPhone to erase the phone's data remotely. This feature will wipe all the data on your phone, including your contacts, messages, photos, and apps. Thankfully, if you were running at least iOS 15 (iOS 15 came out in late 2021) on your iPhone, you can still use Find My after you erase it.
You can erase your device from Find My (the app or at iCloud.com).
Using the Find My app on iPhone, iPad or Mac, launch Find My, then go to Devices. Select your iPhone. If you are using the Find My app on a Mac, right-click (Control-click) on your iPhone. Select Erase This Device.
From iCloud.com/find, click on All Devices, select your iPhone, then click on Erase iPhone.
Step 3: Contact Your Service Provider
The next step is to contact your service provider and report the theft. Your service provider can block your SIM card to prevent the thief from making calls or accessing your data. You can also request that your service provider cancel your contract or transfer your number to a new SIM card. However, you should be aware that canceling your contract may incur early termination fees.
Step 4: Contact the Police
If your iPhone has been stolen and you're able to track its location, do not attempt to recover it yourself. Doing so could lead to you or someone else getting hurt, and despite the importance of a phone, it's simply not worth it.
Instead, contact local law enforcement and let them know you need help recovering a lost or stolen phone that you've been able to track to a specific address.
The police can help you recover your phone and apprehend the thief. They can also provide you with a crime reference number, which you will need when making an insurance claim.
When reporting the theft, you should provide the police with the following information:
Your phone's IMEI number (you can find this number on your phone's box or by logging into your iCloud account and selecting Find My iPhone)
The date and time of the theft
The location of the theft
Any identifying features of the thief
Any witnesses to the theft
Step 5: Change Your Passwords
If your phone has been stolen, it is possible that the thief has accessed your personal information, including your passwords. Therefore, you should change all your passwords, especially those for your email and social media accounts. You should also enable two-factor authentication for your accounts to add an extra layer of security.
Step 6: Check Your Insurance Policy
If you have insurance for your iPhone, you should check your policy to see if it covers theft. Most insurance policies cover theft, but you may need to provide the police with a crime reference number to make a claim. You may also need to pay an excess fee, which is the amount you will need to pay towards the cost of a replacement phone. Make sure you read the terms and conditions of your insurance policy carefully to avoid any surprises.
Step 7: Remove your iPhone from your Apple ID
You should only do this if you're sure your iPhone is gone for good. (Also, don't do this if you've filed an insurance claim until it has processed.) You can do this from an Apple device or from appleid.apple.com.
From your own iPad or iPhone
On your own iPhone or iPad, launch Settings and tap on your Apple ID name at the top.
Scroll down to the bottom of the menu and you'll see a list of the different devices that are connected to your Apple ID.
Select the device you want to remove from your Apple account.
From the devices information page, tap Remove from Account.
Go to appleid.apple.com and sign in.
Click on Devices from the list on the left.
Click on your iPhone, then scroll down and select** Remove from Account**.
Step 8: Monitor Your Accounts
Even if you have changed your passwords, you should monitor your accounts for any suspicious activity. Thieves can use your personal information to commit identity theft and fraud. Therefore, you should check your bank accounts, credit cards, and other financial accounts regularly to ensure that there are no unauthorized transactions. You should also monitor your credit report to ensure that no new accounts have been opened in your name.
Step 9: Consider Buying a New Phone
If you cannot recover your stolen iPhone or if it has been damaged beyond repair, you will need to buy a new phone. You should consider buying a new phone from a reputable dealer and ensure that it comes with a warranty. You should also take steps to secure your new phone, such as enabling Find My iPhone, setting a passcode, and enabling two-factor authentication.
Conclusion
Losing your iPhone can be a stressful experience, but it is important to remain calm and take immediate action to protect yourself, your information, and your phone. If your iPhone has been stolen, you should use Find My iPhone to locate, mark it as lost, or erase it remotely. You should also contact your service provider, report the theft to the police, change your passwords, check your insurance policy, monitor your accounts, and consider buying a new phone. By taking these steps, you can reduce the risk of identity theft and fraud and ensure that you are back up and running in no time.
Good luck! We hope you never have to go through the emotional roller coaster of losing an iPhone, tracking it down and trying to get it back.