Don't miss all the hidden iOS 16 features coming to iPhone that not everybody is talking about.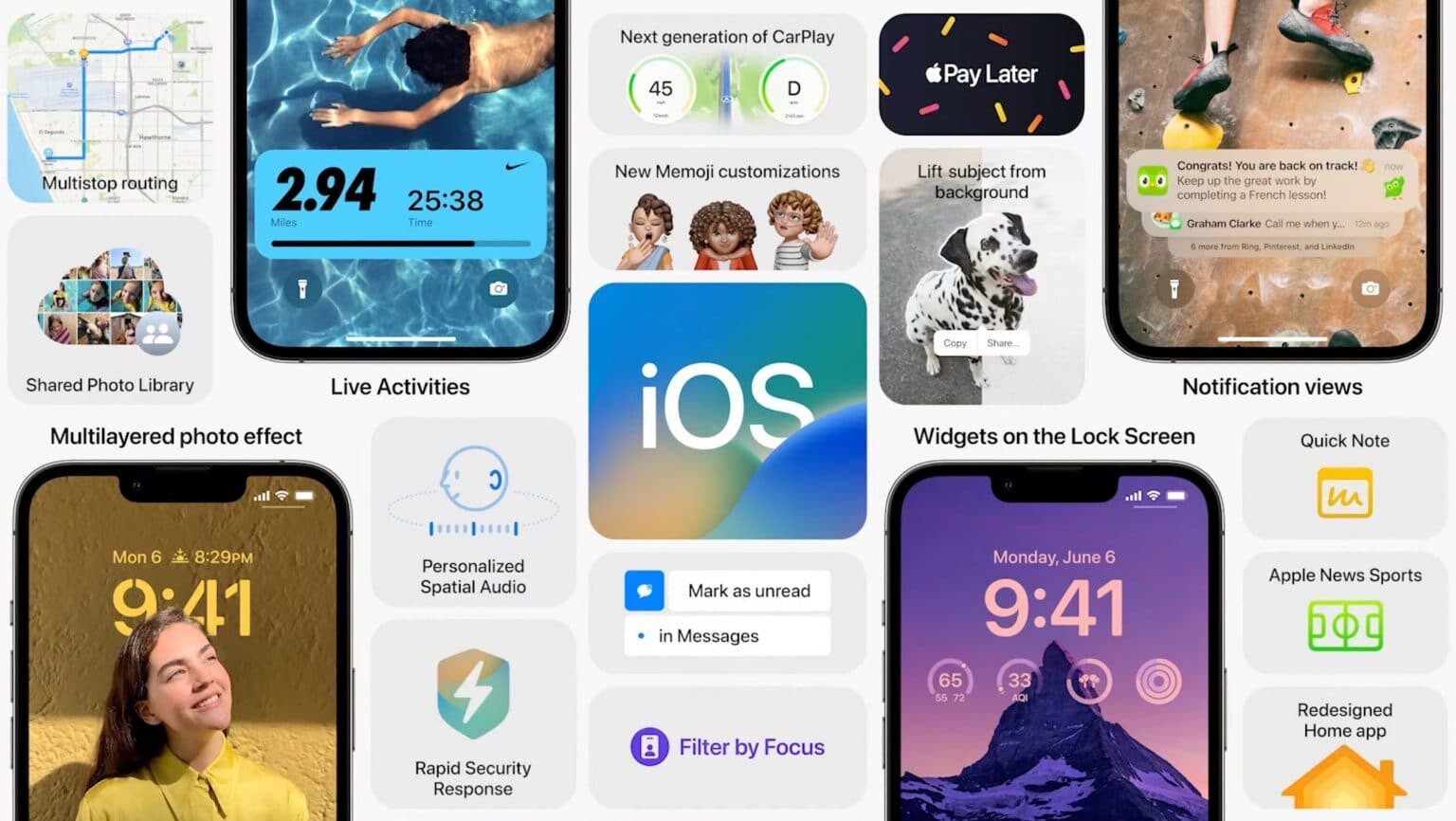 Every year, Apple reveals its latest software update in a very simple and straightforward way — touching mostly on the biggest features and settings. Unfortunately, this means that Apple glosses over what's under the hood, and that's somewhat true for the iOS 16 release this year.
Although you may have heard of the redesigned Lock Screen and cool new iOS 16 features like Live Activities. However, there are a lot of hidden features in iOS 16 that you may have missed from WWDC22.
I've been playing with iOS 16 on my iPhone 13 for sometimes now. After using the new operating system extensively, I've curated a list of these 16 best iOS 16 hidden features every iPhone user should know.
1. Face ID Gets Landscape Support
From iOS 16 on, you don't have to change the orientation of your iPhone every time you accidentally lock it while watching content. Face ID now works in landscape mode just as well as it does in portrait mode.
2. Apple Pay Later
With this hidden iOS 16 feature, you can split the cost of an Apple Pay transaction into four equal payments spread over six weeks. You make the first payment on the day of the purchase, whereas the subsequent payments will be due every following two weeks.
And the best part? There's no interest or additional fees involved. Plus, it works seamlessly wherever Apple Pay is accepted as a valid payment method (in the US). However, you'll need to add your driver's license or state ID to the Wallet app to use this feature.
3. All-New Dictation Experience
This little known iOS 16 feature lets you dictate while the keyboard stays on the screen so that you can switch between dictating and typing whenever you need to. Dictation will automatically insert punctuation to the text as you speak, and you can even insert emojis with just your voice. And if you plan to use this feature in the Messages app, you can now find it in the text entry field.
4. Live Text in Videos
Remember the handy Live Text feature that Apple introduced with iOS 15? You can now use this feature in videos every time you hit pause, which will be a game-changer for students who want to take notes quickly. Live Text can also recognize Japanese, Korean, and Ukrainian in photos and videos.
5. Drag and Drop Subjects With Visual Lookup
Apple's updated Visual Lookup feature in iOS 16 can separate subjects from the background of an image with a simple long-press action. You can use it to grab an object from a picture and drop it as a sticker into the Messages app, for example. Thanks to machine learning, you no longer need to spend time drawing outlines using third-party apps to get a sticker you want.
6. Spotlight on the Home Screen
This hidden iOS 16 feature lets you access Spotlight search from the Home Screen without swiping down or left. You'll find it right above the dock, which makes it easier to search for apps, contacts, documents, images, and more. Spotlight can fetch results using the information from images stored in Messages, Notes, and Files, like text, objects, people, and so on.
7. Fitness App for Everyone
Until now, the Fitness app was only available to users who paired their iPhones with an Apple Watch. Thankfully, the Fitness app will be included with iOS 16 even if you don't own the wearable. That's because you no longer need an Apple Watch, as the iPhone's motion sensors can track and fill up a move ring for you.
8. Safety Check
Safety Check is an all-new privacy feature designed to protect people in abusive relationships and ensure their personal safety. If your trust levels in a relationship change at any point, you can use Safety Check to quickly review and reset the access you've granted to your partner, like your personal data or location. The feature resets your privacy permissions and revokes access to your messages by signing you out of iCloud from all your devices.
9. Multi-Stop Routing and Transit Fares in Maps
Apple Maps gets a much-needed feature that users have requested for years. You can now add up to 15 stops along your driving route. And, with a Mac, you can plan multi-stop routes in advance, which seamlessly sync to your iPhone. You can also ask Siri to add additional stops to your route while driving without having to fiddle around with your iPhone.
Apple Maps can also show transit fares, so that you can see how much your journey will cost and make transit payments with your iPhone after linking transit cards to the Wallet app.
10. Passkeys
Apple is trying to kill passwords altogether with Passkeys in iOS 16, calling it an easier and safer way to sign in to your accounts. According to Apple, Passkeys are safe from phishing attacks and website leaks, as your private keys are never stored on a web server. In fact, Passkeys never leave your device and are specific to the site you created them for.
You can sign in to websites with your Passkey on non-Apple devices too, but you'll need an iPhone or iPad to scan the QR code and authenticate with Face ID or Touch ID.
11. iOS 16 can detect duplicate contacts
If your contacts list is like mine, it's a mess. Chances are you have more than a couple duplicates in there, either because you mistakenly added a contact twice, or you've moved phones. IOS 16 will quietly alert you to these duplicates, and will give you the option to delete them if need be.
12. Sort Playlists in Apple Music
Playlists are great, but in Apple Music, they're fixed in the order you created them. If you want to change things up, you'll have to open the editor and do it by hand. Now, with iOS 16, you can easily sort Playlists by title, artist, album, or release date.
13. See conversion options by tapping on the metric
When editing a document or note, you can tap on a metric to instantly convert it to something else. For example, if you tap on 50g, you'll see a conversion to kilograms, pounds, and ounces. If you tap on $US100 ($139), you'll see options to convert into a different currency.
14. Schedule Emails in the Mail App
Most users have always preferred the third-party apps to manage emails on iPhone. The pretty basic Mail app is changing with the iOS 16 updates. You can now schedule an email in the Mail app and cancel the delivery of a message before it reaches a recipient's inbox.
15. Set a Reminder to Check Emails Later
At times, you might want to check an important email later. You can now add a reminder to check messages in the future. Simply swipe right on an email and select Later. Ask the Mail app to remind in an hour, tonight, tomorrow, or later.
16. Search Improvements in the Mail App
iOS 16 brings the biggest overhaul to the search function in the Mail app. The updated search menu delivers relevant, accurate, and complete results. You can see recent emails, contacts, documents, and links the moment you start typing queries in the search bar.
Phew! Those were a lot of hidden iOS 16 features. It's no doubt that these hidden iOS 16 features Will Make iPhone Great. Which of these did you like? Let us know in the comments section below!