There are a lot of scams out there involving Apple products, and it's no different with the iPhone. In this article, we'll explain how to identify a fake iPhone 15 or iPhone 15 Plus and make sure you're buying the real thing.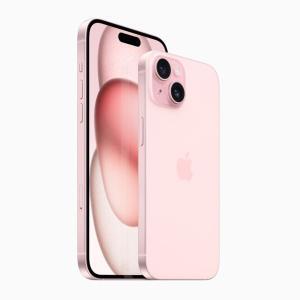 KEY TAKEAWAYS
The best way to tell if the iPhone 15 is fake is by entering it's serial number into Apple's "Check Coverage" website.
This website will tell you if the iPhone is registered in Apple's system, which all real iPhones are.
You should also pay attention to the details printed on the packaging and check if the phone is running iOS.
Did you find a deal on an iPhone 15 that feels too good to be true? Chances are it probably is—you can find iPhone 15 clones all over the internet. Unfortunately, scammers are getting better at manufacturing, marketing, listing, and selling these iPhone 15 imitations, making it more challenging to find an authentic product.
However, counterfeit iPhone 15 have a few tell-tale signs that you can look for. Below, we'll walk you through how to spot a fake iPhone 15 and iPhone 15 Plus. And if you discover your brand-new iPhone 15 isn't legit, we have tips and best practices to resolve the issue.
The first clue the iPhone 15 is fake is that it costs
Obviously, price is the biggest clue. If it seems too good to be true, it probably is.
Here's what various iPhone 15 and iPhone 15 Plus configurations cost in the United States:
| | |
| --- | --- |
| Model | Price |
| iPhone 15 – 128GB | $799 |
| iPhone 15 – 256GB | $899 |
| iPhone 15 – 512GB | $1,099 |
| iPhone 15 Plus – 128GB | $899 |
| iPhone 15 Plus – 256GB | $999 |
| iPhone 15 Plus – 512GB | $1,199 |
Take a good look at the box
One of the best ways to recognize a fake iPhone 15 is by looking at its packaging.
iPhone 15 boxes have UV labels
Scammers attempt to sell fake iPhones by using convincing replicated device packaging. Apple has added a new invisible watermarking system in an attempt to eliminate this practice.
These labels and QR codes can only appear under UV light. These holograms help customers and even Apple identify whether that sealed box is, in fact, genuine or not.
Simply shine a UV light on the iPhone 15 box to reveal watermarks and a QR code that helps verify device authenticity.
It's quite difficult for scammers to replicate this watermark. Although it's a small detail, it can be enough to stop someone from buying an iPhone 15 that isn't actually new or genuine. For example, some sellers repackage used or refurbished devices as new, using fake boxes that are replicas of the original ones made by Apple. These devices are then sold at like-new prices.
Inspect the phone box for spelling and grammar errors
Check the box for errors or manipulation that might signify a scam. There will be no spelling or grammar errors with a legitimate iPhone 15 box, nor will there be imperfections like pixellated or distorted images.
Test the unboxing experience
Even Apple's unboxing process is different now there's no plastic wrapping on your iPhone 15 box.
With its hinged lid, the fake iPhone 15 box is easy to open. The top of the real iPhone 15 box, on the other hand, must be shaken and wiggled free from the bottom half — a task that must be done fairly carefully when you're dealing with $1000-plus of easily broken glass and electronics.
Make sure what's inside the box is supposed to be there
Here's what you should get inside the box when you crack open your brand new iPhone 15:
iPhone 15
Braided Type-C to Type-C charging cable
User manual
SIM ejector tool
A couple of Apple stickers
If something is off — the USBC cable is USB-A or lightning rather than braided Type-C to Type-C charging cable, say — you know you have a fake iPhone 15.
Similarly, if you get a charging adapter, headphones or a screen protector inside the box, you have a fake iPhone 15.
Compare the data shown in the Settings app with what's printed on the box
After buying the iPhone 15, open it in front of the seller and check whether the data shown in the Settings app (such as serial number and IMEI) matches what's printed on the box.
Check Physical Details of the phone
Let's assume you've got the possibly fake iPhone 15 in your hand. Here are several things to check before you hand over the money. We can't be certain it's legitimate – it could just be a fantastic counterfeit – but these will rule out 95 percent of fakes.
Check the material of the phone
The iPhone 15 and iPhone 15 Plus features an aluminum body with textured matte-finish sides and a "color-infused" glass back. In general, the handset feels cool, smooth, and solid. Fake iPhone 15 have pconstruction that feels cheap.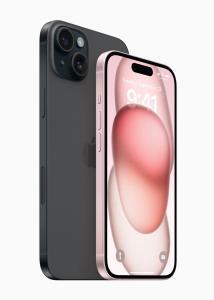 Check the size
The iPhone 15 and iPhone 15 Plus are available in 6.1-inch and 6.7-inch display sizes. This might seem like a simple detail for a counterfeiter to get right, but you'd be surprised: many fakes are thicker than the real thing, because it's so hard to match Apple's engineering capabilities.
If you've got scales, check the weight too. The iPhone 15 weighs 171 grams (6.02 ounces). On the other hand, the iPhone 15 Plus weighs 201 grams (7.09 ounces). A fake iPhone 15 or iPhone 15 plus may be heavier or lighter than the real thing.
Check the controls
Fake iPhone 15 devices often have weaker construction and a somewhat different design from genuine versions. As a result, you must thoroughly examine the iPhone's outside. Here are some things you should look out for:
At the top of the iPhone 15 are a front-facing built-in stereo speaker and microphone.
On the top left of the phone is the Ring/Silent switch.
Below the Ring/Silent switch are the iPhone Volume buttons.
Below the volume buttons you'll see a tiny hole. This is the SIM tray (available on models purchased outside the U.S.)
On the right is the iPhone Side button.
On the bottom of the phone is a USB-C port – so long Lightning – for charging and data transfer.
Microphones and speaker.
Your iPhone 15 is probably a fake if any of these controls are missing or positioned in an unexpected location.
Check the back of the phone
On the back of your iPhone, you should see two cameras. The tiny hole is the microphone, just like near the front camera. There is also a small textured circle; this is the camera's flash. Check these are present, and also that they work.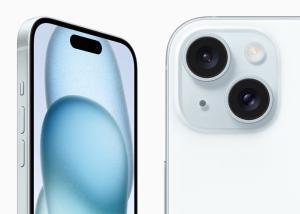 There should also be an Apple Logo in the middle of the phone rear. Fake Apple iPhone 15 may have differently positioned logo, or no logo at all.
Check the color
The color of the phone can also signal to you whether it's fake or genuine. iPhone 15 and iPhone 15 Plus comes in five stunning new colors: pink, yellow, green, blue, and black.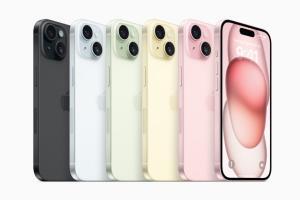 If you see iPhone 15 in any other color than these: it's fake, so don't buy it.
Power on the phone and try it out
Fakes are most easily identified by their inability to replicate the interface and general user experience of a genuine iPhone 15. Start it up and swipe through a few screens and apps: the touchscreen should respond near-instantaneously to your swipes.
Try to invoke Siri by pressing on the Side button; if she doesn't answer, it's either a defective iPhone or a fake. Next, check out the icons on the home screen: For example, if you see a Google Play app, it's not an iPhone. Or try tapping the App Store icon; if doesn't go to Apple's App Store, it's not an iPhone.
Verify the serial number
Apple runs a website that lets users check if their products are still under warranty. This is great for checking real products, of course, but it also has the added benefit of telling you when you're using a fake product.
To use the site, you'll just need your iPhone's serial number. To find your iPhone's serial number, open the Settings app and go to General > About. Here, you'll find the serial number of your iPhone. Now, long-press on the serial number and tap Copy.
Once you copy the iPhone's serial number, head to the Check Coverage website and enter it into the field at the top, then fill out the CAPTCHA and click Continue. Then, wait a few seconds for Apple to pull up the record for your iPhone from its database.
See the model and purchase date displayed on the screen and compare them to yours. If both credentials are accurate, your iPhone is genuine. However, if Apple says it has no information for a device with this serial number, it's probably a counterfeit. This is how you can tell if your phone is an authentic iPhone 15 or a counterfeit one.
Already bought a counterfeit or fake iPhone 15? What now?
It's not always possible to check iPhone's legitimacy with online sellers. Still, even if you end up with a dud handset, it's not necessarily the end of the road. So, what should you do once you have identified your new iPhone 15 is fake? If the online shop or Ebay seller is still active, a return or refund should be attempted. Usually sellers can be persuaded to reimburse the purchase price, although if some time has passed before you recognised the counterfeit nature of the product it may be a little more difficult.
To return an item for a refund on Ebay you should follow these steps:
Find the item in your Purchase history.
Select Return this item.
Give your reason for the return. You can add images to back up your claim.
If you purchased the fake iPhone 15 from somewhere else a similar attempt should be made to return them for a refund. Your payment method can offer a level of protection.
Try to avoid paying in cash due to the lack of a paper trail and the inability to recover payment. Credit cards are better than debit, cash cards, or bank transfers in this regard too. Your bank can usually dispute a transaction to obtain a chargeback. Always check your specific bank's terms and conditions and you may have to send in a dispute form to initiate the process. PayPal also offers inclusive buyer protection when buying through them, specifically covering knock-off goods and used products.
Most digital means of payment offer some protection against fraudulent merchants.
We'd also recommend trying to obtain proof of purchase and a detailed item description from the seller to act as evidence, just in case. It's also a good idea to familiarize yourself with the seller's reputation online via reviews and forum posts before committing to a purchase. A quick Google search ahead of time might save you lots of agony after the fact.
With all of the above in mind, you're now well prepared and protected against ending up with a fake iPhone 15 or iPhone 15 Plus. The chances of encountering one are slim, but it's always best to be prepared.
Got any tips to spot a fake iPhone 15? Hit the comments and impart your wisdom.
16 tips every iPhone 15 owner should know: Get up and running with your new iPhone 15 or 15 Plus with this collection of tips and tricks.