The iPhone 15 uses a lithium-ion battery that degrades over time, but, there are several tips you can follow to maintain its battery health.
Note, the tips in this article applied to iPhone 15, iPhone 15 Plus, iPhone 15 Pro, and iPhone 15 Pro Max.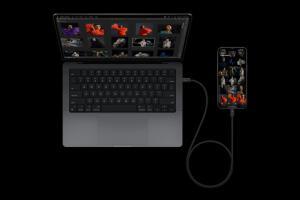 If you aren't quite sure what to do to help preserve your iPhone 15 battery health, who better to advise you than Apple? Below you'll find a few tips directly from the company that'll help keep you from having to replace your battery sooner rather than later.
And while we're on the subject of your phone, here are a couple of other iPhoneGeeks stories you'll want to peruse: Find out how to fix iPhone 15 battery drain issue, and check out how to fix iPhone 15 overheating problem. And now, on to the iPhone 15 battery health tips…
Turn on 80% charging limit on the iPhone 15 to save battery health
Though you can't overcharge a battery, you can put your battery under a bit of stress when you charge up to 100%. To help limit that strain, Apple has implemented a feature called "80% Limit" and is tucked within the deeper end of the iPhone 15's Battery settings. When toggled on, the iPhone will limit its charging capacity to 80% instead of the normal 100%. Capping the iPhone 15's charging to 80% reduces the likelihood of battery degradation.
To turn on 80% Limit on the iPhone 15, first, open up the Settings app and scroll down to the Battery tab. Then, tap on Battery Health & Charging.
Now tap into Charging Optimization and you'll be presented with three options:
Optimized Battery Charging: Prompts the iPhone to trickle charge up to 80% overnight and then tops up to 100% as you're about to wake up.
**80% Limit: **Caps the charging at 80%. Apple says the iPhone will occasionally charge to 100% in order to maintain a more accurate battery state-of-charge estimate.
None: Keeps the iPhone's charging capabilities flexible.
Tap on 80% Limit to turn it on.
Keep your iPhone away from extreme temperatures
The life span of your iPhone battery can be affected by extreme temperatures. A higher temperature increases the speed of chemical reactions inside the battery, which forces the battery to work harder and faster, thus also causing it to degrade faster.
According to Apple, it's important to avoid exposing your iPhone to temperatures higher than 95 degrees Fahrenheit (35 degrees Celsius) to avoid permanent damage. So, to preserve your iPhone 15 battery health, keep your phone out of hot temperatures. If you're at the beach, don't leave your iPhone on your towel in direct sunlight. Instead, toss it into a bag or put a shirt over it for protection. Also, don't leave your iPhone in the car for an extended period of time, especially if it's a hot day.
Apple does have a few settings to prevent overheating and damage, like disabling your phone or preventing further charging when your phone is too hot, but you don't want to rely on these features to maintain your iPhone 15 battery health. It's better to take preventative actions than wait for your iPhone to overheat.
You may need to take your iPhone out of its case
If your iPhone gets hot any time you charge it, you may need to take off your case before doing so. Certain cases, especially the bulkier and more protective ones, can trap heat and make the iPhone overheat, affecting the battery's life span.
Apart from removing the case, consider avoiding processor-intensive apps, like games, when your phone is charging. Using these apps while charging could also cause your phone to overheat.
Use high quality charger
Although it may not appear a big deal, chargers play an important role in maintaining good battery health. So, it is crucial to choose the correct charger for your iPhone 15. If you're using a charging adapter that isn't from Apple, look for the "Made for iPhone" logo.
If you see the logo on a charger, it means Apple has approved it for use with its products.
Similarly, make sure your cable is certified MFi (Made for iPhone), even if it's not sold by Apple.
Take these steps to protect iPhone 15 in long-term storage
Maybe you have several iPhones and want to stash your iPhone 15 for a bit. If you want to preserve the battery's health, you should do the following before putting it away:
Keep the charge at around 50%. You don't want your battery to be full or empty before you turn it off, or else it could stop holding a charge (if full) or lose capacity and have a shorter life span (if empty).
Turn your iPhone off. This prevents your phone from using up more battery.
Store your phone in a cool and moisture-free environment. Ideally, the temperature should be less than 90 degrees Fahrenheit (32 degrees Celsius).
If you're putting your iPhone away for longer than six months, turn it on and charge it to 50% every half a year.
If you store your iPhone 15 for a long time, it may be in a low-battery state, which just means you may need to charge it for 20 minutes before it turns on.