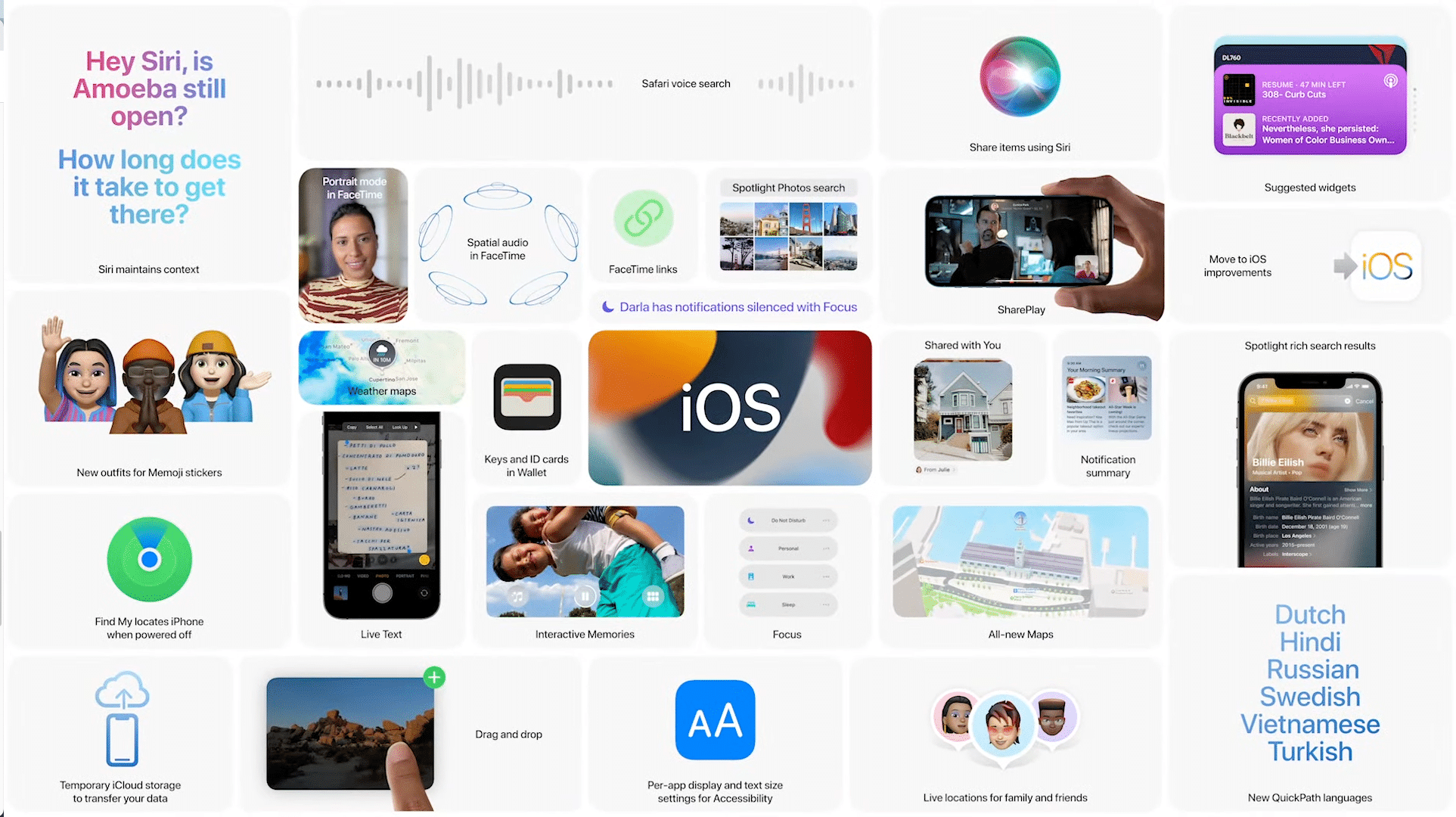 Apple's iOS 15 mobile operating system introduces a ton of new features, with far more custom options to tailor the experience to your needs. But updating to a new version can be anxiety-inducing. We're here to make the adjustment far easier with the best iOS 15 tips and tricks.
While you may already be familiar with some of the broader iOS 15 features, we've put together a list of 41 iOS 15 features, tips, tricks and hidden software tweaks that you'll want to test out as soon as you get iOS 15 up and running on your iPhone.
Here are the best iOS 15 tips and tricks to make the most of the latest iOS software update.
41 iOS 15 tips and tricks to help you navigate Apple's latest update with ease
Here is a list of the best iOS 15 tips and tricks that we think you need to know about:
1. FaceTime with Android and Windows users
This iOS 15 trick lets you bring Android and Windows friends into your FaceTime video chats. There is a new button to create a link for a FaceTime video, which can be shared with users on non-Apple devices. You'll need to let those users into the chat, too, so you don't have to worry about the link being passed on to other folks and random people showing up in the chat. Here's how this iOS 15 trick works:
Start the FaceTime app on your iPhone.
At the top of the screen, tap Create Link.
Tap 'Add Name' and give your FaceTime link an identifiable name.
Use the Share Sheet to share the link via Messages, Mail or any other installed app, or tap Copy to copy the link for sharing later.
Tap the newly created FaceTime call in the new 'Upcoming' section on the FaceTime app to join the call.
Now all you need to do is wait for your friends to click the link and join the call from their devices. You don't need to sit and wait in the call though; you'll also get a notification once your friends join the call, at which point you'll have to allow them to enter the call by tapping the green tick button that appears.
If you need to get the share link at a later date, simply tap the 'i' next to the scheduled FaceTime call and tap Share Link. It's also where you can delete the link if it's no longer needed. See this article if FaceTime is not working on your iPhone.
2. Identify animals, items and plants in photos
Your iPhone can identify and tell you more information about an animal, a landmark, a plant or an object, such as a book. There is a small icon at the top of photos in your gallery and, with a tap, it can identify a pet's dog breed and show you more information, for example. Or it can name a flower with some background on the plant. The feature is similar to the one that's been available on Android phones called Google Lens.
3. Block out messages and notifications at certain times with Focus
This iOS 15 trick is designed to allow notifications only from people and apps you've preapproved at a certain time.
The idea is that, when you just want to sit down and read, or don't want your phone buzzing after a certain hour, you won't see random apps spamming notifications or texts from people you don't need to hear from in the moment. And recipients will see if you're focusing, with a message that says, for example, "Todd has notifications silenced with Focus." If it's urgent, the sender can push the message through anyway.
By default, Apple offers multiple Focus profiles such as Home, Work, Driving, etc., to choose from. One can also go ahead and create a custom focus profile based on their requirements.
Simply open the Control Center and long-press on Focus mode. Select + at the bottom and choose Custom from the following menu. Here, you can give the Focus profile a relevant name, icon, color, choose people and apps you want notifications from when the Focus is turned on, enable/disable Time-Sensitive notifications, and customize the home screen just for that specific Focus profile.
4. Schedule your notifications
You can now have Notification Summaries sent throughout the day at times you choose. A Notification Summary basically groups together low priority notifications into an expandable bundle, so you don't see a million different notifications in a huge list on your Lock Screen. If you want to see all the things you missed, tap the summary to expand them. It also groups notifications from a single app (or, in the case of Discord, a single server), which is similar to what Android has been doing for years.
To set it up, head to Settings > Notifications > Scheduled Summary and toggle it on. You'll then be prompted to set up the system, adding the apps you'd like to contribute to the notification summary, and set the time(s) you'd like it to appear.
You can choose up to 12 summaries per day, and there are other configurable options including one that allows time-sensitive apps to break free from Notification Summary.
5. Search the web by voice
This iOS 15 trick lets you search the web by voice. Just tap a microphone button and speak what you want to search for, and Safari takes care of the rest.
6. Dial FaceTime call straight from the Messages app
Before iOS 15, making a FaceTime call from the Messages app was a two-step process. You had to tap the contact's profile photo and then select the video call button.
In iOS 15, you can directly dial a FaceTime call by selecting the video camera button at the top right.
7. Get real-time precipitation alerts
The Weather app and widget get some nice improvements in iOS 15, but the one we're really excited about is next-time precipitation notifications.
This was one of the marquee features of Dark Sky, an app and service Apple acquired in 2020.
To enable this, start the Weather app and tap the icon for the list of locations in the lower right. Then tap the "more" button (three dots) in the upper right, and select Notifications. You'll be able to toggle notifications for your current location and each saved location, independently.
With this enabled, you'll get a notification whenever rain or snow is going to start or stop within the next hour.
8. Smart List in Reminders
This one is one of our favorite iOS 15 trick. Reminders List has a new add-on called Smart List. And yes, it really is smart and delivers an ample amount of automation to play with.
While creating a list, you can turn it into a Smart list by setting up rules based on location, flag, priority, date, time, and priority. Only reminders containing the filters will be shown inside this Smart List.
9. Watch movies, TV shows and more with friends over FaceTime
FaceTime has new tricks in iOS 15. One is called SharePlay. Once you start a FaceTime video call with someone, or multiple people, you can open supported apps such as Disney+, Hulu, TikTok and others, and then watch a movie or TV show together. Viewers can pause or fast forward, and everything will stay in sync. You can even switch to chatting over iMessage while watching or share your screen. It works across iPad, Mac and iPhone.
10. Drag and Drop Across Apps
This one is another hidden iOS 15 trick that's useful in specific scenarios. Let's say you are writing an email and you want to attach a picture from the Photos app.
Instead of adding the image from the Mail app, you can open the Photos app, long-press on the image, keep it in a floating position with one hand. Use another hand and open the multitasking menu, select the Mail app, and drop the image there to send in the email.
Using the drag and drop trick, one can also move text, weblinks, and videos from one app to another.
11. Check Image EXIF Details in Photos App
This iOS 15 trick allows users to view image details such as location, time, size, and more from the Photos app.
Open the photo in the Photos app and tap on the 'i' button at the bottom.
You can see from where the photo was saved, date, time, camera MP, resolution, image size, ISO, capture speed, aperture, and location attached to the photo. One can also manually adjust the date and time for the photo.
12. Use a new Timer Picker Menu
Instead of endlessly scrolling in the time picker menu to select the specific time, you can now tap on it and add time using the number pad on the keyboard. It is one of those hidden iOS 15 tricks that has a big usability impact.
13. Use Siri offline
New on-device processing means you can ask Siri to do things such as set timers and alarms, open apps, control music, turn on the flashlight and more, all without requiring an internet connection. That means those tasks should happen right away, instead of with a slight delay. This feature requires the 2018 iPhone XS or newer.
14. Enable iCloud Private Relay
Private Relay hides your IP address and Safari browsing activity from network providers and websites so that no one, including Apple, can see who you are or what sites you are visiting.
It is basically a stripped-down VPN service on offer. Private Relay is only available with paid iCloud plans. You can enable the options from Settings > Profile > iCloud > Private Relay menu.
15. Create legacy contacts so they can access your account when you die
Digital Legacy in iOS 15 lets you securely pass down your data, such as photos, videos, notes, and other information, to trusted friends and family members. It will allow your closed ones to access your files after you're gone.
Here's how to add a Digital Legacy contact on iPhone running iOS 15
Start the Settings app and tap your name.
Tap Password & Security and select Legacy Contact.
Next, Tap the Add Legacy Contact button.
Now, again tap Add Legacy Contact button.
Type in your Apple ID password and sign in.
Search for your trusted contact and tap Continue. This will generate an Access Key for your account.
Anyone who tries to download your data will require this Access Key.
Tap Print a Copy and save the Access Key as a PDF.
You can share this Access Key to the trusted contact via email, WhatsApp, or your preferred method of communication. Remember that the trusted contact will be required to upload the Access Key at the time of data request, ensuring a cloud backup of the Access Key is available.
16. Create Tab Groups in Safari
This hidden iOS 15 trick is copied straight from Microsoft's Edge browser. Like Edge Collections, you can create a specific group containing web pages and give it a relevant name. It's really useful during research and shopping on the web.
When multiple tabs are open, tap on the Tabs menu at the bottom and select the New Tab Group from x Tabs option. Give it a name, and you are all set to sync the group across all the devices running the Safari browser.
17. Access Spotlight from Lock Screen
Spotlight search now uses intelligence to search photos by location, people, scenes, or objects. Using Live Text, Spotlight can also find text and handwriting in photos. Spotlight now offers web image search and all-new rich results for actors, musicians, TV shows, and movies.
Contacts search through Spotlight has also received a UI makeover. It now displays recent conversations, shared photos, and even their location if shared through Find My.
It's only logical for Apple to allow users to access Spotlight from other places as well. With iOS 15, you can take advantage of Spotlight search from the lock screen. Use the same swipe-down gesture on the lock screen and start using the Spotlight search. This is one secret iOS 15 trick that's bound to make your life easier on a daily basis.
18. Drag Apps from Spotlight to Home Screen
In iOS 15, it is possible to drag an app from the Spotlight search or suggestions and place it right on the home screen.
19. Remove Person Suggestion from Memory
Users can already select Suggest Fewer Memories Like This when viewing a memory in the For You section of ‌Photos‌ or remove a photo from photo suggestions entirely, but now you can choose to feature a specific person less often.
suggest a person less
When viewing the For You section of the ‌Photos‌ app, you can long-press on the photo with a person and select the Feature a Person Less option to prevent that person from popping up as often. The Remove From Featured ‌Photos‌ option prevents a specific photo from reappearing.
20. Change Text Size Per App
In iOS 14, you can change the text size across all the apps. iOS 15 now allows you to keep the text size change to a specific app only. Make sure to keep the app open while using the Text Size toggle from the Control Centre.
You can either keep the changed text size to the app only or apply the change to all apps on the iPhone.
21. Bulk Edit Date and Time in Photos
As we mentioned above, one can change the default date and time in a specific photo in the Photos app. You can also select multiple images in the Photos app and select the Share button at the top.
edit image details
Select Edit Date & Time from the following menu and change details.
22. Email from Camera
This one is a part of Apple's Live Text feature. When you try to compose an email in the default Email app, the keyboard will offer an option to scan the email ID using the default camera on the iPhone.
Use the Email from Camera button and it will open the camera interface right into the Email app. Scan the email ID from a visiting card or billboard and the Live Text function will automatically read and add the email address in the Email app.
23. Turn off Private Relay for Specific Wi-Fi Connection
In iOS 15, you can hide your device's IP address from third-party trackers and all websites. This will prevent your data from being tracked. To enable this, simply open the Settings app on the iPhone and tap on Wi-Fi > Wi-Fi network and turn off iCloud Private Relay from the following menu.
24. Use Enhanced AirPrint
In a surprising move, Apple has dramatically improved the AirPrint Interface with new options and features. When you try to print a document or webpage, the printing interface will offer new options, including presents, copies, orientation, and more.
25. Change playback speed in in-built iOS media player
YouTube allows you to stream videos at 2x speed. However, not all websites offer this functionality. There's a new hidden trick in the default media player of iOS 15 that lets you change playback speeds. Tapping the three dots in the media player in the iOS 15 media player reveals a new option called Playback Speed. By using it you can change your video's playback speed to 1.25x, 1.5x, and so on.
26. Remove Home Screen Pages
With iOS 14, Apple offered an option to hide home screen pages on the iPhone. With iOS 15, you can remove home screen pages entirely from the default interface.
Long press on empty screen on the home screen and select dot menu above the Dock. First, disable the home screen page that you want to hide and tap on the '–' icon at the upper left corner to remove the home screen page.
27. Convert Live Photo into Loop, Bounce, and Long Exposure
Another iOS 15 tip lets you convert a Live Photo into Loop, Bounce, and Long Exposure directly within the Photos app. When you capture a Live Photo, tap the little downward arrow next to it to convert it into Loop, Bounce, or Long Exposure.
28. Track iPhone offline
This is one of the best tricks in iOS 15. When you power off the iPhone, the device will go into a Power Reserve mode that makes it perform like an AirTag. During Power Reserve mode, your iPhone can be tracked via Find My app on other Apple devices.
This is really handy if someone steals your iPhone and turns it off. You can still track it via the Find My function from the other Apple device. According to Apple, users can track the iPhone event after a factory reset.
29. Organize Your Notes
If you're a heavy Notes user, then you'll be happy to try this iOS 15 trick. You can now use hashtags to more conveniently sort and categorize your random braindumps. If you're someone who uses Shared Notes, you can also @ other users and view edit history in a new Activity section.
30. Translate anywhere
With this iOS 15 trick, you can translate the text on the go. Simply select the text you want to translate and select Translate. A window with translated text will appear.
31. Hide IP Address from All Websites
This iOS 15 trick allows you to hide IP address from both the third-party trackers and websites. Open the Settings app on the iPhone and go to Safari > Privacy & Security > Hide IP Address and select Trackers and Websites from the following menu.
32. Share things with Siri
One result of ‌Siri‌'s increased contextual awareness is its ability to help you share whatever's on your iPhone screen with someone else via a Message, be it a website in Safari, a song in Apple Music, a photo, or just the local weather forecast.
To share something at any time, say "Hey ‌Siri‌," then "Share this with [person]." ‌Siri‌ will spring into action and confirm your request by asking "Are you ready to send it?" At that point, you can either say yes/no, or you can add a comment to the message using the input field and then hit Send.
If it's something that can't be shared directly, like the weather forecast, ‌‌Siri‌‌ will take a screenshot and send that instead. All you have to do is say "Share this with [person]," and ‌‌Siri‌‌ will take the screenshot, then confirm the request with you in the same way.
The feature works with ‌‌Apple Music‌‌, Apple Podcasts, Apple News, Maps, Safari web pages, photos, Messages, and more.
33. Use the FaceTime Portrait effect in other apps
The new feature called "Portrait" in FaceTime on iOS 15 is not exclusive to FaceTime, but can also be used to blur the background in video calls made through other apps like WhatsApp, Messenger, Zoom and other Snapchat.
To use this iOS 15 trick is very easy, just start playing a video in a third-party app like Zoom, Webex or others and view the control center. From there, you will have two buttons to choose your preferred video and microphone effect on the go.
Click on "Video Effects" and select the desired video effect.
Click on Microphone Mode and choose the desired sound effect.
34. Record App Activity
Apple has implemented a an iOS 15 trick that lets you see how apps access your iPhone's resources like the camera or microphone. You can even see the websites to which the apps upload your data.
To enable this,
Head to Settings > Privacy.
Scroll down and enable Record App Activity.
After some time, this section will start showing a report of app behaviors.
35. Set background Sounds on your iPhone
One of iOS 15 tricks that Apple has introduced is Background Sounds, which is designed to help you stay focused, stay calm, and minimize distractions with the help of your iPhone.
The Background Sounds on offer include balanced, bright, and dark noise, as well as natural sounds like ocean, rain, and stream. All of the sounds can be set to play in the background to mask unwanted environmental or external noise, and the sounds mix into or duck under other audio and system sounds.
Here's how to enable Background Sounds on iOS devices running ‌iOS 15‌.
Start the Settings app on your iPhone.
Tap on Accessibility.
Under "Hearing," tap Audio/Visual.
Tap Background Sounds.
Tap the switch to turn onBackground Sounds.
Tap Sound to choose a sound effect.
Choose from Balanced Noise, Bright Noise, Dark Noise, Ocean, Rain, and Stream.
Your iPhone will need to download individual sound effects when you play them for the first time, so make sure you have an internet connection, but after that you can play the background sound whether or not you're online.
36. Turn off Private Relay for specific Wi-Fi Connections
There is another iOS 15 trick related to Private Relay. Private Relay is a part of Apple's iCloud+ subscription and prevents third-party trackers from tapping into your internet connection. However, this might slow down your internet in some cases.
If you feel that Private Relay lags your internet connection, you can turn it off for your Wi-Fi connection. Here's how:
Go to Settings > Wi-Fi.
Press the 'i' button next to the connected Wi-Fi.
Now, scroll down and toggle off iCloud Private Relay.
37. Use temporary iCloud storage to setup a new device
When you buy a new device and use iCloud Backup to transfer your data, iCloud will temporarily grant you as much storage as you need to complete a backup, free of charge, for up to three weeks. This allows you to get all your apps, data, and settings onto your device automatically without paying for storage you'll only need once.
38. Use Widget suggestions
When you create a widget stack in iOS 15, a new Widget Suggestions option comes up. Widget Suggestions will automatically suggest new widgets for your stack based on your usage and preferences. This is a really neat iOS 15 hidden trick that can help many people!
39. Move Safari's address bar back to the top of your screen
While placing the address bar at the bottom of the screen makes it easier to get around Safari and browse the web because all of the buttons are closer to your thumb, the change isn't ideal for everyone. And Apple is giving you a choice in the matter by allowing you to move the address bar back to the top of the screen.
When using Safari on your iPhone, tap the Aa button on the address bar (don't long-press, just a tap is fine). At the top of the menu that shows up you'll see a new option labeled Show Top Address Bar. Tap it to move the address bar up top.
40. Live Text from Camera in Safari
Live Text is a useful iOS 15 trick. It makes copying text easier. However, did you know you can directly open the website and emails using Live Text?
Start the Safari app on your iPhone.
Tap the address bar and select Text from Camera.
Now, scan the website's address.
Boom! It will directly open the website on Safari.
41. Set Account Recovery contacts on iPhone
Forgetting your password or otherwise losing access to your Apple ID sounds like a nightmare. The last thing you want is to buy the best iPhone and not be able to connect our device to your Apple ID. Thankfully, an iOS 15 trick gives you the ability to set up recovery contacts, which allow you to designate certain people to help you recover your Apple ID in case you lose access to your account for some reason. Here's how:
Start the Settings app from your Home Screen.
Tap your name at the top of your screen.
Select Password & Security.
Tap on Account Recovery.
Tap on Add Recovery Contact.
Tap on Add Recover Contact on the pop-up information page.
Unlock your device with Face ID or Touch ID.
Type in your Apple ID password.
Follow the on-screen instructions.
Your Favorite iOS 15 Tips and Tricks
So these were some of the best iOS 15 tips and tricks you would love to try on your iPhone today. Apart from these iOS 15 tips and tricks, GeeksModo has compiled a list of 30+ Best iPhone 13 and iPhone 13 Pro Tips and Tricks so be sure to check out his post as well to learn more about your new device. What are some of your favorite tips and tricks for iOS 15? Share with us in the comments below.