Wondering how to close apps on your iPhone 15? It takes just a couple of swipes and a few seconds.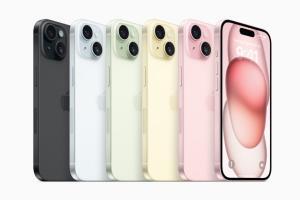 Note: information in this article apply to iPhone 15, iPhone 15 Plus, iPhone 15 Pro and iPhone 15 Pro Max.
On a day-to-day basis, there's not much reason to "close" apps on an iPhone 15. When you stop using an iOS app, it goes into a kind of suspended animation, waiting for you to summon it again. Many people believe that having apps open all the time drains their battery and/or performance, but because of Apple's design, that's a myth.
It's genuinely worth force-closing an app if it's sluggish or freezing, though. Here's how to close an app on the iPhone 15.
QUICK ANSWER
To close an app on the iPhone 15:
Swipe up from the bottom of the screen to about a third of the way up, then let go.
In the app switcher, swipe left or right to find the app you want to close.
When you've located it, swipe it all the way up, dragging it offscreen.
How to close apps on the iPhone 15
Apple's gesture-based control scheme might be intimidating if you're not used to recent versions of iOS, but it quickly becomes second nature, even muscle memory.
First, swipe up from the bottom of the screen. You don't have to swipe all the way — maybe to about a third of the way up, half at most. When you do, you'll see small windows for each open app. This is the app switcher.
When the app switcher screen appears, you'll see a gallery of thumbnails that represent all the apps currently open or suspended on your iPhone. Swipe through them left or right to browse through the apps.
When you locate the thumbnail of the app you want to close, quickly flick the thumbnail upward with your finger, toward the top edge of the screen.
The thumbnail will disappear, and the app will be forced to close. The next time you launch the app, it will reload completely. You can repeat this with as many apps as you'd like on the app switcher screen.
If you're still having trouble with an app after forcing it to close, try restarting your iPhone 15. You can also perform a system update or update the app itself.
When to close iPhone apps
As we hinted in the intro, the only time it's actually necessary to close iPhone apps is when they're slow, freezing, or otherwise unresponsive. This forces them to launch fresh the next time you open them, rolling back temporary settings and/or cached data that might be giving them problems.
16 tips every iPhone 15 owner should know: Get up and running with your new iPhone 15 or 15 Plus with this collection of tips and tricks.