The iPhone 15 is now available, but you probably have questions about it. Namely, can iPhone 15 take pictures under water? Here's what you need to know about this Apple phone's water resistance.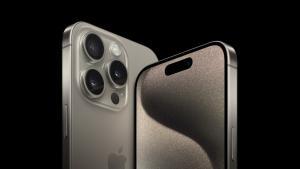 QUICK ANSWER
The iPhone 15 has a water resistance rating but is not waterproof, so it cannot take pictures underwater without a waterproof case.
The iPhone 15's water resistance is limited to fresh water and will not protect against damage in salt water or chemically treated pools.
Water damage is not covered under warranty, so if you damage your iPhone 15 by submerging it without a case, you will have to pay for repairs.
One of the most common things that people do with an iPhone is take pictures. Of course, most pictures are taken above water, but if you're wondering if the new iPhone 15 can take pictures underwater, the answer is no, it does not, at least without a waterproof phone case. While the iPhone 15 has a water resistance rating, it's not waterproof. This means if you submerge your iPhone 15, iPhone 15 Plus, iPhone 15 Pro or iPhone 15 Pro Max underwater to take photos without putting it in a case, you'll risk damaging it. You will have to invest in a waterproof case if you absolutely must take your iPhone underwater for whatever reason.
iPhone 15 Waterproof Rating
The iPhone 15 has an ingress protection rating of IP68. It can be submerged in up to 6 meters of water for up to thirty minutes.
Every iPhone since the iPhone 7 has received an ingress protection (IP) rating to assess its water-resistance. Every IP rating has two digits.
The first digit ranges from 0–6 and measures a device's protection against solids, such as dust and dirt. The second digit ranges from 0–8 and measures a device's protection against liquids. A score of 8 means the device can be submerged beyond one meter of water, with the exact distance and time of submersion specified by the phone manufacturer.
However, it is important to note that IP ratings are not permanent. Like any other phone, the iPhone 15's water resistance will degrade over time. That's due to a few factors. Namely, they rely on tightly packed parts glued in place, which prevents water from reaching the components. But normal usage can shift and slide these components around, not to mention accidentally dropping your phone or knocking it against something. These will all cause the water resistance of any phone, including the iPhone 15, to degrade. Furthermore, the iPhone 15 has openings, such as a USB-C port, where water could still make its way in. And once the tightly-packed components move around and the glue breaks, water is free to contact almost anything inside.
Can iPhone 15 Take Pictures Under Water?
The iPhone 15 can not take pictures underwater unless you invest in a quality case that seals the phone and keeps it secure from water damage.
You might be OK with a simple plastic case in shallow water. Heavier-duty aluminum cases with a fully waterproof seal or mounting systems and lens attachments could be even better, depending on the type of photos you want to capture.
Can I Use My iPhone 15 Underwater?
We don't recommend using your iPhone 15 underwater. An iPhone's water-resistance wears down over time. Most people want to use their iPhone as an underwater camera, but they weren't really designed to do that.
Keeping Your iPhone Safe Around Water
If you plan on bringing your iPhone 15 to the beach or pool frequently, consider getting a waterproof phone case. These are basically sealed pouches that keep water away from your phone while letting you use the camera, touchscreen and other controls.