Is your iPhone camera not working after iOS 17 update? Here's how to troubleshoot the issue.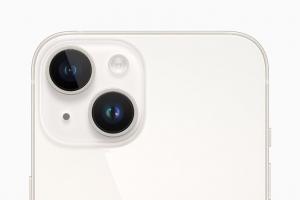 If your iPhone camera is showing a black screen when loaded, is slow or lagging when you tap to snap, freezing, or is having other performance issues after iOS 17 update, you can fix it in just a few minute.
If your iPhone camera is not working after an iOS 17 update, it's almost always a software issue, not a problem with the lenses or sensors.
Here's what you can do to fix it:
Quick fixes
If your iPhone camera is not working after iOS 17 update, there are a few simple ways to fix it:
First, make sure your iPhone camera isn't physically blocked by a case, another surface, or even your own fingers.
You can also switch camera modes, restart the Camera app, update to the latest iOS, or reset your iPhone to fix it.
Switch cameras
Toggling from the forward-facing to the rear-facing camera usually resets the Camera app, bringing the view through the selected lens back into focus.
Restart the camera app
While Apple's motto is "it just works," sometimes it doesn't. Apple isn't perfect, so its operating systems certainly aren't immune to glitches from time to time — sometimes they aren't properly loaded up when launched. If camera does not work after iOS 17, you should try force quitting the Camera app and relaunch it. This is how the Camera not working after iOS 17 update problem usually resolves for me. Here's how:
Double-tap the home button on an iPhone SE (2nd generation) or earlier, or swipe up from the bottom of your screen on an iPhone XR, iPhone XS, iPhone 11, iPhone 12, iPhone 13, iPhone 14 or higher and then swipe up to close the camera app, and relaunch it seconds later. This will usually get it to work properly.
Restart your iPhone
If the camera app is still glitchy after trying the above solution, shut your iPhone down and wait a minute, then power it on and try again. . A good reboot of the hardware fixes an array of issues and could be what your iPhone needs. After all, a reboot refreshes the device's memory and clears caches. Here's how:
Go to settings > General > Shut Down.
Update iOS
If restarting your iPhone didn't fix the camera problem, try updating your device to the latest version of iOS 17. . Not only do new versions of iOS patch previous issues, but they also make your phone more secure and less vulnerable to security exploits. Here's how:
Go to Settings > General > Software Update.
Reset all settings
Still no luck? Then reset all settings on your iPhone. In the Settings app, go to General, then scroll down and tap Transfer or Reset iPhone. On the next screen, tap Reset. Choose Reset All Settings and confirm.
Reset your iPhone to factory settings
If your camera is still not working and you've done all the solutions listed above, you should try resetting your iPhone to it's factory settings. This should be your last resort when it comes to fixing camera issues on your iOS 17 device. When you do a factory reset, it will erase all data stored on your iPhone. Before attempting this solution, make sure that you have backed up your iPhone. Otherwise, everything that is stored in your phone will be wiped and you won't be able to recover them easily.
Go to Settings.
Go to General.
Tap on Transfer or reset iPhone.
Tap on erase all content and settings and follow the onscreen instructions.
Contact Apple support
If you have restored your iPhone to its factory settings, but your camera is still not working, then it may be an issue with your hardware. The only way to fix that is to contact Apple support. If your iPhone is still under warranty, Apple can repair it free of charge. On the other hand, if the warranty has already expired, look for an authorized repair center to see what they can do. Alternatively, wait for the next update to see if this will work on your device too.
Camera not working after iOS 17 update: Fixed!
It's frustrating if you're iPhone camera stops working after iOS update, especially when you need it for calls, taking photos for your work, and the like. Fortunately, there are several solutions that may help fix this issue without having to take your device to an Apple Store just yet. Since there are different reasons for your iPhone's camera to not work, it would be a good idea to try out the fixes mentioned above to see which one works for your device. On the other hand, if your camera is still not working, you can always have it fixed by a professional.