If Wi-Fi is not working on your iPhone 14 Pro Max, follow these troubleshooting steps to get it working again.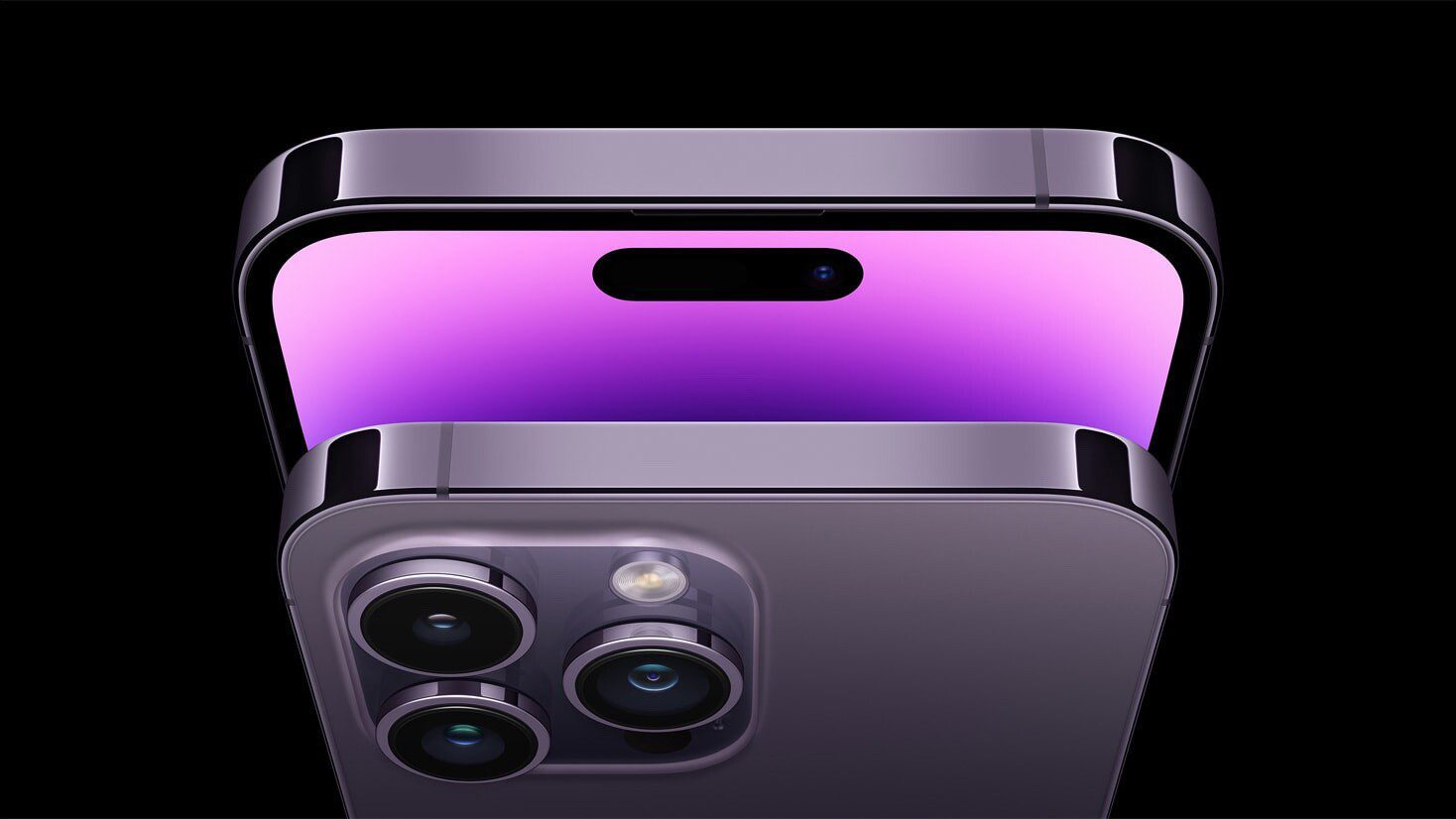 Note: Instructions in this article apply to iPhone 14, iPhone 14 Plus, iPhone 14 Pro and iPhone 14 Pro Max
Since you need a network connection to make the most of your device, it's frustrating when your iPhone 14 Pro Wi-Fi won't work. You'll instead have to use your data plan, which might be limited.
Let's walk through the steps to fix the problem when Wi-Fi is not working on your iPhone 14 Pro Max.
How to Fix Wi-Fi not working on iPhone 14 Pro Max
Without further ado, let's jump into possible solutions for your iPhone 14 Pro Max Wi-Fi problems and fix them so that you can get online quickly.
1. Make sure you are in range
Before we get into the techy stuff, you want to ensure that you have good WiFi signnal. A lot of the time, your router's signal may be poor. If your home or office has a lot of metal, walls, or other objects that could interfere with wireless signals, then you might have a shorter range bubble than you think.
You can check your signal by looking in the Status Bar – three Wi-Fi bars is optimal, two is okay, and one is poor. Sometimes, you might have none at all and it'll show LTE, 4G, 3G or E instead; this indicates you're on a cellular network instead of a Wi-Fi network.
When your signal is too poor, your device will have trouble transmitting data back and forth with the router, and so you want to make sure you're close enough to the wireless router to do so.
Many users have issues with a weak Wifi connection; this can happen if you are too far from your Wi-Fi router. Consider moving your router to a new place or moving closer to your network router. This will strengthen the connection and make your web pages load faster. If you are still experiencing Wi-Fi problems on iPhone 14, move on to the next solution.
2. Make sure Wi-Fi is turned on
If the problem still exist after testing with above method, the next step is to make sure Wi-Fi is turned on,. You can do this by going to Settings > Wi-Fi and make sure the toggle is set to on position. You can also open Control Center by swiping down from the top right of the screen. Just make sure that Airplane Mode is disabled and that Wi-Fi is turned on.
In Control Center, an item that is toggled on will appear to glow lighter than toggle buttons that are toggled off, which are dimmed out.
You may also want to ensure that your wireless router is turned on. Although not very often the case, there is always a possibility that a reset switch or a power surge may have knocked it off and that it may have been shut off and needs to be restarted.
If everything appears to be turned on, then you can move on to the next solution.
3. Toggle off WiFi Assist
iPhone 14 Pro Max includes a feature called Wi-Fi Assist, which provides more reliable Internet connections when your WiFi network becomes spotty. However, this can cause issues, particularly if your ISP has patchy connectivity.
If you find your iPhone 14 Pro Max WiFi Dropping Out, you should turn off Wi-Fi Assist by going to Settings > Cellular (Mobile in some regions). From there, scroll down to the bottom, where you will see Wi-Fi Assist. Tap on the toggle to turn it off.
4. Check the date and time
Make sure that the date and time on your iPhone are set correctly for your time zone. You can check this by going to Settings > General > Date & Time. If the date and time are incorrect, update them or turn on the option to set date and time automatically.
If date and time settings waren't the root of your problems, move on to the next solution.
5. Make sure everything is plugged in properly
Next thing you want to do to fix Wi-Fi not working on iPhone 14 Pro Max issue is to check your modem, power cables, and ethernet cables to make sure that everything is connected properly.
Sometimes pets, movement of furniture, and kids can break or undo important wiring that is required to have internet access. In cases where wires are disconnected, the wireless router may still broadcast a signal, but it'll be a dead signal because the router may not have access to your internet.
This is common when the modem becomes unplugged, and not the router, but many modern routers, such as those given out by Verizon, have a modem built into them. For those, the only thing you really need to check is that the coaxial connection is there, because if the power cable wasn't, the router wouldn't even be on and you wouldn't have gotten past step 2!
If everything is plugged in, move on to the next solution.
6. Restart your iPhone
Don't give up just yet. This may sound like a cliché fix, but the next thing you'd want to try to resolve iPhone 14 Pro Max Wi-Fi problems is simply to restart your phone. You can restart your iPhone 14 Pro Max as well by pressing and holding the Side and Volume Up button, and then sliding the "Slide to power off" slider.
This might be the oldest trick in the book, but it still has the miraculous ability to solve mysterious connection problems. If your iPhone 14 Pro Max connects to the Wi-Fi after restarting it, it could be a temporary glitch. If it doesn't, don't fret, there are more things you can try!
7. Restart your router
If you find Wi-Fi not working on iPhone 14 Pro Max after trying the above solutions, restart your router and modem.
There are a number of reasons why this can work: your router getting bogged down with too many connections, too many different users on the network, and your internet service provider changing your
IP address
without your router catching up.
But you don't really need to know the why if it means fixing your iPhone 14 Pro Max Wi-Fi problems.
If your networking devices have a physical power button, turn both of them off for at least a minute. If your equipment doesn't have a power button, pull the power plug instead. wait 30 seconds, then plug your cable modem back in and then your wireless router.
Also, confirm all your equipment is plugged in and the lights on your modem and router aren't flashing red or similar. If you're trying to connect to a public network that won't appear, speak to its administrator.
8. Forget and then Rejoin WiFi Network
When there is no proper explanation for the error you're facing, forgetting and rejoining the Wi-fi on your iPhone 14 Pro Max might do the trick. Simply navigate to Settings > Wi-Fi > tap on the name of your network or the blue "i" next to it. Then, choose "Forget This Network" and confirm. Now, go back and log in to the Wi-Fi network again.
Note: Do not do this step if you don't know the Wi-Fi password.
9. Turn Off VPN
Are you using a VPN on your iPhone? It might be the reason behind the Wi-Fi not working on iPhone 14 Pro Max issue. So, if the above tricks haven't fixed this problem, try disabling the VPN to see if it solves the problem. To get it done, go to Settings > General > VPN & Device Management. And then, turn off the toggle for active VPN.
10. Disable iCloud Private Relay
There's a Private Address feature in iOS that helps the chances of your iPhone being tracked across different Wi-Fi networks by using a random MAC address every time. However, this could potentially cause connectivity issues with some public Wi-Fi networks. While not recommended, you can disable Private Address from Settings > Wi-Fi > [Wi-Fi name].
Similarly, if your iPhone is connecting to a Wi-Fi network but the internet is working too slow, disable the new iCloud Relay feature in iOS 15 by going to Settings > Your Name > iCloud > Private Relay to see if that solves the connectivity issues.
11. Check for iOS Software Updates
Is there pending iOS update you haven't installed yet? Try upgrading to the latest version of iOS if the Wi-Fi is giving you fits. There could be bug fixes in there that will clear up your problem. To make sure your iPhone is running the latest version of iOS: head over to Settings > General > Software Update.
12. Update Router Firmware
No solution as yet? Now, it's time to look beyond the usual stuff. The outdated firmware of your WiFi router might be the cause of your iPhone 14 Pro Max Wi-Fi not working issue. If you haven't updated it for a while, it would be wise to get it done as it might solve the problem. The instructions for doing this vary by device, so try a Google search for your model, or consulting the manual, for help.
13. Reset your iPhone's network settings
If non of the above methods fixed your iPhone 14 Pro Max Wi-Fi problems, the next step is to reset all the network settings on your phone. Go to Settings > General > Transfer or Reset iPhone > Reset > Reset Network Settings. This will set everything network-related on your iPhone, including Wi-Fi, Bluetooth, and any VPNs, back to their default options. It's a bit of a pain to set everything back up, but it's one of the best troubleshooting step to fix iPhone 14 Pro Max Wi-Fi problems.
14. Reset all settings
When all else fails, you may try one last option before reaching out to your Internet Service Provider, and that is to reset all your iPhone settings. It may be the oldest trick in the book but it can work.
And if it doesn't – and you've exhausted all your other options – this may be a clue that your
connection problems are hardware related, either on your iPhone or at the router. To do this, go to Settings > General > Transfer or Reset iPhone > Reset > Reset all Settings.
15. Contact your ISP
At times, your Wi-Fi and devices are working just fine. There could be a problem with your internet service provider. Contact them and find out if the problem is on their end, or let them help you figure out what the issue is.
16. Contact Apple Support
If your iPhone 14 Pro Max Wi-Fi won't work after trying all the above solutions, you should contact Apple Support. Your device likely has a hardware problem. Apple support options include:
Wi-Fi not working on iPhone 14 Pro Max? Now You Know the Fix
You don't have to stress when your iPhone 14 Pro Max Wi-Fi is not working. The problem usually lies with a simple mistake or is network-wide, so there's probably nothing wrong with your iPhone. By following these simple steps, you can get your iPhone 14 Pro Max Wi-Fi working again.