We're not going to mince words — if you're here, there's a reasonable chance that one or more of the microphones on your iPhone 15 Pro are broken. But before you jump to that conclusion, there are several fixes you can try if your iPhone 15 Pro microphone is not working. that might be simpler than spending money at an Apple Store.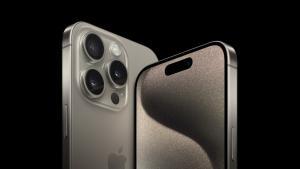 Note: information in this article apply to iPhone 15, iPhone 15 Plus, iPhone 15 Pro and iPhone 15 Pro Max.
KEY TAKEAWAYS
If your iPhone 15 Pro microphone is not working, there are steps you can take to troubleshoot and solve the problem.
Your iPhone has three mics, so make sure non of them is blocked or obscured in any way.
You should also test your mic, clean the mics, disconnect other audio devices, and ensure all your apps have permission to use the mic in Settings.
If the iPhone 15 Pro microphone isn't working at all — or the audio it's capturing is muffled, fuzzy, or unclear — that can lead to a lot of frustration. If you are having one of the issues below, you may be having a microphone problem:
Siri doesn't hear or understand you.
Dictation feature doesn't work.
Recording a voice memo doesn't work.
People don't hear you when you are on phone or FaceTime calls on your iPhone.
You may be having issues with the features above because they require the microphone to function properly.
Here are the troubleshooting steps you can employ to resolve problems with your iPhone 15 Pro microphone not working.
How to Fix iPhone 15 Pro Microphone Not Working
1. Make sure the microphone isn't blocked
It's easy for your iPhone's microphones to get partially or completely blocked. Make sure that your iPhone 15 Pro microphone isn't blocked by a poorly fitting case or screen protector.
The iPhone 15 Pro has three microphones. On the screen side, the one at the top allows your to hear a caller, the one at the bottom allows the caller to hear you, and the one below the camera on the back of the iPhone is used for recording video.
Check each microphone for any possible blockage. If needed, remove your case or screen protector if it's getting in the way.
2. Test the microphone
It's easy to test the iPhone 15 Pro mics to see if they're working normally. Here's how:
To test the microphone at the bottom of your phone, which is also the primary microphone, open Voice Memos and tap the record button. Record yourself speaking into the microphone, and then play back what you recorded. Are you able to hear everything clearly? If you can not, you may have a hardware problem. You may want to reserve a Genius Bar appointment for further inspection.
To test the microphone at the top of your phone, open the Camera app and record a selfie video.
To test the microphone on the back of the phone, record a video using the back camera. As with the voice memo, you should be able to hear your voice clearly when you play back both videos.
If the audio is unclear, it's likely you have a hardware problem with your iPhone, so contact Apple's customer support for additional service.
3. Disconnect all audio accessories
Whenever you connect your iPhone 15 Pro to a Bluetooth speaker or headset, it defaults to the mic on the device. You can answer calls when sitting within the mic's range, but if the device is too far, it won't be able to hear you. There's a good chance your iPhone 15 Pro is trying to use the microphone in an accessory like a headphone, earbuds, or portable speaker rather than the mic built into the phone, and that's why the audio is distant or muffled.
Simply unplug accessories and disconnect any devices that are connected to your iPhone 15 Pro via Bluetooth, especially headsets. Bring up the Control Center by swiping down from the top right part of the screen and then tap the Bluetooth icon to temporarily disable the Bluetooth radio on your iPhone.
4. Restart the phone
This is perhaps the most generic solution for all iOS problems, but there's a good chance it could get rid of any corrupt data or glitchy software that might be causing your iPhone 15 Pro mic to misbehave.
To restart your iPhone, press and hold the Side and Volume Up (or down) buttons together until the Power Off slider appears. Drag the slider. Then press and hold the Side button again to turn on your device.
5. Make sure your app has permission
Sometimes, the microphone might not work for a particular app on your iPhone 15 Pro. When this happens, something is wrong with the app's permissions, and you might need to fix it manually. Open the **Settings **app and then tap on Privacy & Security. Tap Microphone. Scroll down the list of apps and make sure any app which needs the mic has permission by swiping the appropriate button to the right.
Now open the app and check whether the microphone starts working.
6. Remove any debris from the microphone
The iPhone 15 Pro mic may not work because the mic holes may be blocked by wax, dust, dirt, or lint. Therefore, it's important to clean your iPhone's mic to get rid of any blockage.
Use a compressed air can to blow air carefully into the microphone. This will remove any small debris that may be stopping the sound from reaching the mic's sensor.
7. Install the latest iOS software
If your iPhone 15 Pro microphone is still not working, make sure that you have the latest version of iOS installed on your phone.
Go to Settings > General > Software Update to check and, if needed, update your phone.
8. Contact Apple support
If you've tried all of the previous steps without any success, that suggests a hardware or software issue that only Apple or an authorized repair outlet can resolve. Visit Apple's support website or book an appointment at an Apple Store or a licensed third-party repair shop.