Has Apple Maps stopped working on your iPhone after iOS 17 update? Or is it not accurate enough? Here are a few different ways to resolve any issues Apple Maps may be having.
If Apple Maps isn't working on iPhone running iOS 17, you probably need a stronger internet connection.
Even if you have an internet connection, Apple Maps also needs a strong GPS signal, which isn't always easy to get.
Apple Maps also needs Location Access permission, which you can manage in the Settings app.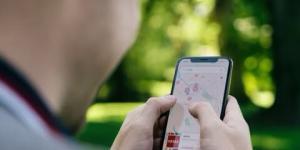 Is Apple Maps not working after iOS 17 update? Of course, it's never fun when technology isn't performing how it's intended, so here are some troubleshooting options to fix the service and get you back on track.
How to fix Apple Maps not working after iOS 17 update issue
If the Apple Maps app on your iPhone crashes or has other problems that affect your experience on Maps after iOS 17 update, try the following solutions.
1. Close and Reopen Maps
A lot of iPhone software problems can occur when an app crashes. If Maps crashed in the background of your iPhone, it could be the reason the app is not working. If Maps app has crashed, closing it might get rid of the error!
First, you'll want to bring up the App Switcher. To do this, double tap the Home button (iPhones without Face ID), or swipe up from the bottom of your screen (iPhones with Face ID).
Once the app switcher is open, use your finger to swipe Maps up and off the top of the screen. You'll know Maps is closed when it no longer appear in the App Switcher.
Now that you've closed Maps, reopen the app to see if it's working again. If it's still not working, move on to the next solution!
2. Check your sound
If the problem you're experiencing is that you can't hear the directions that Apple Maps is giving, there might just be a problem with your sound.
Make sure that the volume is turned up. You'll also want to tap the speaker icon on the navigation screen, and pick the first option that shows sound waves coming out of the speaker.
Lastly, make sure that you know where the sound is coming from. If you've plugged your iPhone into your car's charging port, for instance, the sound might be trying to come out of your car's speakers instead of the iPhone. Same goes if your iPhone is still connected to your AirPods, or another set of Bluetooth headphones.
3. Get a stronger GPS signal
Although they haven't explicitly stated, navigation apps like Apple Maps still use GPS signals, not just internet. This is why Apple Maps might lose your location when you head underground, like in the subway. And if you lose your GPS signal, Apple Maps won't know how to give you accurate directions.
The best way to keep your GPS signal is to give your iPhone a clear, unobstructed view of the sky. This lets your phone connect to GPS satellites flying overhead.
4. Make Sure Location Services is Turned on
Maps uses Location Services to get data for a specific location. It's also worth noting that Precise Location issues are the most common reasons for Apple Maps not working on iPhone. When you turn the setting on, it should provide precise location data, and Maps would be able to pinpoint your correct location.
To make sure both Location Services and Precise Location settings are turned on, go to Settings > Privacy & Security. Here, make sure that Location Services is toggled on, then scroll down and tap Maps. Select While Using The App then turn on Precise Location to allow Maps to use your specific location.
5. Make Sure Background Refresh is Enabled for Maps
If you have problems with the accuracy of Apple Maps, and you constantly flick in and out of the app, make sure that it is set to run in the background so that it can stay up to date.
To turn on background refresh for the Maps app on your iPhone, launch the Settings app and go into General > Background App Refresh. Turn on the switch next to Weather app.
6. Restart Your iPhone
One of the many reasons Apple Maps won't work on iPhone is due to minor software glitches. Restarting your iPhone will give all your apps the opportunity to shut down and get a fresh start.
If you have an iPhone without Face ID, press and hold the power button until Slide To Power Off shows up on the screen. If you have an iPhone with Face ID, press and hold the side button and either volume button simultaneously until you see Slide To Power Off appear on the screen.
Once you see the power slider, swipe the red and white power icon from left to right to shut your iPhone down. Wait a few moments, then press the power button (iPhones without Face ID) or the side button (iPhones with Face ID) to turn your iPhone on again.
7. Update Your iPhone
Older versions of apps often tend to have bugs and issues in them, which are rectified in newer versions. Maps app is a native iPhone app, which means it can only be updated by an iOS update. Apple releases new updates to introduce new features and resolve known bugs, one of which may be causing the problem with Maps app!
Start the Settings app and go to General > Software Update. Tap Download and Install or Install Now if an iOS update is available.
8. Check Your Internet Connection
It might sound too simple to be true, but weak internet connections are the most common reason for errors in any app. That's especially true for Apple Maps, which needs a consistent internet connection to load new map data and directions. This can easily be seen by looking at the status bar of your iPhone to find the Wi-Fi signal icon.
Just toggle off the Wi-Fi and toggle it back on again. If it fails to come back on, restart your router. Some routers allow restarts to be triggered through an app, while others may have a physical button. If yours has neither, you can unplug the router's power source and plug it back in.
Try Cellular Data Instead
If you are unable to use Maps on your iPhone over Wi-Fi, try using Cellular Data instead. Open Settings and tap Cellular. Make sure the switch next to Cellular Data is on.
Next, scroll through the list of apps allowed to use cellular data and make sure the switch next to Maps is turned on.
Open Maps and see if it's working properly. If it's still not working, move onto the next step!
9. Check Apple's System Status Page
If your internet connection is fine, then there's a good chance the problem is at Apple's end. The best way to find out is to go to Apple's System Status page. This gives you the current status of each Apple service. If you see a red dot next to Maps, it means it's down, and green dot means it's up and running.
10. Check Your Date & Time Settings
It may seem like a silly suggestion, but this can often cause many Maps issues on iPhone. This could be due to Apple's servers having trouble syncing with your date and time settings. The best way to fix this is to set your iPhone's time and date to "Automatic." This means that your iPhone will stay synchronized with Apple's servers, making sure you'll always have the right time and date for your location.
Open the Settings app and scroll down to tap General, and then Date & Time. Toggle on Set Automatically.
11. Turn off VPN
Many VPN users have stated that they have encountered issues with Maps after iOS 17 update. Have you tried deactivating a VPN (if you are using it)? If you're using a VPN app, you can go into the app and turn off your secure connection. You can also go into the Settings app on your iPhone and turn off the toggle next to VPN.
12. Reset The Network Settings
If nothing else has worked, then it's time to reset all of your network settings. This will make your iPhone forget the Wi-Fi network it's using. It'll also reset any connection settings back to the way they came when your iPhone was new.
If a connection setting is to blame for Maps not working in iOS 17 on iPhone, this will possibly fix the problem. You'll have to log back in to your Wi-Fi network, so make sure you have your Wi-Fi password handy.
To reset your network settings, start the Settings app on your iPhone and go to General. Tap Transfer or Reset iPhone > Reset > Reset Network Settings.
13. Delete And Reinstall Maps
There's one more thing you can try if Maps is not working after iOS 17 update. Try deleting the app off of your iPhone and then reinstall it. Sometimes there is some corrupted data that stops Maps from working, and usually, deleting it and re-downloading it gets rid of the problem.
Press and hold the Maps app on the Home Screen or App Library until the quick action menu opens. Tap Remove App, Delete App, and finally Delete.
Once it's gone, reinstall the app from the App Store. It's free to download.
Now launch the Maps app and check if it's working. If it's still not working, move on to the next step!
14. Reset All Settings
If Maps on your iPhone is still not working, there may be a deeper software issue causing the problem.
Factory resetting your iPhone will erase every bit of data that wasn't on the phone when you first bought it. It's a pretty foolproof — albeit extreme — way to fix bugs and glitches.
Start the Settings app on your iPhone then tap General. Tap Transfer or Reset iPhone > Reset > Reset All Settings. Enter your iPhone passcode, if you have one. Then, confirm the reset by tapping Reset All Settings again.
Fix Apple Maps Issues in iOS 17 on iPhone
Like any other app, Apple Maps also experiences hiccups from time to time. However, these issues should not keep you from using the app. If you ever face an issue with Maps app on your iPhone, one of the methods outlined above should help you fix the problem. Next time Maps app is not working on your iPhone after iOS update, you'll know how to fix the problem! Make sure to share this article on social media, or leave us a comment below if you have other questions about the Maps app.