iOS 17 introduces a number of handy new features, including Check-In, Standby Mode and Contact Posters, a new way to display caller information. But what do you do if Contact Posters is not working on your iPhone?
Well, help is at hand. We at iPhoneGeeks have been running the iOS 17 for quite a while, and here, we'll explain exactly what you need to do to fix Contact Posters if it's not working on your iPhone in iOS 17.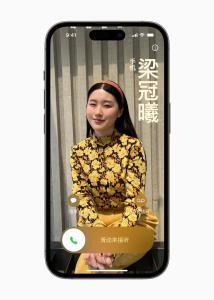 The idea behind Contact Posters is a simple one; rather than just displaying whatever name you're stored as on your friend or family member's phone, Contact Posters enhance the Caller ID screen.
You can not only add your name, but a full-screen photo and other effects to make it easier to see who's calling at a glance, and this will appear on anybody's iPhone running iOS 17 when you give them a call.
It's a cool feature for iPhone users running iOS 17, but in true Apple fashion, it's not something you'll be automatically prompted to set up once you've upgraded to Apple's latest software update. Instead, it's something you're left to discover yourself.
Fix iOS 17 Contact Posters Not Working on iPhone
Make sure you are using contact posters correctly
Here are the steps you need to follow to set up a personalized contact poster on your iPhone.
1. Open the Phone app on your iPhone and select Contacts.
2. Tap your name at the top (it'll say My Card below your name).
3. Select the Contact Photo & Posterbutton.
4. You'll then be taken to a screen that displays what the contact poster will look like. Here, you can select from four options: Camera, Photos, Memoji and Monogram.
5. When you make your selection — for instance, Memoji — you can change the name at the top and choose which Memoji you want to use. You can either pick a preselected Memoji or customize your own. For the Memoji option, you can turn off the depth effect to allow the Memoji to appear behind the text.
For photos, you can either select the photo you want from your camera roll or take a new photo.
If you're using a monogram, you'll enter the initials you want to appear on your contact card — you'll need to use at least two letters.
6. Once you've finished customizing, you'll see a preview of what the contact poster will look like. When you're ready, hit Continue.
7. Next, you'll get the option to adjust the contact photo — this is the photo that appears in the Messages app when texting. Whatever you've chosen for the poster can be cropped to fit into your contact photo.
8. When you're finished, tap Done at the top right of your screen and your contact poster will be saved.
If you'd like to create a personalized contact poster for when your friends and family call, you can do so. Just select the name of the person you want to create a contact poster for and follow all of the steps above.
Force Quit the Phone app
For those unaware, force quitting has a good track record of fixing an ill-functioning app.
On iPhone with Face ID: Just swipe up from the Home bar > hold along the middle of the screen to reveal the App Switcher. After that, swipe up the Phone app and off the screen.
On iPhone with Touch ID: Double-press the Home button to reveal the app switcher and then swipe up on the Phone app to force quit it.
Reboot the iPhone
The next troubleshooting step is simply to restart you iPhone. This has fixed Contact Posters problems for many iPhone users, so you should definitely give it a try.
iPhone without Home button
Press and hold the volume down key and the side button until you see the power off slider.
Slide the power off slider to the right.
After your phone has completely turned off (wait 30 seconds), press and hold the side button until the Apple logo appears.
iPhone with Home button
Press and hold the side button until the power off slider appears.
Slide the slider, then wait 30 seconds for your phone to power off.
Press and hold the side button until the Apple logo appears.
Hard Reboot your iPhone
If you have restarted your device, and Contact Posters is still not working, you can try hard rebooting your iPhone. Here's how to hard reboot your iPhone:
Press then release Volume Up key.
Press then release Volume Down key.
Press and hold the Power / Sleep / Wake key.
Continue holding the Power / Sleep key until you see an Apple logo appear on the screen to signify the iPhone has restarted.
Ensure that your iPhone has the latest version of iOS
If Contact Posters is still not working on your iPhone, make sure your device' is running the latest version of iOS. You can check for a software update and update your iPhone if needed. Follow the steps below:
Go to Settings.
Tap General.
Tap Software Update.
Delete and Create a New Contact Poster
Launch the **Phone **app on your iPhone.
Tap Contacts and then tap on your Contact card. Alternatively, open the Contact app -> tap on your contact card.
Tap Contact Photo & Poster.
Tap on the Edit button at the bottom of your current contact poster.
You should see all of your contact posters.
You can now swipe left or right to find the contact poster you want to get rid of.
Swipe up the contact poster you want to delete.
Tap on the bin icon at the bottom of the contact poster.
Tap on the Delete button in the popup to confirm the action.
Tap Done to conclude the process.
Now, follow the steps discuss in the first solution to create contact poster.