Fix the dreaded black screen in your iPhone 15 Pro Camera app with these easy troubleshooting steps!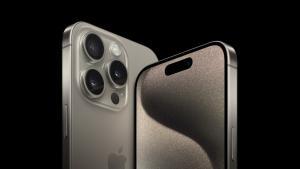 Note: information in this article apply to iPhone 15, iPhone 15 Plus, iPhone 15 Pro and iPhone 15 Pro Max.
So you are ready to shoot that perfect selfie with your new iPhone 15 Pro, and you open the Camera app, and all you get is a black screen. Sometimes you may notice that your iPhone 15 Pro built-in Camera app is not working properly. With this particular problem, when you want to take photos or videos, Camera only shows a black screen. If you are experiencing this issue, you will not be able to take photos or videos. Sometimes, only the front or rear camera may have this problem, and sometimes, both of them. Usually, the camera also doesn't work in third-party apps, such as Instagram, Snapchat or WhatsApp. Fixing this issue is often simple. This article lists several steps you can take to fix this annoying problem.
KEY TAKEAWAYS
To fix a black camera screen on your iPhone 15 Pro, try switching cameras or restarting the Camera app.
You can also try turning off the VoiceOver feature in case that's interfering with the camera.
If nothing works, try restarting or updating your iPhone, or resetting all settings.
The iPhone 15 Pro Camera black screen issue can be caused by software settings, bugs, or hardware failure. If it is a hardware-related issue, you may need to take your iPhone to an Apple Store or an authorized technician to get it repaired. If it is a software problem, you will be able to fix it yourself by following the troubleshooting steps below:
How to fix iPhone 15 Pro Camera not working, showing black screen
1. Update iOS
The very first troubleshooting step is to ensure that your iPhone is up to date. Since the Camera is a native app, it is part of iOS. Thus, updating iOS also ensures your Camera app is updated, along with your iPhone.
Go to Settings > General > Software Update. If an update is waiting, download and install it. Now open the Camera app and check if it's working.
2. Close and restart the Camera app
If the Camera app does not load properly, you may see this problem. Therefore, the next troubleshooting step to fix the iPhone 15 Pro Camera black screen problem is to force quit out of the Camera app and relaunch it. Here is how:
Swipe up from the bottom of the screen until you see smaller versions of your open apps.
Swipe up on the camera app window. This will close down the camera.
Launch the Camera app by tapping the camera icon. Does it work now?
3. Restart iPhone
If your iPhone 15 Pro Camera is still not working, it's time to restart the phone. We rarely restart our phones, so perhaps the old "Have you tried turning it off and on again?" routine is merely all you need.
You can restart your iPhone 15 Pro by simultaneously holding the volume down button and the power button. When the slide to power off option appears on-screen, swipe right. Wait 15 to 20 seconds before powering your iPhone back on. After turning on your device, launch Camera. Can you take a photo?
4. Check your device
Certain situations may cause iPhone 15 Pro camera black screen problem. Thus you may want to check the following:
Make sure that nothing is blocking the cameras.
Remove your case or film, and then try again.
Using a microfiber cloth, clean both front and back cameras.
5. Switch between front and back cameras
The iPhone 15 Pro has two cameras: one in the front that faces you (when you take selfies), and one in the back that you can point at objects and other stuff to photograph them. Sometimes, the black screen in the iPhone 15 Pro Camera app can be resolved by just switching between the rear and front-facing selfie camera. The black screen could be caused by the app not loading properly, and each time you flip between cameras, it forces the app to load again, so this could help.
Follow these steps to switch between cameras on iPhone 15 Pro:
Open Camera.
Tap the Camera switch icon – it's the two circular arrows in the lower-right corner of the screen (in portrait orientation).
Wait a few seconds and tap again. Does this resolve your problem?
6. Turn off VoiceOver
Some users have reported that turning off VoiceOver fixes the iPhone 15 Pro black camera problem. You may want to try this. VoiceOver is an accessibility feature in iOS. Follow these steps to turn off the feature:
On your iPhone 15 Pro, head over to Settings > Accessibility > VoiceOver. Toggle the switch to turn off VoiceOver. Alternatively, you can use Siri to turn this feature off. Open Siri and say Turn off VoiceOver.
Then open the Camera app and try again.
If you are blind or visually impaired, this may not be an ideal solution for you; you may need this feature on to operate your iPhone 15 Pro. If this is the case, skip this step.
7. Reset All Settings
If your iPhone 15 Pro camera is still not working, you may want to reset things. The easiest reset option is to reset all the settings. This does not delete your content, such as your photos, videos and music. It merely resets your network settings (your Wi-Fi passwords will be gone), location settings, and privacy settings. Here is how you can reset your settings:
Head over to Settings > General > Transfer or Reset iPhone > Reset.
Tap Reset All Settings.
8. Factory reset the iPhone
Nobody wants things to get this far, as erasing the entire phone and returning to factory settings is a major pain in the rear. You have to make sure you have a viable backup. But if the previous tips haven't worked to get your iPhone camera working again, you likely have no choice.
Open the Settings app on your iPhone.
Tap General.
Go to Transfer or Reset iPhone.
Tap Erase all Contents and Settings.
9. Contact Apple Support
If you have tried all the troubleshooting steps discuss in this guide and still have the black screen in the iPhone 15 Pro Camera app problem, then it may be an issue with your hardware. The only way to fix that is to contact Apple Support or take it to an authorized technician for repair.