It's quite frustrating if your iPhone 15 Pro flashlight stops working and you see a grayed-out flashlight icon. So, let's look at the various solutions you can try to get your iPhone 15 Pro torch working again.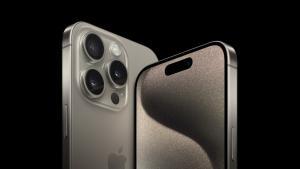 These solutions apply to iPhone 15, iPhone 15 Plus, iPhone 15 Pro, iPhone 15 Pro Max.
KEY TAKEAWAYS
To fix Flashlight problem on your iPhone 15 Pro, try closing the Camera app in case that's interfering with the Flashlight.
If the iPhone 15 Pro flashlight icon appear greyed out in Control Center, you should close all apps that could be using camera.
Also ensure your iPhone is running the latest version of iOS.
If nothing works, try restarting or updating your iPhone, or resetting your iPhone.
How to fix iPhone 15 Pro Flashlight not working issue
1. Make Sure the Camera App is Closed
As both the camera's flash and the flashlight use the same bulb, it's better to keep the camera app closed while activating the flashlight to prevent any possible conflict.
Swipe up from the bottom of the screen, hold your finger when it reaches the middle, and release it when the App Switcher shows up.
Swipe up to close the Camera app.
If the iPhone 15 Pro flashlight is greyed out in Control Center, you should close other third-party apps that have access to camera. These include Instagram, Snapchat, WhatsApp, TikTok etc.
2. Remove Any Case or Screen Protector
Believe it or not, some iPhone cases/covers, accessories, and even films tend to block the flash and prevent it from working normally. Check if your phone case is blocking the lens. Some cases can be installed upside down on the iPhone 15 Pro. So, remove any case or film and then try to use the flashlight on your iPhone. If it starts working now, your case/film was at fault, and not your iPhone.
3. Restart Your iPhone
If removing the case didn't work, go ahead and restart your iPhone. . While this sound like a cliché fix, you'd be surprised how it'll troubleshoot the iPhone 15 Pro flashlight problem. When you restart your iPhone, you clear the temporary memory of errors or hung-up apps. Here's how:
Press and hold the Power button and either of the Volume buttons until the slide to power off slider appears on the screen.
Drag the slider from left to right.
Wait a few seconds.
Hold down the Power Button again until you see the Apple logo on the screen.
4. Hard Reset Your iPhone
If restarting your device didn't fix your iPhone 15 Pro flashlight problem, try a hard reset. The hard reset aka force restart is slightly more effective than a simple restart when it comes to flashing out hidden iOS bugs. Therefore, you should give it a shot as well.
Press and quickly release the volume up key.
Press and quickly release the volume down key.
Press and hold the side button until the Apple logo shows up on the screen.
5. Test LED Flash by Using the Flashlight in Control Center
A quick way to test whether or not the flashlight is working is by using the control center. Moreover, you can also adjust the brightness of the flashlight by using its slider.
Swipe down from the top right corner of the screen to launch the control center.
tap the Flashlight icon to check if it's working normally. Besides, touch and hold the flashlight icon to access the slider and then ensure that the brightness is set at the highest level.
6. Test LED Flash by Using the Camera
You should also check whether the flash-bulb itself is working or not. One easy way to do this is to simply use your iPhone's camera app. Here's what to do.
Open the camera app on your iPhone and head into the 'Photo' option. Here, tap on the arrow icon (or swipe up on the viewfinder) to view extra settings.
Now tap on the flash icon and choose 'On' instead of 'Auto' or 'Off'.
Try clicking a photo and see if the flash fires. If it does, then the issue is not with the hardware LED flash, but rather a software glitch.
7. Update your iPhone
If your iPhone 15 Pro flashlight is still not working, it's time to update the software. Apple continuously improves and updates your phone's operating system (iOS). Updates to the flashlight feature are included in those iOS updates.
If you haven't updated your your iPhone 15 Pro to the latest version of iOS, your flashlight issues may result from outdated software. Here's how to check if your iPhone 15 Pro is running the most current version of iOS.
Open the Settings app on your iPhone.
Tap General.
Select Software Update. Now, allow iOS to check for the update.
When it shows the latest update, download and install it as usual.
7. Let your iPhone cool down
When your iPhone gets too hot, the flashlight may stop working. It's good to stay away from using an overheating iPhone. If your phone's temperature go beyond certain level, it will eventually shut down until it cools off. You'll also see a warning show up on your screen if the temperature gets too high.
To allow your device's temperature to drop naturally, place your iPhone in a cool, dry place away from direct sunlight. Do not attempt to put your device into the fridge, though, as this may permanently damage your iPhone. Just find somewhere that's naturally cool and shady. Once your device cools down, your iPhone 15 Pro flashlight should start working again.
8. Reset All iPhone Settings
Sometimes, an iOS bug may change settings on your iPhone 15 Pro that cause your flashlight to stop working or malfunction. One way to eliminate this possibility is to reset all the settings on your iPhone. This process is not as dramatic as it sounds, as it doesn't delete your data or apps. Instead, it resets the iPhone to its default settings, which may get the iPhone 15 Pro flashlight icon (and the flashlight) working again.
Head over to Settings > General > Transfer or Reset iPhone.
Tap Reset > Reset All Settings.
10. Restore the iPhone to factory settings
The last-ditch software fix to try before reaching out to Apple support is to return the iPhone to its factory settings. This is a more extreme, time-consuming solution that should resolve iPhone 15 Pro flashlight problem. If not, you are almost certainly dealing with a hardware problem.
Please Note: A factory reset deletes all your data on the phone, so make sure you have a backup.
Open Settings.
Tap General.
Select Transfer or Reset iPhone.
Tap Erase All Content and Settings.
Once your iPhone has been successfully erased, follow the onscreen instructions to set up your device.
11. Contact Apple Support
You may find that the flashlight does not turn on, even when its button is lit up as usual. If so, your iPhone 15 Pro has a hardware problem, so you need to contact Apple or take the phone to a n authorized technician. Given that your iPhone 15 Pro is still under warranty, you can have it repaired by Apple free of charge.
It's best not to attempt to physically fix the iPhone 15 Pro flashlight yourself if you suspect a hardware problem since doing so could invalidate any warranty you have on the phone. It might also make the problem worse.
Fixed Flashlight Not Working Issue on iPhone 15 Pro
That's it! Hopefully, your iPhone 15 Pro flashlight problem is solved. As I said above, if it's a software bug or glitch causing the feature to malfunction, hard reset or software update is more than capable to resolve the issue. However, if it's because of hardware failure, contacting a trusted iPhone repair center is always the right way to go. Anyway, let us know the hack that has fixed your iPhone flashlight. And if you know any other reliable solution for resolving this issue, tip us about that as well.