Despite being connected to power, your iPhone 15 Pro won't charge. There are a handful of reasons why that can happen, so read on for the eight most common ways to diagnose and fix common iPhone 15 Pro charging problems.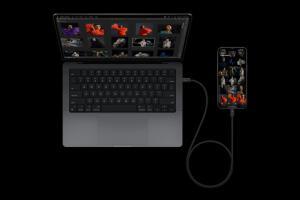 KEY TAKEAWAYS
If your iPhone 15 Pro won't charge, make sure to check the cable, USB-C port, and AC adapter.
You can also try restarting your iPhone, updating the software, or restoring it.
If your iPhone 15 Pro stops charging at 80%, it's because of the Optimized Battery Charging feature.
It can be stressful when your iPhone 15 Pro runs out of power, but even more stressful when you plug it in and find that it won't charge.
When this happens, it could be for a number of different reasons. There may be an external issue, such as damaged power outlet, adapter or cable. It may also be an internal problem like a software glitch or damaged charging port.
Accordingly, you'll likely have to try a few different troubleshoot methods until the problem is solved.
Note: information in this article apply to iPhone 15, iPhone 15 Plus, iPhone 15 Pro and iPhone 15 Pro Max.
How to fix your iPhone 15 Pro when it won't charge
If you find your iPhone 15 Pro not charging when plugged in, here are seven potential fixes you can try yourself.
1. Turn it off and back on again
If your iPhone 15 Pro doesn't seem to be charging, there are some easy troubleshooting steps and some that are more involved. Start with the easiest possible fix: Restart your iPhone to see if a temporary software glitch is keeping the charging system from working. Go to Settings > General > Shut Down and then try to charge it again.
Please note: If your phone battery is very, very low — below 5% — or already completely dead, this troubleshooting step will not work for you.
2. Check your iPhone's USB-C port
If your iPhone 15 Pro isn't charging the way it usually does, your next stop should be to inspect the USB-C port. This is a lot more common than you might think. After all, we spend a lot of time jamming the phone — port-end first — into pockets, bags, and other places filled with dust, debris, and lint.
Look carefully, and if you see anything, carefully remove it — gently — with a toothpick or any other non-metallic, pointed object that will fit in the port. If you have a can of compressed air, briefly blast the port with that as well.
Try to charge the phone again. If it still doesn't work, move on to the next troubleshooting step.
3. Check the charging cable for breaks
Another aspect worth investigating is the possibility that the charging cable itself is damaged. Carefully inspect the cable to make sure there are no sharp kinks, or that the cable is otherwise broken, frayed, or damaged.
There's no good way to see any of this visually, so the best way to test your USB-C cable is to simply try a different one — ideally, a fully-authorized cable from Apple that's brand new.
4. Test your iPhone's wall adapter
Another common problem: Using the wrong power adapter. Many power bricks simply can't deliver enough power to charge your iPhone 15 Pro, so just because you have access to an adapter with a USB-C cord, that doesn't mean you can charge any USB-C phone with it.
To rule out the adapter as the issue, either test your charge with a different adapter or, if you don't have a spare, plug your cable into your computer. If your phone begins charging, then the adapter was to blame.
5. Check where your phone is plugged in
On the long list of potential problems, you should also check your power source. If you're charging your iPhone 15 Pro from a computer's USB-C port, make sure the computer is fully awake (not in sleep or hibernation mode). Also try a different USB-C port, in case the USB-C port you were using has failed. Don't try charging from a port built into a keyboard or USB hub — connect it directly to a USB-C port on the computer itself.
If it still doesn't work, make sure that the outlet you're plugged into actually has power; either plug something else in to test the outlet, or plug the charger into another outlet.
6. Check for software updates
If you're not running the latest version of iOS, it could be the reason why your iPhone 15 Pro is not charging. A simple solution might be to check for software updates. Of course, this is given you have some power to go through the upgrading process.
Open the **Settings app on your iPhone **and then tap General.
Select Software Update. Your iPhone will now start searching for the latest iOS update.
If an update is available, tap Install Now or Download & Install.
7. Try resetting and restoring your iPhone
If you go through all these items and none of them seems to fix iPhone 15 Pro not charging issue, it's time to perform a factory reset.
A reset will return your iPhone to its factory default settings and, hopefully, get rid of any problem you might be facing. This is a last-ditch attempt to fix the issue by yourself, and it's worth a try. Again, this is given you have some power to go through the reset process.
Before you factory reset your iPhone, make sure you back up your iPhone first so you can restore your data later.
Open the Settings app and go to General.
At the bottom of the General page, tap Transfer and Reset iPhone.
To factory reset your iPhone, tap Erase All Content and Settings.
8. What should I do if nothing works?
Now that you've tried all these methods for fixing a iPhone 15 Pro that won't charge, it's pretty likely that there's something wrong with the phone itself. Is there anything else you can do? The iPhone 15 Pro comes with a one-year warranty, and Apple should take care of any fixes, given that the issue isn't directly your fault. If you dropped the device or dunked it in water, then that's considered accidental damage. Many insurance plans cover accidental damage, so check if you bought insurance and see if you can get your phone replaced.