There are several troubleshooting methods you can try when your iPhone 15 Pro touchscreen won't work.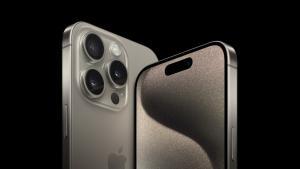 KEY TAKEAWAYS
If your iPhone 15 Pro touchscreen is not working, make sure there's nothing preventing the touchscreen from reading your fingertips, like gloves or moisture.
Force restart the iPhone to see if that solves the problem; it could also be attached accessories, extreme temperature, or a misbehaving app.
A more extreme measure is to reset the iPhone 15 Pro to factory settings.
Your iPhone 15 Pro relies on its touchscreen for control, so if the screen isn't responding to your swipes, taps, and gestures, that's a serious problem. The problem you are having could be:
The touchscreen of your iPhone 15 Pro stopped working and nothing happens when you tap or press any buttons.
The iPhone 15 Pro touchscreen is not working how you would expect (e.g., touchscreen lags etc).
The touchscreen responds inaccurately.
The touchscreen freezes.
There are some mundane reasons why the iPhone 15 Pro touchscreen might not work, and you can often solve the issue on your own without resorting to Apple's customer support.
If your iPhone 15 Pro touchscreen is not responsive or not working as expected, here is what you can do.
Note: information in this article apply to iPhone 15, iPhone 15 Plus, iPhone 15 Pro and iPhone 15 Pro Max.
How to fix iPhone 15 Pro touchscreen not working issue
After you try each step below, please check to see if your problem is fixed.
Thoroughly clean and dry the screen
Some dirt covering the display may cause touchscreen problems. Thus, before you try more complicated fixes, make sure your screen is absolutely clean.
Use a soft, lint-free cloth to clean the screen, and — this is the most important part — ensure it's absolutely dry. Any water or moisture on the surface of the display can confuse the screen and make it impossible to detect your fingers.
See also: Are the iPhone 15 and iPhone 15 Pro waterproof? What you should know
If your iPhone 15 Pro touchscreen is still not working or unresponsive after cleaning the screen, then move on to the next solution.
Force restart your iPhone
Your iPhone 15 Pro may be frozen. Forcing it to restart can unfreeze the operating system and get things working again.
Press and quickly release the Volume Up button
Press and quickly release the Volume Down button
Press and hold the side button until the Apple logo appears.
Remove any Cases or Screen Protectors
The iPhone 15 Pro touchscreen may seem robust enough to work virtually flawless all the time, but it only works properly in a surprisingly narrow set of conditions. For example, the touchscreen can stop working if you apply a screen protector that's too thick, impeding your iPhone's screen ability to sense the electrical capacitance in your fingers.
If the iPhone 15 Pro touchscreen isn't working — or is working intermittently, remove any cases or screen protectors you have on your phone. See if your touchscreen responds with out your case or screen protector covering the screen. If it works after removing those accessories, get a different case and/or look for a thinner screen protector.
Update iOS
If your iPhone 15 Pro touchscreen is slightly usable, you should update iOS using the settings app.
Tap Settings
Tap General
Tap Software Update
Tap Download and Install
And follow onscreen instructions
Even if your iPhone 15 Pro screen isn't working at all, you can update your phone by connecting it to your computer and using Recovery Mode:
Connect your iPhone to your computer using a USB-C cable.
Launch Finder (macOS Catalina, Big Sur, Monterey, Ventura) or iTunes (PC & macOS Mojave or earlier) and locate your device in the Finder or iTunes window.
Press and release the volume up button followed immediately by the volume down button. Then press and hold the side button until the recovery mode screen appears.
You should see a pop up window appear with options to Update or Restore. Choose Update. Leave your iPhone connected until the update has completed.
Update Apps
If your iPhone 15 Pro touchscreen only stops working intermittently, it might be that a particular app is causing it the problem. If you can verify that the screen stops working only when you start a particular app, check to see if there is an update available for that program. Developers issue app updates to introduce new features and fix known bugs. Making sure all your apps are up to date will help keep your iPhone 15 Pro running smoothly.
Open App Store and make sure the Today tab is selected at the bottom.
Tap on your profile icon near the top-right of your screen. Scroll down to see updates and tap Update All to update all of your apps.
Note, that if your apps update automatically, you probably won't have any apps with available updates.
Delete problematic apps
If your iPhone 15 Pro screen becomes unresponsive in certain apps, the problem is the app, not the screen. If your screen is slightly usable, you may want to delete the problematic app by pressing and holding the app icon until the menu appears. Then, tap Remove App -> Delete App -> Delete.
Disconnect your iPhone from any chargers or accessories
On rare occasions, a malfunctioning accessory or glitchy software can cause the iPhone 15 Pro touchscreen to stop working when there's an accessory connected. The good news is that unlike a computer, there aren't many places to check — just unplug anything connected to the iPhone's USB-C port, even if it's just a charging cable. It's a good idea to also restart the iPhone after unplugging any accessories.
Free up storage space
iOS requires enough space to function properly. On your iPhone 15 Pro go to Settings > General > iPhone Storage. If you have less than 10 percent of storage space, you may want to delete apps you do not use or need. You may also want to remove unnecessary media files, such as photos or videos.
Factory reset your iPhone
If your iPhone 15 Pro has recently stopped responding to your touch and none of the above options worked, the problem is probably hardware related and the phone needs to be repaired or replaced.
Before you go that route, it's a good idea to perform a factory reset. This will reset the phone back to the state it was in when you first took it out of the box — it'll wipe out all software updates, installed apps, and your personal data. That's not a problem if you have your phone set to perform regular cloud backups, but beware that this could result in the permanent loss of any data since the last backup.
Without the ability to use the iPhone 15 Pro touchscreen, you'll need to perform a factory reset using a computer. Here's how:
Connect your iPhone 15 Pro to your computer and launchiTunes. If you're on a Mac running MacOS 10.15 or higher, launchFinder instead.
Now, quickly press these buttons, one after the other: Volume Up, Volume Down, and the Side button.
Once the Recovery Mode screen (which displays a cord and laptop on a black background) shows up on your phone, release the button(s).
On a Mac, you should see the option to restore or update your iPhone. Click Restore and follow the directions to perform a factory reset. On a PC, click the Device button in the top left of iTunes. Then select Summary, then Restore, and follow the onscreen instructions.
Contact Apple customer support
If you still can't get your iPhone 15 Pro touchscreen to respond, it's almost certain that your phone has a hardware problem and it need to be repaired. Contact Apple's customer support for further help.