Is your iPhone not getting call, text, and app notifications after iOS 17 update? Try these fixes to get iPhone notifications working again.
iOS notification system is second to none. But, sometimes notifications don't show up on iPhone as expected. If notifications are not working on your iPhone after iOS 17 update, I'll help you fix the problem step-by-step.
Why is my iPhone not getting notifications after iOS 17 update?
If you are not getting notifications on your iPhone after iOS 17 update, Focus might be the culprit.
To avoid disturbance, Notification Summary only allows time-sensitive alerts to filter through. Non-urgent alerts are auto-silenced and presented at a specified time. It's This sometimes leads to odd behaviors and delays, which could cause your iPhone to not get notifications.
If your iPhone is not connected to internet, this may explain why notifications are not showing up. After all, no internet access renders many apps essentially dead.
Thankfully, there are many things you can do to get your notifications back to normal. If your iPhone notifications are not working after iOS 17 update, here are some fixes to try.
How to Fix iPhone Notifications Not Working in iOS 17 Issue
1. Review the App's Notification Settings
One of the most common reasons notifications don't show on iPhone is because of the notification settings of the app in question. It's possible that you may have mistakenly messed up with the default notification settings, and so now you're not receiving them properly.
Open Settings.
Tap Notifications.
Scroll down to the app in question then enable "Allow Notifications".
Make sure alerts are enabled wherever you want them: on your lock screen, in the Notification Center, and as drop-down banners at the top of the screen.
You choose between a temporary or Persistent banner style, the latter of which requires that you dismiss it manually. This can be handy if you don't want to miss a notification from a particular app. You can also enable or disable "Notification Grouping" which gathers similar notifications together into an expandable stack.
2. Check the app's internal notification settings
Many chat, social media, and similar apps have notification settings inside the app. If you are not getting notifications from an app, open it and go to its Settings. Look for any option titled Notifications, Sounds, Alerts, etc., and make sure everything is correct.
3. Check That Focus is not enabled
It may seem obvious, but forgetting Focus is enabled is one of the most common causes for notifications not showing up on your iPhone.
Focus mode can be found in the Control Center by swiping down from the top-right of your screen. Tap and "Focus" to see the different modes available to you: Do Not Disturb, Personal, Work, and Sleep.
These modes can interfere with notification delivery, so make sure to turn them off if you want to receive all notifications. If you find Focus mode useful when working or studying but would prefer to whitelist certain contacts and apps, head to Settings > Focus and set up your desired mode.
This allows you to reap the benefits of disabling distracting notifications from social media or games, while still being able to message or receive calls from friends and family.
4. Disable Notification Summary
Notification Summary is a feature that bundles together "non-urgent" notifications and delivers them as a summary at more convenient times of your choosing. You won't see certain notifications immediately with this mode enabled, but you'll still receive calls and messages.
Your iPhone will suggest apps that are particularly heavy on notifications when you first set the feature up. You can disable or reconfigure the feature by following the steps below:
Open Settings.
Go into Notifications.
Select Scheduled Summary.
5. Restart your iPhone
Are notifications still not working on your iPhone? There is no need to panic as we still have plenty of troubleshooting tips for you. Most of the glitches that cause notifications problem after iOS 17 update can be resolved by restarting your iPhone. That's is because even if the problem is a frozen or crashed app, a bad network connection, or anything else, restarting the phone may automatically resolve those issues and avoid a lengthy troubleshooting process. To do this, follow the steps below:
Open Settings.
Tap General.
Choose Shut Down.
Drag the Power off slider from left to right to turn off your iPhone.
Turn your iPhone back on by holding down the Side button until you see the Apple logo.
6. Reinstall the App or Wait for Updates
One of the main reasons why notifications aren't showing on your iPhone after iOS 17 update could be due to broken app updates. If your iPhone is not getting notifications from one app in particular, it's possible that the developers have accidentally rolled out a buggy update. In such a situation, you have two options:
Uninstall and reinstall the app: Sometimes, uninstalling an app and reinstalling it from the App Store can do the trick for you.
Wait for an update to fix the issue: You can even drop a mail to the developer and make them aware of the notification issues you're currently facing.
7. Check Your Wi-Fi & Cellular Connection
If you don't have an internet connection, your iPhone won't receive notifications.
If you are using Wi-Fi, check to see if your iPhone is connected to a Wi-Fi network by following the steps below:
Open the Settings app on your iPhone.
Go into Wi-Fi.
Make sure the switch next to Wi-Fi is turned on.
If you see a check mark next to the name of your Wi-Fi network at the top of this menu, your iPhone is connected to Wi-Fi. If you're not connected to a Wi-Fi network, tap on the one you want to connect to under Choose A Network…
If you are using data, you can quickly check to see if Cellular is turned on by opening Control Center and looking at the Cellular button. If the button is green, Cellular is turned on!
8. Check Sounds & Haptics settings
Here's how to ensure the sound for some important notifications like text, mail, new Voicemail, calendar, and reminders are correct.
Open Settings.
Tap Sounds & Haptics.
Tap one of the desired options here, and from the next screen, select a loud tone. Remember not to select "None" as it'll turn off all the sounds.
9. Unblock or unmute the person or group
If you have blocked a person, you won't get calls, texts, and FaceTime from them. This naturally means no notifications. To fix this, follow these steps.
Open Settings.
Tap either Phone, Messages, or FaceTime.
Tap Blocked Contacts.
Swipe left on an entry here and tap Unblock.
Many chat apps like WhatsApp, Telegram, and more also let you mute a person or group from inside their app. To unmute, open the app in question and go to the person's profile. You should see an option to unmute. Similarly, do not forget to review the app's block list.
10. Check your Apple Watch for notifications
The same notification is delivered either to your iPhone or the Apple Watch, but not both. (Else, it would be disturbing.)
When the iPhone is unlocked, notifications appear on your phone but not on the watch. But, when you are wearing your unlocked Apple Watch and the iPhone is locked or asleep, the notifications are sent/mirrored to your wrist. They don't light up the iPhone screen or play the sound there.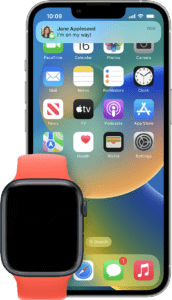 If you would instead like to have an app's notification only on the iPhone, you can turn it off for Apple Watch by following these steps.
Open the Watch app on your iPhone, and from the My Watch section, tap Notifications.
Tap the desired app name.
Uncheck Mirror my iPhone. If you are using Custom settings, tap Notifications Off. Now, that app's notification won't be sent to your Apple Watch and will always show on your iPhone
11. Turn off Low Power Mode
In Low Power Mode, several features like mail fetch are temporarily disabled to extend the battery backup. Therefore, you might not get push notifications for new emails you receive.
You can solve this problem by charging your iPhone to 80%, which automatically turns off Low Power Mode. You can also do this manually now by following the steps below:
Open Settings.
Tap Battery.
Disable Low Power Mode.
12. Turn off Silence Unknown Callers
Are you missing call notifications from customer support, delivery folks, distant relatives, or someone calling from a new number?
If yes, this is because you have enabled a setting that automatically silences calls from unknown persons. By "unknown," we mean someone who is not added to your contact list, not in your recent outgoing call list, or with whom you haven't talked recently via text or email (and thus Siri cannot identify them).
Calls from these unknown callers are sent to the Voicemail (if set up) and displays in the Phone app's Recents list.
If you would not like to miss these calls, follow the steps below:
Open Settings.
Tap Phone.
Tap Silence Unknown Callers and turn it off.
13. Disable Filter Unknown Senders
Your iPhone can automatically filter unknown and spam texts. Due to this, in rare cases, you might also miss notifications for some important message that has the OTP or other valuable information. You can turn off this feature by following the steps below:
Open Settings.
Tap Messages.
Tap Unknown & Spam.
Switch off Filter Unknown Senders.
.### 14. Reset Network Settings on iPhone
If notifications are not showing up on your iPhone after trying the above steps, try resetting your network settings. This will remove information like Wi-Fi passwords, VPN configuration, etc. So, note down these details somewhere before going through the process.
Open Settings.
Go into General.
Scroll down and select Transfer or Reset iPhone.
Tap Reset.
Tap Reset Network Settings.
14. Reset All Settings
Still not receiving notifications on your iPhone after all the above fixes? At this point, you should try resetting your device's settings. Doing this will restore your iPhone's notification preferences to the defaults, hopefully fixing whatever is affecting notification delivery.
Go to Settings.
Tap General.
Select Transfer or Reset iPhone.
Choose Reset.
Tap Reset All Settings.
Type in your iPhone's passcode and select Reset All Settings on the prompt.
Keep in mind that resetting your iPhone's settings puts all options back to the default. This means you'll have to connect to Wi-Fi networks again, re-configure Bluetooth devices, adjust your privacy settings, and similar. However, your data isn't affected by this.
Fixed notifications not Working in iOS 17 issue
Notifications not showing up on your iPhone can be a head-scratcher for you. Hopefully, the problem is now behind your back. If, after all these steps, you're still unable to get your notifications back in order, it might be a device-specific issue. In that case, it's best to check for software updates or contact Apple Support.