You've saved up your hard-earned money to finally purchase that MacBook Air you've always wanted. But the last thing you want is to end up with a counterfeit version. Unfortunately, there are many fake MacBook Airs floating around in the market, and if you're not careful, you could easily fall victim to them. But fear not! In this comprehensive guide, we will teach you how to spot a fake MacBook Air, so you can confidently make your purchase.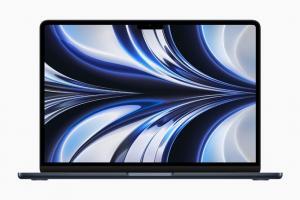 We'll dive deep into the telltale signs of a counterfeit MacBook Air, covering everything from the packaging and design to the performance and software. By the end of this article, you'll be an expert in identifying fake MacBook Airs, and can shop with peace of mind. So let's get started!
Introduction
The MacBook Air has been a popular choice among consumers since its introduction in 2008. Its sleek design, powerful performance, and user-friendly interface make it a sought-after product. As a result, counterfeiters are constantly trying to cash in on this demand by creating and selling fake MacBook Airs. These knock-offs can be incredibly convincing, making it difficult for unsuspecting buyers to spot the differences. However, there are some key indicators that can help you identify a fake MacBook Air. In this guide, we will explore these red flags in detail.
1. Packaging
When you unbox a genuine MacBook Air, you'll immediately notice the high-quality packaging. Apple is known for its attention to detail, and this extends to the packaging of its products. Here are a few signs to look for to ensure you're dealing with an authentic MacBook Air:
1.1. The Box
The MacBook Air's box should be made of sturdy, high-quality cardboard with a smooth matte finish. The Apple logo and MacBook Air text should be embossed and reflective, adding to the premium feel.
Inside the box, you should find a neatly organized set of accessories, including a power adapter, USB-C cable, and user manuals. The power adapter should also have an Apple logo on it. If any of these items are missing or look cheap, this is a red flag.
The MacBook Air itself should be wrapped in a thin, protective plastic film that is easy to peel off. If the laptop is wrapped in bubble wrap or any other unconventional material, it could be a fake.
1.2. Serial Number
Every genuine MacBook Air comes with a unique serial number. You can find this number on the back of the box, as well as on the laptop itself (usually on the bottom). You can verify the serial number on Apple's website to ensure it's a legitimate product. If the serial number is missing or does not match, it's likely a counterfeit.
2. Design and Build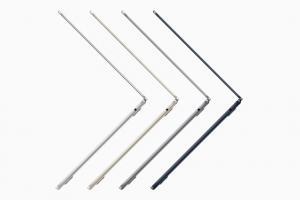 Although counterfeiters have become increasingly skilled at mimicking the MacBook Air's design, there are still some subtle differences that can help you spot a fake.
2.1. Material and Finish
A genuine MacBook Air is made from high-quality aluminum, giving it a premium feel and a smooth, cool-to-the-touch surface. Fake MacBook Airs may use cheaper materials, which can make them feel lighter, flimsier, or warmer to the touch.
The Apple logo on the back of the MacBook Air should be reflective and precisely embedded into the laptop's body. On counterfeit models, the logo may be misaligned, poorly cut, or simply a sticker.
2.2. Keyboard and Trackpad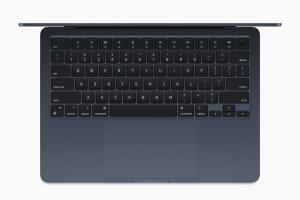 The MacBook Air's keyboard should have well-spaced, responsive keys with a comfortable amount of travel. The backlight should be even and adjustable, with no dead spots or flickering. Fake MacBook Airs may have keys that feel mushy, have inconsistent backlighting, or show signs of poor craftsmanship.

The trackpad on a genuine MacBook Air is large, smooth, and responsive, with support for multi-touch gestures. Counterfeit models may have smaller trackpads, reduced sensitivity, or lack the same level of responsiveness.
2.3. Ports and Connectors

The MacBook Air should come with two Thunderbolt 3 (USB-C) ports and a 3.5mm headphone jack. Make sure these ports are well-aligned, solidly built, and that the connectors fit snugly. Fake MacBook Airs may have misaligned ports, loose connectors, or even the wrong type of ports altogether.
3. Performance
While it's not always easy to judge performance on the spot, there are a few indicators that can help you determine if your MacBook Air is genuine or counterfeit.
3.1. Boot Time and Responsiveness
A genuine MacBook Air should boot up quickly and run smoothly. If your laptop takes a long time to start up or frequently freezes, it could be a fake.
When you first start up a genuine MacBook Air, it should guide you through the setup process, including language selection, Wi-Fi connection, and Apple ID creation or sign-in. Counterfeit models may not have this setup process or may have inconsistencies in the interface.
3.2. Battery Life
The MacBook Air is known for its impressive battery life. If you find your laptop's battery draining quickly or taking an unusually long time to charge, it may be a fake.
4. Software
A genuine MacBook Air should come pre-installed with macOS, Apple's proprietary operating system. Counterfeit models may run a different operating system or a modified version of macOS. Here's how to spot the differences:
4.1. macOS Version
Check the macOS version by clicking on the Apple logo in the top-left corner of the screen and selecting "About This Mac." Make sure the version is in line with what Apple currently offers for the MacBook Air. You can compare the macOS version on Apple's website for reference.
Counterfeit MacBook Airs may run older or unofficial versions of macOS, which can lead to compatibility issues, security vulnerabilities, and performance problems.
4.2. Pre-installed Apps
A genuine MacBook Air should come with a suite of pre-installed Apple apps, including Safari, Mail, Photos, and iWork. If these apps are missing or if you find unfamiliar software installed, it could be a fake.
4.3. System Preferences
Access the System Settings by clicking on the Apple logo in the top-left corner and selecting "System Settings" Ensure that all the options and settings are consistent with what you would expect on a genuine MacBook Air. Counterfeit models may have missing or altered preference panels.
5. Warranty and Support
Lastly, one of the most reliable ways to verify the authenticity of your MacBook Air is to check its warranty and support coverage.
5.1. AppleCare
Genuine MacBook Airs come with a one-year limited warranty and 90 days of complimentary technical support. You can check your coverage on Apple's website using the serial number. If your MacBook Air is not eligible for coverage, it may be counterfeit.
5.2. Apple Store Assistance
If you're still unsure about the authenticity of your MacBook Air, you can always bring it to an Apple Store or an Apple Authorized Service Provider. They can verify the authenticity of your device and provide support if needed. To find the nearest Apple Store or service provider, use the locator tool on Apple's website.
Conclusion
In this comprehensive guide, we've covered the key indicators that can help you spot a fake MacBook Air. By paying close attention to the packaging, design, build quality, performance, software, and warranty coverage, you can confidently identify counterfeit MacBook Airs and protect yourself from scams.
Remember, it's always best to buy your MacBook Air from a reputable source, such as Apple's official website, an Apple Store, or an authorized retailer. By doing so, you'll ensure that you're getting a genuine product with the full range of benefits and support that come with owning a MacBook Air.
We hope you found this guide helpful and that it empowers you to shop for your MacBook Air with confidence. Happy shopping, and enjoy your new (genuine) MacBook Air!