In a world dominated by smart devices and streaming services, Apple TV has undoubtedly carved a niche for itself. With its sleek design and seamless integration with other Apple products, it has become a go-to choice for many tech enthusiasts. However, as with any technology, there are always two sides to the coin. In this blog post, we will take you behind the curtain and shed light on the disadvantages of Apple TV that often go unnoticed. Whether you're a long-time Apple aficionado or considering purchasing an Apple TV for the first time, this exploration will provide valuable insights into its shortcomings and help you make an informed decision. So, let's dive in.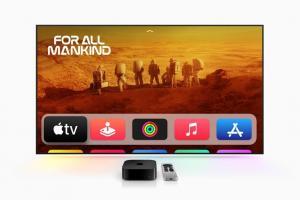 Introduction
Apple TV has become a popular choice for streaming enthusiasts, offering a seamless integration with other Apple devices and access to a wide range of entertainment options. With its sleek design and user-friendly interface, it's no wonder that many people are drawn to this streaming device. However, it's important to understand that Apple TV is not without its disadvantages. In this article, we will delve into the drawbacks of Apple TV and shed light on some of the limitations that users may encounter.
From limited app selection to content restrictions and regional limitations, there are several factors that may make you think twice before investing in an Apple TV. Additionally, the dependency on other Apple devices and the hidden costs associated with pricey accessories and upgrades can also be significant drawbacks for some users.
While Apple TV certainly has its strengths, it's crucial to consider these disadvantages before making a decision. By exploring alternative streaming options beyond Apple TV, you can ensure that you choose the best device for your specific needs and preferences. So let's dive in and uncover the less glamorous side of Apple TV.
Limited App Selection: The Drawbacks of Apple TV's App Store
When it comes to the app selection on Apple TV, there are a few drawbacks that users should be aware of. While the Apple TV App Store does offer a wide range of apps, it falls short in comparison to other streaming devices like Roku or Amazon Fire TV.
For example, some niche or specialized apps may not be available on Apple TV's App Store. This can be a letdown for users who have specific interests or hobbies and want to access related content through their streaming device.
While Apple has been working to expand its app offerings, it still lags behind its competitors in terms of variety and availability. So, if having access to a wide range of apps is important to you, it's worth considering other streaming options that offer a more extensive app selection.
Lack of Gaming Capabilities: Why Apple TV Falls Short for Gamers
While Apple TV offers a wide range of entertainment options, it unfortunately falls short when it comes to gaming capabilities. The device is primarily designed for streaming movies, TV shows, and music, rather than providing a robust gaming experience.
One of the main drawbacks is the limited selection of games available on the Apple TV App Store. While there are some popular titles, such as "Minecraft" and "Crossy Road," the overall catalog pales in comparison to dedicated gaming consoles like Xbox or PlayStation. This can be disappointing for avid gamers who are looking for a more immersive and diverse gaming experience.
Additionally, the Apple TV remote may not be ideal for gaming. Its touchpad design lacks the precision and tactile feedback that traditional game controllers offer. This can make gameplay less enjoyable and hinder the overall gaming experience.
It's also worth noting that Apple TV lacks support for virtual reality (VR) gaming, which has gained popularity in recent years. VR technology allows players to fully immerse themselves in virtual worlds, providing a unique and exciting gaming experience that Apple TV simply cannot deliver.
For serious gamers who prioritize a rich gaming experience, it may be worth considering alternative streaming devices or dedicated gaming consoles that offer a wider selection of games and better gaming capabilities.
Dependency on Other Apple Devices: The Downside of Apple Ecosystem Integration
One of the major disadvantages of Apple TV is its heavy reliance on other Apple devices. While this integration can be beneficial for those already immersed in the Apple ecosystem, it can be a drawback for those who don't own other Apple products.
To fully utilize the features and functionalities of Apple TV, you need to have an iPhone, iPad, or Mac. For example, setting up the device requires an iOS device with the latest software version. Additionally, using AirPlay to stream content from your other devices to Apple TV is limited to Apple devices only.
This dependency on other Apple devices can be frustrating for users who prefer a more diverse tech setup or who are not willing to invest in additional Apple products. It restricts the accessibility and usability of Apple TV for those outside the Apple ecosystem.
However, if you already own multiple Apple devices and enjoy the seamless integration they offer, this may not be a significant disadvantage for you. But for others looking for a standalone streaming device that doesn't require additional investments, this limitation can be a deal-breaker.
Pricey Accessories and Upgrades: Unveiling the Hidden Costs of Apple TV
When it comes to Apple TV, one aspect that often catches users off guard is the cost of accessories and upgrades. While the device itself may seem reasonably priced, it's important to consider the additional expenses that can quickly add up.
One key expense to be aware of is the need for HDMI cables. Apple TV requires an HDMI cable to connect to your television, and unfortunately, it doesn't come included in the box. This means you'll need to purchase one separately, which can range in price depending on the quality and length you desire.
Another potential cost is upgrading your remote control. The standard Siri Remote that comes with Apple TV may not be everyone's cup of tea. If you prefer a more traditional remote or one with additional features, you'll have to shell out extra money for a compatible alternative.
Additionally, if you're looking to enhance your audio experience, you might consider investing in external speakers or a soundbar. While this isn't exclusive to Apple TV, it's worth noting that these accessories can significantly improve your viewing pleasure but come at an additional cost.
It's important to keep these hidden costs in mind when considering Apple TV as your streaming device of choice. While the initial price may seem appealing, be prepared for potential expenses down the line if you want to optimize your viewing experience.
Content Restrictions and Regional Limitations: Understanding the Limitations of Apple TV's Content
When it comes to content, Apple TV has its fair share of limitations. One of the main drawbacks is the content restrictionsimposed by Apple. While the Apple TV app offers a wide range of movies, TV shows, and streaming services, it falls short in terms of flexibility. Certain apps and streaming services may not be available on Apple TV due to licensing agreements or other restrictions.
Moreover, Apple TV also faces regional limitations. This means that the content available on Apple TV may vary depending on your location. Some shows or movies that are accessible in one country may not be available in another. This can be frustrating for users who want to access a specific piece of content but find that it is restricted in their region.
Although Apple has been working to expand its content library and negotiate with more providers, these limitations still exist. It's important for potential buyers to consider these restrictions before investing in an Apple TV device. If having access to a wide range of content is a top priority, exploring alternative streaming options may be worth considering.
Alternatives to Consider: Exploring Other Streaming Options Beyond Apple TV
When it comes to streaming options, Apple TV is not the only player in the game. If you're looking for alternatives that offer a different set of features or a more budget-friendly option, here are a few to consider:
*Roku_: Known for its wide range of channels and affordable pricing, Roku is a popular choice among cord-cutters. With various models available, including the Roku Streaming Stick and Roku Ultra, you can find a device that suits your _needs* and budget.

*Amazon Fire TV*: If you're an Amazon Prime member or heavily invested in the Amazon ecosystem, the Amazon Fire TV might be worth considering. It offers access to a vast library of movies and TV shows, as well as integration with Alexa for voice control.

Google Chromecast: For those who prefer a more minimalist approach, Google Chromecast is a simple yet effective streaming device. It allows you to cast content from your smartphone or computer to your TV, making it easy to stream videos, music, and even mirror your screen.

*Smart TVs*: Many modern smart TVs come with built-in streaming capabilities, eliminating the need for an additional device altogether. With brands like Samsung, LG, and Sony offering their own app stores and content libraries, you can enjoy streaming without the hassle of extra equipment.
Remember that each alternative has its own strengths and weaknesses, so it's important to consider your specific needs before making a decision. Whether it's affordability, app selection, or integration with other devices that matters most to you, exploring these alternatives can help you find the perfect streaming solution beyond Apple TV.
Conclusion
While Apple TV offers a seamless and user-friendly streaming experience, it does come with its fair share of disadvantages. The limited app selection and lack of gaming capabilities may not make it the ideal choice for avid gamers or those looking for a wide variety of apps. Additionally, the dependency on other Apple devices can be seen as both an advantage and disadvantage, depending on one's existing tech ecosystem.
The pricey accessories and upgrades associated with Apple TV can also be a deterrent for some users who are looking for more budget-friendly options. Furthermore, content restrictions and regional limitations may limit access to certain shows or movies based on geographical locations.
That being said, there are alternative streaming options available that offer different features and cater to various needs. Exploring these alternatives might give individuals a better understanding of what suits their preferences best.
Ultimately, being aware of the disadvantages allows consumers to make informed decisions when it comes to investing in an Apple TV or opting for another streaming device. It is important to weigh the pros and cons before taking a plunge..
Frequently Asked Questions
Q. Who should avoid using Apple TV?
A. People who prefer a wider variety of streaming options should consider other devices.
Q. What are the limitations of Apple TV?
A. Apple TV does not support all streaming services and lacks a web browser for internet browsing.
Q. How does Apple TV compare to other streaming devices?
A. Compared to other streaming devices, Apple TV can be more expensive and has a more limited app selection.
Q. What are the drawbacks of Apple TV's remote?
A. The Apple TV remote is small and easy to misplace, which can be frustrating for some users.
Q. How does Apple TV handle gaming?
A. While Apple TV offers gaming capabilities, it may not provide the same immersive experience as dedicated gaming consoles.
Q. What if I already own other Apple devices?
A. If you already own other Apple devices, Apple TV can offer a seamless integration and enhance your ecosystem. However, if you prefer a more diverse range of streaming options, you may still want to consider other devices.
See also: The Advantages of Apple TV: Features and Benefits You Won't Want to Miss