Apple Watch keeps track of your active calories burned, and your Move ring shows that progress compared to your daily goal. But Apple Watch also tracks your total calories burned which is your active plus passive calories.
If you've been wondering about the difference between Active and Total calories on an Apple Watch, read on for a quick overview.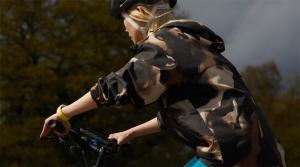 What's the difference between Active Calories & Total Calories?
Active calories are those you burn from movement, like when you run, walk, swim and so on. Total Calories is the sum of Active Calories and your Basal Metabolic Rate (BMR).
What Are Active Calories on Apple Watch?
When you're active, you burn calories. The amount you burn depends on the type of activity, plus several other factors like your heart rate and personal health data.
As you exercise using the Workout app on your Apple Watch, it tells you how many active calories you're burning in real-time. You can see it just below your timer and view it again later in the Fitness app on your iPhone.
What Are Total Calories on Your Apple Watch?
Even when you're sitting, you still burn calories. However, not everyone burns the same amount.
Apple Fitness includes this number in your workout data, so you can see the total number of calories you burned during the session, both active and passive.
Here is the Apple Watch Calorie formula
On Apple Watch, Active Calories for a workout is the total calorie count you get when the BMR (for the workout duration) is subtracted from Total Calories. In other words, the formula follows:
Active Calories = Total Calories — BMR
There are various BMR calculations. Your Apple Watch uses your height, weight, gender and age to calculate your BMR. As I said above, if you put the wrong personal details (your gender, height, age and weight), then your BMR may be incorrectly calculated, and thus your Active Calories may not be accurate.
How to see Apple Watch calories burned
View Active and Total calories burned on an Apple Watch
On Apple Watch, head to the Activity app
Swipe or scroll down with the Digital Crown
You'll see your active calories burned under the Move goal
Scroll down to see your workouts.
Tap on a workout, then scroll to view details, including Active and Total Calories.
View Active and Total calories burned on an iPhone
Open the Fitness app on your iPhone.
Tap a Workout.
And you will see Active Calories and Total Calories.
Active vs. Total Calories on Apple Watch
Simply put, your active calories are the ones you burn—or earn—as you exercise. These count toward your red Move ring and don't include resting calories.
Your total calories are active and passive added together, which gives you an overview of how many you burned during the time spent in your session.
So, if your goal is to burn extra calories by moving, you'll want to keep an eye on your active calories to track your efforts.