The Apple Watch is a great wearable for runners, cyclists, and strength trainers, but it's also an excellent option for swimmers. Newer models since Series 2 all feature water resistance up to 50 meters, making it a viable option for divers, too. However, this resistance rating doesn't mean water won't enter some of the watch's nooks and crannies, like the speaker. This is why it is important to use the Apple Watch Water Lock feature. This feature is designed to perform two main functions:
To lock the screen to prevent accidental taps when water touches your watch.
To get rid of water that may have gotten into the speakers when it is turned off.
Note: Information in this article apply to Apple Watch Ultra 2, Apple Watch Ultra, Apple Watch Series 9, Apple Watch Series 8, Apple Watch Series 7, Apple Watch Series 6, Apple Watch Series 5, Apple Watch SE, Apple Watch Series 4, Apple Watch Series 3 and Apple Watch Series 2.
How to turn on Water Lock on the Apple Watch
If you're heading to the pool, your favorite snorkel spot, or taking a shower, activating Water Lock is a good idea. This mode prevents accidental touches when you're in the water and allows the Apple Watch to eject water after the mode is deactivated. Here's how to turn on Water Lock on the Apple Watch:
Open the watch face. You may press the Digital Crown to go to the watch face. Swipe Up to open Control Center. Control Center enables you to quickly turn on or off useful features, such as Wi-Fi, Airplane Mode, Theater Mode and more.
Tap the Water Lock (water drop) icon – you may need to scroll down to find it.

Now, Water Lock is enabled. A small Water Lock icon will appear at the top of your watch face, indicating that Water Lock is enabled.
Please note that Water Lock turns on automatically when you begin a water-based workout, such as swimming or surfing. It also turns on automatically when you begin a scuba dive with your Apple Watch Ultra.
When Water Lock is on, the Apple Watch disables screen to ensure no accidental touches are registered. In Lock Mode, your watch will still receive calls and texts. Your watch will continue to record your activities. All sensors, like heart rate, etc., will work. But you won't be able to accept or reject your calls using your watch because the display won't respond to your touch.
How to turn off Water Lock on the Apple Watch to eject water
When you're done with your shower or swim, you'll have to turn off Water Lock to reactivate your display. Switching off the mode also ejects water from your Apple Watch. Here's how to turn off Water Lock on the Apple Watch:
Press and hold the Digital Crown on the side of your Apple Watch until the Unlocked message is displayed on the screen.
You'll then hear several beeps from the Apple Watch's speaker. This ejects any water remaining in its housing. After this process is complete, you can use your watch as usual.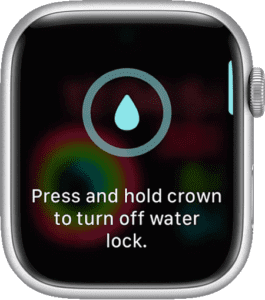 See also: How to Ping Your Apple Watch from Your iPhone
FAQs
Is my Apple Watch's water resistance compromised if I don't use Water Lock?
No. The Apple Watch's 50-meter water resistance rating isn't impacted whether this software setting is toggled on or off. But with Water Lock disabled, your Apple Watch won't be able to prevent mistouches. You also won't be able to eject water from the speaker unless Water Lock is enabled and disabled using the process detailed above.
Should I enable Water Lock even if I shower?
Yes. Ideally, you should use this setting whenever you could get the watch wet. However, Apple advises that users shouldn't expose their Apple Watches to soap or soapy water, as this may affect the water-resistance of the device. In our opinion, you should use your shower time to charge up your watch.
Do all Apple Watches feature Water Lock mode?
No. The Apple Watch Series 1 or earlier only feature IPX7 water resistance. This means they'll withstand splashes but not submersion. These devices don't support Water Lock mode or eject water from their speakers. In this case, Apple recommends placing the device speaker side down to let any excess water drain.
My Apple Watch is stuck in Water Lock mode. What should I do?
A quick way to disable Water Lock is to place the Watch on its charging cradle. This will automatically disable Water Lock. Make sure that the watch is dry before trying this.