Being an Apple products fan, it's enjoyable having HomePod Mini. It has a lot of benefits such as high sound quality, easy to connect to iPhone, intercom, privacy, easy integration with Apple Ecosystem and more.
Maybe you have been thinking of buying an Apple HomePod for quite some time, but still unsure whether you really need such a device. To help you make an informed decision, we will discuss the Apple HomePod mini advantages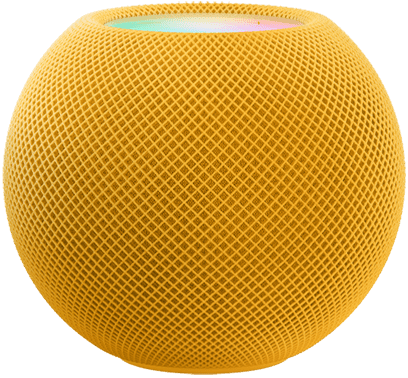 Advantages of Apple HomePod Mini
There are many advantages of having an Apple HomePod mini. Here are just some of them.
1. Intercom
With more than just one HomePod mini in the house, you can easily communicate with your family members by voice using intercom. Ask Siri to send your message to the whole house or to the individual rooms and everyone can easily respond.
Intercom also works with your other Apple devices. You can send and receive messages through CarPlay while you are driving, on your Airpods during a workout, or with your Apple Watch when you are running errands.
2. Smart Home
Apple HomePod can control smart home devices that are set up in the Home App on the iPhone, and can be integrated into Home automation. It can also act as a Home Hub, which allows you to control your smart home device with your iPhone from anywhere as long as you have a data or Wi-Fi connection.
The HomePod does support a smart home protocol called Thread. Which allows devices to connect to it over long distances and uses less power than Wi-Fi or Bluetooth. A handful of smart lights have been announced with support for thread in Homekit. Homekit itself does have a wide range of compatible smart home devices including lights, contact sensors, cameras, thermostats, door locks, smart plugs and more which can be controlled by voice through the HomePod Mini.
3. Private and secure
Privacy is essential especially in your own home. HomePod Mini is designed to keep your personal information safe and be a trusted assistant in your family everyday life. HomePod Mini only listens for " Hey Siri", so you can speak freely knowing nothing you say is sent out of your home. Until you activate Siri with a touch, or HomePod Mini hears the magic words "Hey Siri", it's when the HomePod Mini will listen.
With HomePod Mini secure video support, HomePod Mini can analyse the feeds of your supported video cameras, and detecting the presence of people while recognizing familiar faces, pets and cars. All video processing is done right on the device before it is sent end-to-end encrypted to iCloud. So your recording can only be seen by you and the people you share them with and not Apple.
4. HomePod Mini sounds incredible
From the moment you start playing music, it's clear that the HomePod Mini comfortably outperforms its size. And no matter how much you push it, the HomePod Mini never shows any sign of strain. It is clear and composed at all volumes.
The HomePod Mini does not sound bass, light in its own right. In fact, it's more solid and authoritative. There is excellent overall tonal balance and consistency, with no frequencies over exaggerated.
5. Easy integration with Apple Ecosystem
To integrate the HomePod Mini with the iPhone, you only have to hold your iPhone close to the speaker and follow some simple steps on the screen, and it's ready to go.
HomePod Mini supports phone calls and text messages. Although, unfortunately, Apple HomePod Mini can be synced to just one iPhone. This makes it easier for anyone in the household to read your text messages or send messages to your contacts. However, you can disable access to messages if you are not comfortable with the environment where the speaker is. So if you are an Apple fan, then this speaker will make your life easier.
6. HomePod Mini is the best way to listen to Apple Music
Apple Music has many subscribers who can enjoy every sound track on their HomePod Mini. With the use of Siri, you can get the best of Apple Music on HomePod Mini. And with time, Siri will get used to your preference and will start suggesting playlists based on your taste.
7. Stereo pairing
Two HomePod Mini in a single room can also work together as a stereo pair, with the left and right channels to fill a space with the sound. Also music can be played to multiple HomePod Mini, HomePods and AirPlay speakers throughout the house at the same time.
8. Handoff
There is a UI chip that is in the HomePod Mini. Apple says that this chip will enable a different transfer experience with haptic feedback and personalized listening suggestions.
With handoff functionality, you can bring an iPhone or iPad close to your HomePod Mini, and then the music that is playing on your device will transfer right over to the HomePod Mini. And also you can transfer music from HomePod Mini to your iPhone or iPad.
9. Use of Siri
The use of Siri intelligent, puts HomePod Mini at the center of your family activities. And with multiple HomePod Mini around the house, it's easy to call on Siri from anywhere.
Siri can recognize the voices of Up to six different family members on HomePod Mini. Thus creating a personalized experience for each person. So the music mum hears when she asks for something she would like, is totally different from what the kids hear when they ask. With these different personal requests, Siri can recognize a particular voice and relay that person's information from iPhone Apps like messages, contacts and calendars.
10. Affordable Price
The Apple HomePod mini is more affordable compared to the larger HomePod. HomePod Mini comes in space grey or white costing £99. While the larger HomePod has an RRP of £279.
verdict
If you are looking for a primary listening device, then Apple HomePod mini is your way to go, especially if you have invested in Apple Ecosystem.
The above mentioned advantages of Apple HomePod Mini, are just some of the concrete benefits you must know.