With iPadOS 16 finally available for everyone, there's a lot to dive into and familiarize yourself with. In this article, we're going to take a look at the best iPadOS 16 tips and tricks so you can transform how you use your iPad.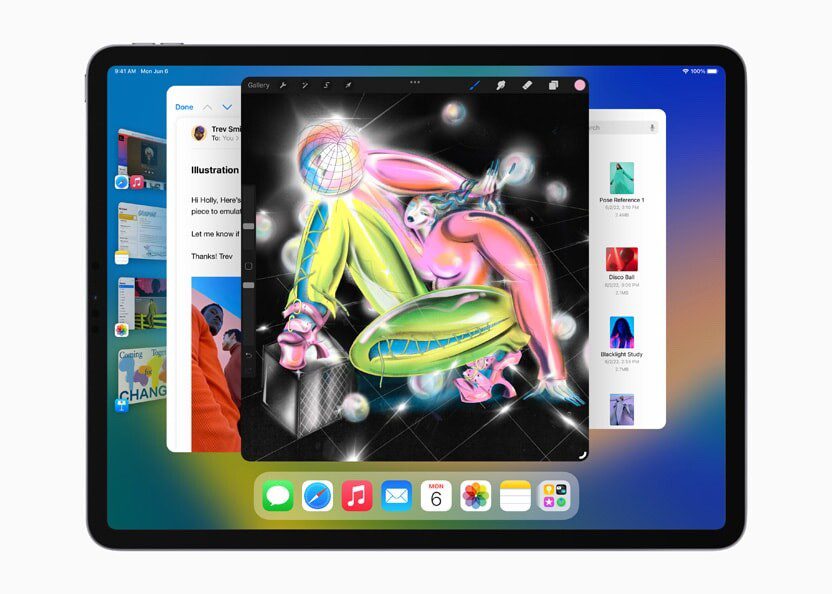 iPadOS 16 brings new features, like editing and un-sending iMessages, Stage Manager and much more, but with so many changes on offer, where do you start?
We're here to make the adjustment far easier with the best iPadOS 16 tips and tricks.
Best iPadOS 16 tips and tricks
Without further ado, here is a list of the Best iPadOS 16 Tips and Tricks in 2022:
1. iPadOS 16 Tips and Tricks: Edit or unsend iMessages
If you make a grammatical mistake or even text the wrong person, you now have 15 minutes to edit what your message says and two minutes to unsend it, essentially deleting the text.
If you use messaging tools like Slack, you've likely edited at least one — or 100 — of the messages you've sent. Whether you made a typo or your message contains incorrect data, the editing feature is a nice way to make your corrections quickly. With iPadOS 16, you can also edit your messages sent from your iPad within 15 minutes of sending.
Accidental messages happen way too often. Maybe you tapped the send button when you meant to select an emoji. Or perhaps you messaged the wrong person entirely. In either case, you can recall those messages with iPadOS 16. Unlike with the edit message feature, you only have 2 minutes to unsend a text.
Open the Messages app on your iPad.
Type your message as you normally do.
Once you've sent it – long press that message. You'll see both 'Edit' and 'Undo send' as options in the drop-down menu. Choose whichever you want to use at the time.
Please note, if the person you're sending it to doesn't have iOS 16 or iPadOS 16, it won't appear as unsent for them, they'll still see the message.
2. iPadOS 16 Tips and Tricks: Recover recently deleted messages
This might surprise you, but if you ever wanted to find and recover a deleted text message on iPadOS 15, the only way to do it was to first hope that you had a backup with that specific text, and then restore your iPad. An overly complicated and time-consuming process, for what should be an easy task.
Fortunately that's now been simplified thanks to iPadOS 16.
Instead of dealing with restoring a backup, you can now find the deleted texts on your device and recover them into the Messages app with just a few taps. The process is simple, just follow the steps below:
Open the Messages app on your iPad.
Go to the Recently Deleted section.
Tap Recover All to restore all deleted messages.
If you only wish to get back one or a few chats, tap inside their tiny round box to select them. After that, tap Recover.
3. iPadOS 16 Tips and Tricks: Scheduled send emails
Apple has added the ability to schedule what time emails are sent using the default Mail app in iPadOS 16, giving users the option to compose a message and schedule it to be sent hours, days, or even weeks in advance.
Particularly useful for late-night workers, birthday messages or reminders, users can schedule emails ahead of time.
Third-party email apps with scheduling tools have been available on the App Store for a long time, but never before has Apple built the functionality into the default Mail app on iPad. When scheduling an email, users can select a generic preset option or create a custom trigger to send the email on any desired date and time.
Open the Mail app on your iPad.
Draft your email the way you normally would, complete with the recipient, subject, and message.
When you are done with the email and ready to send it, tap and hold the Send icon (the big blue arrow). You'll see a pop-up menu.
Choose when you want to send the message.
Apple gives you a few quick-pick choices, including Send 9:00 PM Tonight and Send 8:00 AM Tomorrow. If you want to choose a custom time, tap Send Later… and you can choose the date and time from a calendar view, then tap Done.
4. iPadOS 16 Tips and Tricks: Delete Duplicate Photos & Videos
If you need a quick way to clear some space on your iPad, there's now a built-in feature in Photos that scours your camera roll for any duplicate photos and videos. This is a great way to not only do some spring cleaning but also remove files that are taking up storage on your iPad.
Open the Photos app on your iPad.
Tap on 'Albums'.
Scroll all the way down until you see 'Duplicates' in the list near the bottom of the page. Now you can either hit 'merge' near each match, or hit 'select' at the top and then manually choose each image you want to delete and hit the delete trash can icon at the bottom.
5. iPadOS 16 Tips and Tricks: Use new Weather app
For years, the iPad never had a native Weather app, so users had to download third-party apps from the App Store. Luckily, with iPadOS 16, Apple brought its own Weather app to the iPad. iPhone users are probably familiar with the app, but still there are some tricks that not everyone knows.
Once you open the app, you'll find a beautiful overview of the weather forecast at your current location or in the city you have chosen. There are details such as hourly forecast, 10-day forecast, wind, visibility, precipitation map, UV index, and sunrise time. With just a simple scroll, you can find even more details in the app.
But here's where things get even more interesting. If you tap any of the information cards, the app shows you even more details about the weather. For example, tapping the sunrise card brings up a graph that also shows the time of sunset and last light. You can also tap on the forecast to see the temperature variations over a 24-hour period.
There are also interactive maps that can show different information depending on what you choose. Tap the precipitation map to expand it with an animated 12-hour forecast. By tapping the options button at the top right side of the screen, you can also see a representation of the current temperature for each region on the map.
6. iPadOS 16 Tips and Tricks: Collaborate on projects
New features in Messages make it easy to start collaborating and manage shared content across Files, Keynote, Numbers, Pages, Notes, Reminders, and Safari, as well as third-party apps. When users send an invitation to collaborate via Messages, everyone on the thread is automatically added to the document, spreadsheet, or project. When someone makes a change to a shared file, everyone can see updates right at the top of the Messages thread. And when a user is working on a collaborative project, they can easily jump into the associated Messages conversation or just tap to start a FaceTime call with their collaborators.
7. iPadOS 16 Tips and Tricks: Metal 3 and other gaming enhancements
For the first time, iPadOS 16 is bringing Metal 3 APIs to the iPad. Apple is looking for iPads to be gaming machines with Metal 3-enabled, hardware-accelerated 3D graphics. Additionally, Apple has a new API that allows larger asset packs to download in the background while you play the game.
With your Game Center account, you can find friends, track progress in various games, and view leaderboards for various games. Gaming on iOS has largely been the domain of phones. However, Apple is pushing to get more gamers onto the iPad. It has designed these moves to do just that.
8. iPadOS 16 Tips and Tricks: Turn Reference Mode on or off
Reference Mode provides a consistent reference workflow across devices, making iPad Pro an indispensable tool for creative professional workflows, like color grading, editing, and content review, where accurate colors and consistent image quality are critical. To use Reference Mode, you need 12.9-inch iPad Pro (5th generation or later)
Reference Mode enables your iPad Pro to match the color requirements of your workflow. It targets a D65 white point and disables all dynamic display adjustments for ambient surround, like True Tone, Auto-Brightness, and Night Shift. You can also adjust the white point and luminance manually.
Reference Mode might affect battery life. Here's how to turn the feature on or off.
Open the Settings app,.
Tap Display & Brightness.
Turn Reference Mode on or off.
9. iPadOS 16 Tips and Tricks: Turn Stage Manager on and off
Stage Manager is an entirely new multitasking experience that automatically organizes apps and windows, making it quick and easy to switch between tasks. For the first time on iPad, you can create overlapping windows of different sizes in a single view, drag and drop windows from the side, or open apps from the Dock to create groups of apps for faster, more flexible multitasking. The window of the app you are working on is displayed prominently in the center, and other open apps and windows are arranged on the left-hand side in order of recency.
With Stage Manager, you can create overlapping windows of different sizes, drag and drop windows from the side, and open apps from the Dock to create groups.
Available on iPad Pro and iPad Air with the M1 chip, Stage Manager also unlocks full external display support with resolutions of up to 6K, so you can arrange the ideal workspace, and work with up to four apps on iPad and four apps on the external display.
With full external display support, Stage Manager allows you to arrange your ideal workspace and work with up to eight apps simultaneously.
Stage Manager is an optional feature. You can use it as little or as often as you'd like, with a quick tap of a button toggling it on or off. That button is located in the iPad's Control Center. To access it follow the steps below:
Swipe down from the top right corner of your iPad's screen to bring up control center.
There you'll see a new icon that has three dots on the left side, with a rectangle to the left of the dots. Tap on the icon to turn on Stage Manager.
If you want to revert back to the more traditional iPad layout, open Control Center again and tap the Stage Manager button to turn it off.
10. iPadOS 16 Tips and Tricks: View and share saved Wi-Fi passwords
Apple has allowed iPadOS users to share Wi-Fi passwords for a while now, but only by placing two Apple devices near each other. And if that feature didn't automatically work, you couldn't just dig out the password from your settings. Plus if you wanted to share a saved Wi-Fi password with someone else, like an Android user or someone on a computer, you had to remember the password. Until now.
Open the Settings app on your iPad.
Tap 'Wi-Fi'.
Tap the tiny information icon to the right of the network you want the password for. To view the network password, tap the Password section and then use Face ID or enter your passcode to view it. You can then tap Copy to copy the password into your clipboard and share it.
11. iPadOS 16 Tips and Tricks: use iCloud Shared Photo Library
iPadOS 16 makes it much easier to share photos and videos with loved ones. Going beyond the Shared Albums feature that's been available for years, iCloud Shared Photo Library lets you automatically or manually share your entire or partial photo library and also directly from your camera.
You'll be thrilled to know that iCloud Shared Photo Library is now available on iPhone, iPad, and Mac which will make photo management and sharing much more seamless.
Here's how to turn on iCloud Shared Photo Library
Open the Settings app on your iPad.
Swipe down and choose Photos
Under Shared Library, tap Set Up
Now tap Get Started
Choose if you want to invite others now or later
Choose what you want to include in the Shared Library
Preview the Shared Library if you'd like
Send your invitations for others to join
Choose if you want automatic or manual sharing from the Camera
Tap Done and you're all set up!
Your favorite iPadOS 16 tips and tricks
These are some iPadOS 16 tips and tricks that will help you get the most out of your iPad. Do you know any other iPadOS 16 tips and tricks? Let us know in the comments section below.