If you've got yourself a new Apple Watch Series 8, here are 15 tips and tricks to help you get the most out of your new purchase.
The Apple Watch Series 8 come packed with features and technologies, making it one of the best smartwatch currently available. The Apple Watch Series 8 features a skin temperature reader, low power mode and crash detection to make the best smartwatch around a tick better. Though, many users aren't aware of the complete list of offerings this wearable pack. Consequently, they don't make the most of their high-end devices and miss out on some neat perks.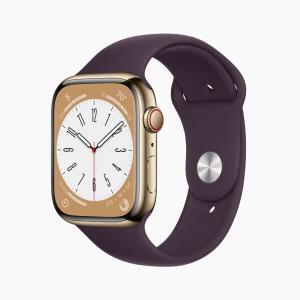 There are plenty of hidden Apple Watch Series 8 tips and tricks that even long-time owners might not know about. Some might seem like common knowledge, but you'd be surprised how many Apple Watch Series 8 users' jaws drop when they learn something new, then grin from ear to ear with the declaration, "I didn't know it could do that." Read on for 15 hidden Apple Watch Series 8 tips and tricks you'll want to try out today.
15 Hidden Apple Watch Series 8 tips and tricks you didn't know about
Here are some of the hidden Apple Watch Series 8 tips and tricks you possibly didn't even know about:
1. Make your iPhone flash from your Apple Watch
So, you know you put your iPhone down somewhere but can't find it — we've all been there. Thankfully, you don't need to use Find My to find it. There's a hidden trick you can use to light up the iPhone right from your Apple Watch Series 8.
On the Apple Watch, swipe upwards from the bottom of the watch face to open Control Center.
Press and hold the iPhone icon and the iPhone will play a loud tone while the flash will light up briefly. (If you just quickly tap the icon, it will only play the tone).
That's it! You might have to press and hold the icon a few times over and follow the sounds and/or look for the light until you locate the device. But it's a great way to find the phone, especially in the dark.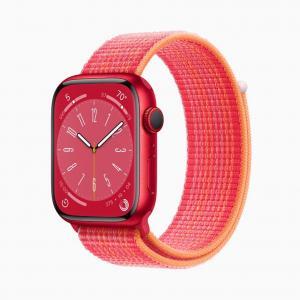 2. Take Screenshots on your Apple Watch
Apple Watch Series 8 has the ability to take screenshots, but before you can take screenshots on Apple Watch you must first enable the capability:
Open the Watch app on the paired iPhone
Go to the "My Watch" tab to access watch settings
Tap on "General"
Find the switch for "Enable Screenshots" and toggle this feature to the ON position.
Now that screenshots are enabled on Apple Watch, here's how you can take screenshots of your watch screen:
Press both the Digital Crown button and the Side Button at the same time
The screen will flash indicating a screenshot has been taken, and the screenshot image will appear in your Camera Roll on Watch and the paired iPhone in a moment.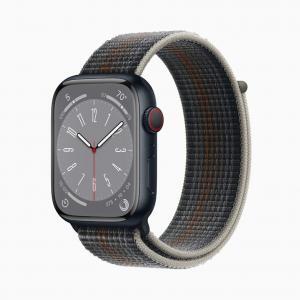 3. Use Your Apple Watch As A Camera Remote
Did you know you can use your Apple Watch as a camera remote? Instead of working up a sweat trying to beat the timer for your next selfie, you can use the Apple Watch Series 8 trick to control your phone's camera shutter.
Unlock your iPhone.
On the Apple Watch home screen, open Camera Remote. The icon looks similar to the Camera app icon on your iPhone.
After opening the app, you will see what your photo will look like on your Watch face.
Adjust your camera settings to your preference like using the zoom feature by using the Digital Crown and compose your shot.
Tap the shutter icon in the centre of the watch screen to take your photo.
4. set a timer on Apple Watch
Maybe you're running laps and trying to beat a personal record,or you might have a turkey in the oven that you need to tend to in intervals. Whatever the case, timers ensure accuracy.
Being able to set a timer anytime, anywhere, and glance at the running countdown right on your wrist can be useful, and the Apple Watch Series 8 trick makes this easy. You can initiate a timer using either the app or by Siri voice command. You can even assign a name to a custom timer and set it as a favorite for instant access the next time you need it.
Open the Timers app on your Apple Watch.
From there, select from a preset duration, ranging from 1 minute up to 2 hours.
Tap the desired number and a timer will begin counting down. It'll ding a few times in succession and display Done on the screen to let you know it's ready.
You can also tap Custom and set your exact desired time, including hours, minutes, and right down to seconds by moving each digital dial up or down until you get to the number you want.
Tap Start and it will begin counting down.
Alternatively, you can use voice commands. Say "Hey Siri, set a timer for X minutes" and it will commence from the Watch.
5. Enable Crash Detection
Crash Detection is a feature that detects if you've been in a crash and automatically notifies emergency services. It also sends a message to your emergency contacts. The GPS sensor detects the speed, the microphone pays attention to changes in sound, and the barometer detects the change in pressure to detect if you've been in a crash.
We sincerely hope you never face the circumstances of using this feature. But, we strongly recommend enabling it to be on the safer side.
Open the Watch app on the iPhone paired with your Apple Watch Series 8.
Tap the My Watch tab.
Navigate to Emergency SOS.
Enable the Call After Severe Crash toggle.
Whenever the Apple Watch detects that you've been in a crash, it'll begin a countdown of 20 seconds. Once the countdown ends, it will call emergency services, respond on your behalf if you're unresponsive (plays an automated message), and share your GPS coordinates.
6. Use the Water Lock on your Apple Watch
Water Lock, as its name suggests, blocks touch input from interacting with water so that water drops don't interact with the display. This way, when you're showering, swimming, or dealing with a water flow, watchOS won't register each droplet as a touch. We advise anyone swimming or showering to enable the Water Lock if they're wearing their Apple Watches. Otherwise, water drops could launch and mess with installed watchOS apps or call/message other people.
Here are the steps you need to follow to enable or disable the Water Lock:
Open the Control Center on your Apple Watch by swiping up from the bottom of the screen.
Tap on the Water Lock button, which has a water drop icon.
This will now block all touchscreen input. You can still rotate the Digital Crown to scroll through a fresh notification or an active workout.
When you're no longer subjecting your Apple Watch to water, dry its display with a soft towel, and press and hold on the Digital Crown to remove the Water Lock. You can release the Digital Crown once your watch starts beeping and ejecting water.
7. Track Changes in Wrist Temperature
The Apple Watch Series 8 feature a new temperature sensor. One is placed within the back crystal and another under the display. The sensor at the back crystal detects your body temperature, while the sensor under the display detects the temperature of your surroundings.
Some pre-requisites to track your body temperature are,
Set up Sleep in the Health app and track sleep with the Apple Watch option enabled.
You need to enable Sleep Focus for a minimum of 4 hours for at least five nights.
Once you've done the needful, you can check your weekly, monthly, and biannual records in the Health app.
Open the Health app on your iPhone paired with the Apple Watch.
Select the Browse tab at the bottom.
Navigate to Body Measurements located under the Health Category.
Tap Wrist Temperature, and you can now view all the recorded data.
8. Calculate and split the bill on your Apple Watch
It can be awkward when you're out for brunch with friends or dinner with colleagues, and the bill comes. Everyone scrambles for their phones so they can pull up the calculator app and figure out what the tip should be and then how much each person should put in. Thankfully, you can figure this out right from the Apple Watch.
The tip calculator function built into watchOS. Not only does it calculate the tip, but it also allows you to split the entire bill with several people.
Launch the built-in Calculator app on your Apple Watch.

Type the total number you need to pay.

Tap the Tip button towards the top middle.

Choose the percentage you would like to tip by rotating the Digital Crown. This will show the tip amount, in addition to the new total, by automatically adding it to the initial bill.

Tap on People if you'd like to split the bill with someone else and change the number by rotating the Digital Crown. This will show how much each person would have to pay at the very bottom of the screen.
9. Enable Low Power Mode on your Apple Watch
Enabling Low Power Mode on the Apple Watch Series 8 reduces battery consumption by disabling features like, Always On display, Heart rate measurements and notifications, etc.
Swipe up from the bottom of your watch face to see Control Center
Tap the battery percentage
Tap the toggle next to Low Power Mode
Swipe down and choose to turn on or turn on for 1, 2, or 3 days
Alternatively, on your watch head to Settings > Battery > Swipe down to Low Power Mode.
Low Power Mode will turn off when your battery is charged to 80%. But, if you previously chose the Turn On For option and set a certain number of days, the feature will turn off only after those days. Or you have the option to disable Low Power Mode manually.
10. Share your Apple Watch face with friends
Considering this wearable is perceived as a fashion item, the face layout and style matters a lot. So thanks to this Apple Watch Series 8 trick, you get to quickly transfer your watch's appearance to one of your contacts. After all, some watch faces support many complications, and manually copying from a friend could take ages. Through the sharing feature, two or more people can rock the same Apple Watch face without the need for manual setup.
Launch the Watch app on your iPhone.
Tap and hold on the watch face you would like to share.
Click on Share Watch Face.
This will bring up the Share Sheet, where you can pick an instant messaging or email app you've installed.
Once you share it with a contact, they will be able to add it to their own watch by tapping on the file, then clicking on the Add to My Faces button.
11. Make Apple Watch announce the time
Apple Watch Series 8 features the ability to announce the time for you if you're unable to look at your wrist for whatever reason. This way, you can tell what time it is without needing to depend on any visual signals. Though, for this to work, you must first enable the Speak Time feature on your Apple Watch.
Launch the Watch app on your iPhone.
Scroll down, and go to the Clocksection.
Enable the Speak Time toggle.
You can also choose if the feature works at all times or only when your Apple Watch isn't silenced.
Now, to make your Apple Watch announce the time, just hold two fingers on the watch's face.
This feature is handy for those who are unable always to check their wrists or are visually impaired. If you dislike its working mechanism, you could alternatively trigger Siri and ask about the current time.
12. Monitor safe hearing levels with Apple Watch
Ever been in a loud setting, like a concert, and wondered if it's safe for your hearing? Well, it's important to be aware of how loud an environment is and potential adverse effects on your hearing, and this hidden Apple Watch Series 8 trick can help.
Open the Noise app on the Apple Watch.
Tap** Enable** to turn it on if it isn't already on.
Any time you want to measure the noise level in a specific setting, **open the app **and wait for a reading. There's also a Noise complication you can add to the Apple Watch face if this is a primary concern you want to keep an eye on 24/7.
To receive notifications whenever the sound level is recognized as loud, go to Settings on the Apple Watch.
Go to Noise.
Select Environmental Sound Measurements.
Turn it On by tapping on the right side of the bar. Then go back to the previous page.
Select Noise Notifications.
Choose the desired level for which you want to receive a notification. You can choose from 80dB, 85dB, 90dB, 95dB, and 100dB.
You'll now receive a notification if noise levels ever reach that threshold.
13. Customize which apps appear in your dock
If you have a lot of apps installed on your Apple Watch, it can be difficult to find the right ones when you need them. That's where the Apple Watch's dock comes in handy. If you're not familiar, the dock is essentially the iPhone's app switcher, but for the Apple Watch. You can trigger it by tapping the side button, which pulls up a carousel of recently used apps.
However, you can also customize the dock to show any apps you want instead of your most recent apps. To do this on your watch:
Open the Settings menu.

Tap Dock.

Select the Favorites option. But I recommend setting this up in the Phone's Watch app instead so that you can customize these apps.

Open the Watch app on your iPhone.

Tap Dock.

Once the Favorites option is selected, you'll see a list of apps divided into two sections: Favorites and Do Not Include. Favorites are the apps that are currently in your dock, while the latter lists all of the other apps on your watch that aren't included.

Tap the **Edit **button in the top right corner to customize the Favorites list to your liking.

14. Make text easier to read by increasing the font size
Reading notifications and news headlines can be difficult on a screen that's so small. Luckily, a hidden Apple Watch Series 8 trick lets you increase the font size on your Watch to make things a bit easier on your eyes. To do so, follow the steps below:
Launch the Settings app on your watch.
Tap Display & Brightness.
Scroll down to Text Size.
Rotate the Digital Crown or tap the letters that appear on either side of the meter to adjust the text size on your watch.
15. Unlock your Apple Watch with your iPhone
Typing in your passcode to unlock your Apple Watch can be a pain, but you can use a cool trick to do it. You can choose to have your Apple Watch unlock automatically when your iPhone is unlocked.
Tap the Digital Crown and navigate to the Apple Watch's Settings menu.
Scroll down to Passcode, and make sure the switch next to Unlock with iPhone is toggled on. Your iPhone will now also display an alert saying that your iPhone is being used to unlock your Apple Watch whenever you put this into practice.
What Can You Do With an Apple Watch?
These tips and tricks will help you utilize your Apple Watch Series 8 in ways you probably haven't before. While the devices are great for the basics, they're capable of a lot more than is immediately obvious.