The arrival of 5G has set a new standard for mobile connectivity, offering much faster data speeds and significantly lower latency than its predecessors. With the iPhone 14 series designed to support 5G, you are entitled to enjoy these benefits, provided you're in an area with 5G coverage. However, sometimes you might find that the 5G on your iPhone 14 isn't working as expected. If you've been struggling with this issue, you've landed in the right place. In this article, I'll explain why 5G is not working on your iPhone 14 Pro and show you how to fix the issue.
Apple's newest iPhones — the iPhone 14, iPhone 14 Plus, 14 Pro and 14 Pro Max — are capable of connecting to 5G wireless networks, much like the iPhone 13 and iPhone 12. That means, if your carrier has 5G coverage where you live or work, you should see faster speeds and a more reliable connection. But that's not always the case. You may find that your iPhone 14 is constantly switching back and forth between LTE and 5G or sometimes refusing to work at all.
Fortunately, you can fix your iPhone 14 Pro 5G connection problems in a few simple steps.
Note: information in this article apply to iPhone 14, iPhone 14 Plus, iPhone 14 Pro and iPhone 14 Pro Max.
Why is 5G not working on iPhone 14 Pro?
Before diving into the solutions, let's understand the potential causes that might lead to 5G not working on iPhone 14 Pro.
Insufficient 5G Coverage
5G technology is still being rolled out globally, and coverage can be patchy, even in areas supposedly under a 5G network. If you're in an area with limited 5G coverage or the 5G signal is weak, your iPhone 14 Pro might struggle to connect or might fall back to 4G LTE or 3G networks.
Network Settings or Software Issues
Sometimes, your iPhone's network settings may cause connection problems. Also, iOS updates can sometimes lead to network-related issues, including disrupting 5G connectivity.
Carrier Settings
Your mobile carrier's settings play a vital role in facilitating 5G connectivity. If these settings are outdated or incorrectly configured, your iPhone 14 Pro might not connect to 5G.
How to Troubleshoot and Fix 5G Issues on iPhone 14 Pro
Now that we understand the possible reasons behind the iPhone 14 Pro 5G issues, let's dive into the solutions.
1. Make sure you're in an area with 5G coverage
Before delving into more complex troubleshooting, it's essential to ensure that 5G is available in your current location. Although 5G networks are rapidly expanding, there may still be locations where the coverage is weak or non-existent. Remember, even if you're in a 5G-enabled zone, factors like your proximity to a 5G tower and physical obstacles can affect signal strength.
To verify this, you can:
Check your carrier's coverage map, which typically can be found on their website. Compare your location with the 5G coverage areas.
Try moving to a different location, preferably one where you're sure there's 5G coverage.
If you find you're in an area without 5G coverage, your iPhone 14 Pro will default to using 4G or LTE until 5G is available again.
2. Make sure your carrier supports 5G
Even if your location has 5G coverage, your carrier needs to support 5G services for your iPhone 14 Pro to access it. Most major carriers (Verizon, AT&T, etc) do offer 5G services, but smaller carriers or prepaid services may not yet offer 5G, or they may provide it only as an extra-cost option.
To confirm this:
Check with your carrier to see if 5G service is available as part of your plan.
If 5G is an add-on service, ensure it has been activated on your account.
3. Make Sure 5G is enabled on iPhone Settings
Your iPhone 14 Pro comes with specific settings that enable 5G connectivity. If these settings have been changed inadvertently, it may result in 5G not working on your iPhone 14 Pro.
Here are steps to ensure your settings are correct:
Open the Settings app on your iPhone.
Scroll down and select Cellular.
Tap on Cellular Data Options.
Tap on Voice & Data.
Ensure either 5G On or 5G Auto is selected. 5G On will always use 5G when it's available, while 5G Auto will save battery by switching to LTE when 5G speeds aren't necessary.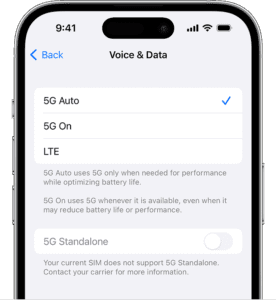 4. Toggle Airplane Mode
Switching your iPhone into Airplane Mode and then back off can sometimes reset your network connection and resolve connectivity issues.
Here's how you can toggle Airplane Mode:
Open the Control Center on your iPhone by swiping down from the top-right corner of the screen.
Tap the Airplane Mode icon (it looks like an airplane) to activate Airplane Mode. You'll know it's activated when the icon turns orange.
Wait for about 30 seconds, then tap the Airplane Mode icon again to deactivate it.
Your iPhone 14 Pro will then reconnect to your carrier's network, which may resolve the 5G issue.
5. Disable Low Power Mode
Low Power Mode is a handy feature that conserves battery life when your iPhone is running low on power. However, it achieves this by reducing or limiting some features and services, including network connectivity.
To disable Low Power Mode:
Go to Settings.
Tap on Battery.
If Low Power Mode is activated, the toggle will be green. Tap it to turn it off.
After disabling Low Power Mode, check to see if your 5G connectivity has been restored.
6. Update iOS and Carrier Settings
Outdated iOS or carrier settings can also cause 5G to stop working on your iPhone 14 Pro. Keeping your iPhone updated ensures optimal performance, including the functioning of 5G.
To update iOS:
Go to Settings > General > Software Update. If an update is available, tap on Download and Install.
For carrier settings:
Go to Settings > General > About. If a carrier settings update is available, you'll receive an option to update.
Remember to keep your iPhone connected to Wi-Fi during these updates and ensure your device is charged or connected to a power source.
7. Restart Your iPhone
Sometimes, the classic "turn it off and back on again" approach can be a simple but effective solution to tech problems. Restarting your iPhone 14 Pro can help clear minor bugs that could be causing your 5G connectivity issues.
Here's how to restart your iPhone 14 Pro:
Press and hold the side button and the volume up or down button until the power off slider appears on the screen.
Drag the slider to turn your iPhone completely off.
After the device turns off, press and hold the side button again until you see the Apple logo.
After your iPhone restarts, check if the 5G issue is resolved.
8. Reset Network Settings
If you've gone through the above steps and your iPhone 14 Pro is still not connecting to 5G, it may be helpful to reset your network settings. This action will erase all your saved Wi-Fi networks and passwords, Bluetooth connections, and VPN and APN settings, but it can also resolve network issues.
Here's how you can reset your network settings:
Open Settings on your iPhone.
Go to General > Transfer or Reset iPhone.
Tap on Reset.
Tap on Reset Network Settings.
You will be asked to enter your passcode for confirmation. After entering it, tap Reset Network Settings in the pop-up window.
After your iPhone restarts, try connecting to the 5G network again.
9. Contact Apple Support or Carrier
If you've exhausted all these troubleshooting methods and 5G is still not working on your iPhone 14 Pro, there might be a deeper issue with your phone or your carrier's network. At this point, it's best to reach out to Apple Support or your carrier.
Before you contact them, gather as much information as you can about the issue, like:
When did it start?
Have you made any changes to your iPhone around the time it started?
Where are you located when the issue occurs?
This information will help the support team diagnose and hopefully solve the problem more efficiently.
The easiest way to find out what number to call is to search on Google for "your wireless carrier (Verizon, AT&T, etc.) wireless customer support number". For example, if you Google "Verizon wireless customer support number", you'll find the number at the top of the search results.
---
To wrap up, your iPhone 14 Pro is a powerful device designed to take advantage of 5G networks. If you're having trouble with 5G connectivity, follow the steps above to troubleshoot the issue. Remember that it might be something as simple as not being in a 5G coverage area or not having 5G activated with your carrier. But if all else fails, don't hesitate to contact Apple Support or your carrier–they're there to help!