Fix iPhone 15 Pro black screen of death issue with these easy troubleshooting steps!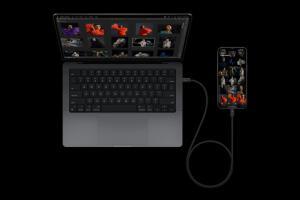 Did you place your iPhone 15 Pro on charge overnight and woken up to a black screen? Or took your iPhone 15 Pro out of your pocket and found the screen is black and won't respond?
Don't worry if your iPhone 15 Pro screen is black. There are a few simple ways to troubleshoot your iPhone 15 Pro if the screen is black and won't respond.
Note: information in this article apply to iPhone 15, iPhone 15 Plus, iPhone 15 Pro and iPhone 15 Pro Max.
KEY TAKEAWAYS
If your iPhone 15 Pro screen is black and unresponsive, it may simply mean the device is turned off or has a dead battery.
A black iPhone 15 Pro screen may also indicate a software crash, which can usually be fixed by performing a force restart.
In bright light, an iPhone 15 Pro screen that is at or near its darkest setting may appear black, so try increase the screen brightness. You can ask Siri to do this if you can't see the Control Center.
Black screen of death, eh? That's it, toss your iPhone 15 Pro in the trash and get a new one. Just kidding, of course — you should recycle it responsibly at an e-waste facility.
Actually, an iPhone 15 Pro with a black screen is probably no big deal. Ideally, it's just turned off, or maybe it has a dead battery. And in the event of a software crash causing an iPhone 15 Pro black screen problem, performing a forced reset will usually do the trick.
How to Fix iPhone 15 Pro Black Screen Problem
If your iPhone 15 Pro doesn't respond when you touch it, and the screen is black or unresponsive, follow the troubleshooting steps below to get it working again.
1. Recharge the battery
First, you can simply try powering the iPhone on. Just press and hold down the Side button until the white Apple logo appears on your screen.
However, if you do this and a battery icon appears on your screen or nothing happens at all, you may have to plug the phone in to a power source and wait to see if it had simply run out of battery.
2. Increase the screen brightness
Try increasing the screen brightness, a feature you can access from your iPhone's Control Center if screen brightness is the issue, as sometimes in bright light an iPhone 15 Pro screen at its darkest level appears black. You can also ask Siri to increase the screen brightness. Simply say, "Hey Siri, make the screen brighter."
3. Use a Different charging Cable and adapter
Try using a different charging cable and brick, as one of these accessories might be faulty, and your battery could be completely dead. Apple recommends using only certified charging accessories, especially if you're having issues.
If you leave the phone connected to power for an hour and the screen is still black, please contact Apple Support to run diagnostics and fix your issue.
4. Clean the charging port
Dust and debris could keep your iPhone from charging properly. Inspect and clean the charging port. If necessary you can gently blow into the USB-C port, or use a wooden toothpick to try to remove anything that's stuck in the port. Once it's clean, connect the iPhone to power and let it charge for about 10 minutes. After it's charged for a short while, check if the black screen problem is gone.
5. Force restart your iPhone
If the above solutions didn't work and you suspect your iPhone 15 Pro is on, just frozen on the black screen, perform a force restart. This will get rid of minor software glitches which could be preventing your iPhone 15 Pro display from turning on.
If your iPhone 15 Pro screen went black overnight, performing a force restart should also fix the issue.
Press and quickly release the volume up button
Press and quickly release the volume down button
Press and hold the side button until you see the Apple logo
Release the Side button.
You may want to do a force restart a couple of times, and while connected to power if it doesn't immediately work. If this doesn't fix the iPhone 15 Pro black screen issue, move on to the next troubleshooting step.
6. Squeeze your iPhone
If you are still experiencing problem, gently, but firmly press your phone from both sides, squeezing the front and back together. If there's a loose LCD connection, this could help reseat the connection and get the screen working again. If this works, consider taking your iPhone to an Apple Store or an authorized Apple technician to have them firmly reseat the LCD cable.
Pro Tip: If your iPhone is in a case, remove it from the case before you start this process so that you can accurately gauge how much pressure to put on your phone without breaking the screen.
7. My iPhone 15 Pro screen is still black. What do I do next?
If you've tried all the fixes above, and your iPhone 15 Pro screen is still black, it's time to contact Apple Support.
There are plenty of reasons why your iPhone 15 Pro screen might turn black, and unfortunately, this can sometimes include the failure of key components inside your device that can only be repaired by Apple or an authorized Apple technician.