After downloading a file in Safari, it's not always easy to find where it stored on iPhone. Here's where Safari downloads go and how to find them on your iPhone.
QUICK ANSWER
By default, Safari downloads on iPhone go to iCloud drive. To find your downloads, open Files > Browse, and in iCloud Drive, tap Downloads.
While browsing the web in Safari on your iOS device such as iPhone 15, it's common to need to download files from different websites. But sometimes it can be a challenge to find where these Safari downloads are saved on your iPhone.
Where Do Safari Downloads Go on iPhone?
By default, Safari stores all your downloaded items in the Downloads folder on iCloud, making them available across any iPhone, iPad, Mac, or Windows device signed in to the same iCloud account.
Where to Find Safari Downloads on iPhone
Unless you've chosen otherwise, items that you've downloaded from Safari automatically go to Downloads folder on iCloud.
Below are ways to find Safari downloads on your iPhone
Find downloads in the Files app
open the Files app on your iPhone.
Tap Brouse at the bottom right corner of the screen.
Tap iCloud Drive.
Tap the Downloads folder to see your downloaded files..

If you just downloaded a file from Safari
Next to the search field in Safari, tap the Page Settings button .
Tap the Downloads button.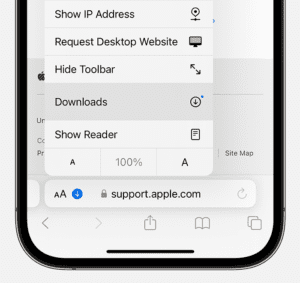 FAQs
Can You Customize the Default Save Location in Safari on Your iPhone?
Yes! Here's how to change the location where Safari on iPhone downloads the files:
Open the Settings app, scroll down and tap Safari.
Tap Downloads.
Select Other.
Choose any folder inside iCloud Drive or On My iPhone and tap Done. You can also tap the folder plus icon to create a new folder and set it as the download location.
From now, any file you download in Safari will be saved inside this folder from where you can easily access this.
Can You Access Your Safari Downloads from Other Apple Devices Signed Into the Same Apple ID?
Yes! If you save downloaded files in iCloud Drive, the files will be available across any iPhone, iPad, Mac, or Windows device signed in to the same iCloud account.
_Note: _Make sure you're signed in with the same Apple ID on each device. If you have devices where you're not signed in with your Apple ID or that have iCloud Drive turned off, you won't be able to access your files on those devices.