The iPhone is one of the most popular smartphones in the world, loved by millions of people for its sleek design, intuitive user interface, and powerful features. However, one thing that many users have been clamoring for is the adoption of USB-C as the standard charging and data transfer port on the iPhone, instead of the proprietary Lightning port. While USB-C has been widely adopted by other smartphone manufacturers, Apple has remained steadfast in its commitment to Lightning. So, why is that?
There are several factors at play here, both technical and strategic, that have led Apple to stick with Lightning for its iPhones.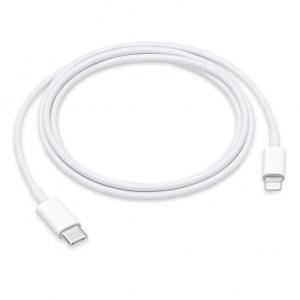 Firstly, it's important to understand the history behind the Lightning port. It was introduced with the iPhone 5 in 2012, replacing the 30-pin Dock connector that had been used on previous iPhones. At the time, the Lightning port was a significant improvement over its predecessor, offering faster data transfer speeds, improved durability, and a reversible connector that made it much easier to plug in. In addition, the smaller size of the Lightning port allowed Apple to make the iPhone thinner and lighter.
Since then, Lightning has become a ubiquitous feature across Apple's mobile devices, including iPhones, iPads, and iPods. It has also been embraced by a wide range of third-party accessory manufacturers, who have developed everything from charging docks to headphones that connect via Lightning.
However, over the past few years, USB-C has emerged as a new standard for charging and data transfer across a wide range of devices, from laptops to smartphones. One of the key advantages of USB-C is that it is a universal standard, meaning that it can be used across multiple brands and devices. This has led to widespread adoption of USB-C by other smartphone manufacturers, including Samsung, Google, and OnePlus.
So, why hasn't Apple made the switch to USB-C on its iPhones?
One of the primary reasons why iPhones still don't have USB-C is because of Apple's proprietary ecosystem. The Lightning port was introduced in 2012 with the iPhone 5, and it has been used in all iPhones since then. The port has become an integral part of Apple's ecosystem, with many accessories, such as headphones and charging cables, designed specifically for the Lightning port. If Apple were to switch to USB-C, it would not only require a significant investment in new accessories but also risk alienating loyal customers who have already invested in Lightning accessories.
Another reason why iPhones still don't have USB-C is because of the design constraints of the iPhone. Apple has always been known for its sleek and minimalistic designs, and the Lightning port has allowed the company to maintain this aesthetic. The port is small and can be integrated into the iPhone's slim form factor. USB-C, on the other hand, is larger and would require a redesign of the iPhone to accommodate the port. This would likely result in a bulkier phone, which goes against Apple's design philosophy.
There is also the issue of data transfer speeds. While USB-C is faster than Lightning, the difference in speed is not significant for most users. Apple has been able to optimize the Lightning port to deliver fast charging speeds and reliable data transfer. In fact, the Lightning port is capable of transferring data at speeds of up to 480 Mbps, which is more than enough for most users. This is why Apple has not felt the need to switch to USB-C.
Moreover, Apple has been hesitant to adopt industry standards in the past. The company has always preferred to create its own proprietary technologies, such as the Lightning port and the MagSafe charging system. This approach has allowed Apple to maintain control over its ecosystem and ensure a consistent user experience. While USB-C is a widely adopted industry standard, it does not provide the level of control that Apple desires. The company would have to rely on third-party manufacturers to produce USB-C accessories, which could result in inconsistencies in quality and performance.
However, it is worth noting that Apple has begun to embrace USB-C in other products, such as the MacBook Pro and iPad Pro. The company has realized that USB-C offers several advantages, such as faster data transfer and the ability to connect to a wider range of peripherals.
Another reason why iPhones still don't have USB-C is because of the cost of switching. Apple would have to invest in new manufacturing equipment and processes to switch to USB-C, which could be a significant financial burden. The company would also have to retrain its employees on how to work with the new technology. This would take time and resources away from other projects, which could impact Apple's bottom line.
There is also the issue of backwards compatibility. While USB-C is a versatile and future-proof technology, it is not backwards compatible with older devices that use USB-A or micro-USB. This means that consumers would need to purchase new cables and adapters to use their old accessories with a USB-C iPhone. Apple would also need to provide an adapter for consumers who want to charge their iPhone using a USB-A port on a computer. This could result in confusion and frustration for consumers, which is something that Apple wants to avoid.
Finally, there is the issue of security. Apple has always prioritized security and privacy in its products, and the Lightning port allows for a higher level of security than USB-C. The Lightning port is a closed system that only allows authorized accessories to connect to the iPhone. This ensures that users are protected from malicious accessories that could potentially harm their device or steal their data. While USB-C has security features, it is not as secure as the Lightning port.
It's worth noting that tHE AGE OF the Lightning cable is coming to an end. The European Union already passed legislation requiring all phones, tablets, and cameras sold in the EU to come with a USB-C connector. It's a big move that spells doom for Apple's proprietary port; most phones sold around the world charge and connect to accessories using the USB-C standard, but iPhones do not.
The EU legislation was first proposed in September 2021 after the European Parliament said it had spent years trying to get companies to voluntarily agree to rely on one type of connector. The USB-C requirements are expected to go into effect by the end of 2024. Starting in 2026, the requirement will also apply to laptops. Devices that charge wirelessly do not yet have to adhere to any specific standard, but most (including iPhones) are already compatible with the Qi charging system.
Read More: