You use your iPhone's speakers all the time: to play music, listen to your voicemail, make phone calls, and more. But what can you do if your iPhone 14 Pro Max speakers are not working? In this article, I'll explain why your iPhone 14 Pro Max speakers are not working and show you how to fix the problem.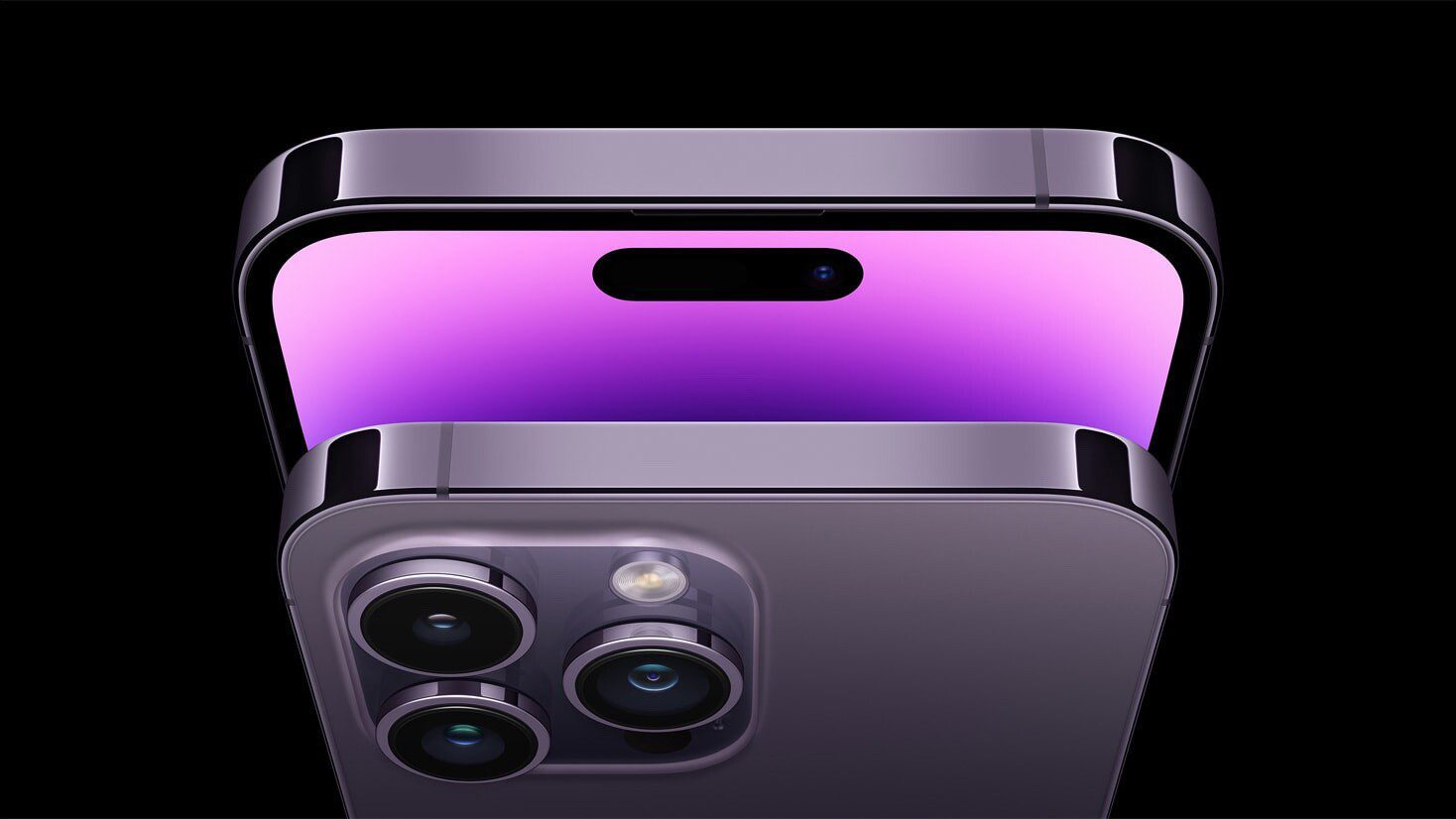 The iPhone 14 Pro Max is an amazing device, but like any other smartphone, it has a few parts that are vulnerable to glitches and malfunctions. At the top of the list are the speakers and microphones, simply because they are analog devices with tiny vibrating parts.
And if your iPhone 14 Pro Max speakers are not working, that's a serious problem — you can't hear phone calls, voicemails, music, podcasts, or notifications. Here are twelve best ways to troubleshoot your iPhone 14 Pro Max speakers not working issue and hear your audio once again.
Note: information in this article apply to iPhone 14, iPhone 14 Plus, iPhone 14 Pro and iPhone 14 Pro Max.
Why are my iPhone 14 Pro Max speakers not working?
Here are the most common reasons why your iPhone 14 Pro Max speakers are not working:
Silent mode is turned on.
A Bluetooth accessory is connected.
The speakers on your iPhone need to be cleaned.
Your operating system needs to be updated.
Physical or liquid damage.
Headphone glitch
Airplay is connected.
Now that you know why your iPhone 14 Pro Max speakers are not working, let's jump into the fixes.
How to fix iPhone 14 Pro Max speakers not working issue
1. Restart your iPhone
As with most technology, a restart of your iPhone can help fix many issues your device might have. It's always worth taking a few moments to restart your iPhone by powering it off and then on again. This simple step will help reset any software issues that might have caused your iPhone 14 Pro Max speakers to stop working. Here's how:
Press and hold the Side button and one of the volume buttons on your iPhone until the power off slider appears.
Drag the slider to turn off the iPhone, then wait 30 seconds.
To turn your iPhone back on, hold down the Side button and release it when the Apple logo appears.
2. Clean your speakers
When dirt and debris get trapped in your device, they can clog your iPhone 14 Pro Max speakers causing them to stop working. To avoid this, make sure to clean them regularly to protect them from damage. Here's how:
Remove any plastic film, cases, or screen protectors from your iPhone.
Gently clean your speakers using a small soft-bristled brush. Make sure the brush is dry and clean before using (a new toothbrush works well).
3. turn the volume all the way up
If the volume on your iPhone is turned down, you might not be able to hear anything. To check the sound volume:
Unlock your iPhone and hold the Volume Up button (on the left side) to raise the volume level.
You can also use Siri by saying, "Hey Siri, turn up the volume."
4. Check the sound settings on your iPhone
There are a few ways to do this.
Focus Mode
When Focus Mode is on, many calls and sounds will be silenced. Make sure Focus Mode is turned off by going to Settings > Focus and switching it off.
Silent Mode
Confirm that your Silent Mode switch, located on the upper-left side of your device, is set to Ring rather than Silent. Just push the switch forward toward the screen so the orange isn't showing. (If you do see orange, that means your device is in Silent Mode.)
Check Ringer
This will help you determine whether your iPhone 14 Pro Max speakers are damaged and need to be repaired or replaced.
Head over to Settings > Sounds & Haptics.
Drag the sound volume slider back and forth a few times. If you hear a sound, you're good to go. If there isn't any sound or the speaker icon is dimmed, your iPhone 14 Pro Max speakers may be damaged. If this is the case, your device's speakers may need servicing.
5. Update iOS
An outdated operating system can occasionally cause iPhone 14 Pro Max speakers to stop working. To avoid this, check to see if any new iOS updates are available.
Plug your iPhone into a power source and connect it to the internet.
Navigate to Settings > General > Software Update.
If a software update is available, hit Download and Install > Install. If not, your iPhone is up to date.
6. Disable silence unknown callers
If the Silence Unknown Callers setting is turned on, you won't hear calls from unknown numbers that aren't saved in your Contacts. (Those calls will be silenced, sent to voicemail, and listed in Recents.) To turn off this setting, go to Settings > Phone and tap Silence Unknown Callers, then switch it off.
7. Disconnect any Bluetooth accessories
If wireless headphones or other Bluetooth accessories are still connected to your phone after you're done using them, they can continue picking up a signal and cause your iPhone 14 Pro Max speakers to have no sound.
Go to Settings > Bluetooth.
If Bluetooth is turned on and paired to a device, unpair the device or turn Bluetooth off by tapping the switch.
8. Make sure you're not sending audio to AirPlay
Likewise, if you've recently used AirPlay to send audio or video to your TV or another AirPlay device, it's possible it's in AirPlay mode. To check, swipe down from the top right of the screen to bring up the Control Center and then tap the AirPlay icon at the top right of the music playback section. If another device is receiving audio with AirPlay, tap iPhone to revert back to your own device.
9. Make sure your iPhone is not stuck in headphone mode
Your iPhone can occasionally get stuck in headphone mode, making your device believe headphones are plugged in even when they're not, and muting the speakers. Here's how to fix this glitch:
Plug in a pair of headphones and unplug them again. This seems fairly obvious, but doing so could prompt your iPhone to recognize that the headphones have been unplugged this time, thereby taking it out of headphone mode. This is one of the most common fixes for the issue and tends to do the trick many times, so it's worth a try.
If you've been listening with Bluetooth headphones, your iPhone may believe that it's still connected to the headphones even after they turn off. Try turning off Bluetooth on your iPhone through the Control center or Settings app.
Make sure there's no debris of any kind in the lightening port. Even a small amount of dust can cause an issue, so it's worth cleaning with compressed air even if you can't physically see anything in there.
10. Reset all settings
Apart from force restart, factory reset is my go-to troubleshooter. Whenever a weird or a common issue crops up, this option can be given a try. For the iPhone 14 Pro Max speakers not working issue, this can work too.
Start the Settings app on your iPhone and navigate to General.
Select Transfer or Reset iPhone and then Reset.
Select Reset All Settings.
Now, you would be prompted to enter your iPhone passcode. After that, hit Reset All Settings again to finish.
Once your iPhone 14 Pro Max has rebooted, test the speakers to see if they are working.
11. Water Accident? Let It Dry
One of the most common consequences of water damage on your iPhone is a malfunctioning speaker. The liquid can quickly make its way to the internal component linked to the open grills. So if you've had speaker issues on your iPhone 14 Pro Max after such an accident, let your device dry off.
To dry out your iPhone's speakers, stand your phone at about a 45 degree angle with the speakers facing down. Use a lint-free cloth to catch any drips; any other absorbent material, including cotton balls, could further damage your device. If you think there's still water in any recesses, gently tap your device with the charging port facing down. Consider placing it near a small fan to increase air circulation.
Despite what you might have heard, you shouldn't seal your phone in a bag filled with rice. This can further corrode elements in your smartphone. However, you can try silica gel. You'll often find packets of this in new pairs of shoes, because they soak up moisture.
12. What If Your iPhone 14 Pro Max Speakers Still Don't Work?
If you've tried seemingly every possible method to fix your iPhone 14 Pro Max speakers problem but are having no luck, it may be time to reach out to Apple for further investigation. They'll be able to tell if your iPhone 14 Pro Max speakers are damaged, and fix or replace any relevant parts that are broken or malfunctioning. You can contact Apple Support by phone, online, or better yet if you're looking for a quick diagnosis go to an Apple Store. We suggestthat you book an appointment with the Genius Bar to avoid waiting in line at the Apple Store.
iPhone 14 Pro Max Speakers Not Working? These Fixes Should Have Helped!
With these possible fixes, you should hopefully be able to revive your iPhone 14 Pro Max speakers if it's just a software bug. In the case of a hardware problem, the only solution is to get your speaker replaced by Apple or fix it yourself with Self Service Repair.
Did any of our tips help you fix your iPhone 14 Pro Max speaker problems? If so, we'd love to hear which one! Let us know in the comments section below.