A major tool for college students and creative professionals alike, Apple's laptops have dominated the way users approach productivity on the go. Here are the 13 main advantages of Apple MacBook in 2023.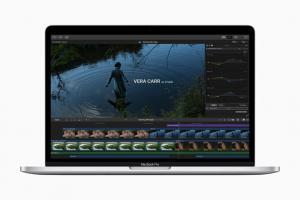 Advantages of MacBook
Here are some of the benefits of having a MacBook in 2022:
1. Relatively lightweight, sleek design
The main and the biggest advantage of Macbooks are they are one of the most lightweight laptops, which makes them easy to carry around. They come in a sleek design that looks good and sleek, unlike bulky laptops. They are thin enough to fit into a backpack without taking up too much space.
Apple lays a lot of emphasis on its product look and design. Mac Designs have been well thought of and have always had a  visual appeal. Apple is the first company which started the trend using aluminum body to design its system. Undoubtedly it has one of the best hardware.
2. Widescreen display is one of the main advantages of Macbook
One of the main benefits of MacBook is that they have a widescreen display and some Macbook models come with a built-in DVD player. With the widescreen display, you can view DVDs on your laptop. You can also connect an external DVD player to your Mac book to watch movies or burn discs.
3. Macbooks are easy to upgrade with the RAM and hard drive
The RAM and hard drive are two of the easiest upgrades for you to perform. One main benefit of a MacBook is its easy-to-remove battery that can be replaced with another MacBook battery.
4. Apple Ecosystem
Apple Ecosystem is one of the biggest Ecosystem there have ever been. No other company has even tried to come crosser to Apple. With your MacBook you can connect it to your iPhone, iPad, Apple Watch, Apple TV, Airpods or HomePod.
Apple Ecosystem allows you to do a lot of things around your MacBook with other Apple Devices. For example, you can start work on your MacBook, then switch to where you left on your iPhone or iPad. Better still, you can copy images, text pictures in one of your MacBook and then paste it on your Apple device by use of Apple Universal Clipboard.
5. Privacy
Privacy is essential especially in your devices. MacBook is not left behind in terms of privacy. Privacy in the MacBook is achieved in many ways like in the App Store when downloading apps, in Safari, with Apple Pay and also in communication.
Privacy in communication is done by that any communication in the MacBook is kept private by end-to-end encryption that protects your iMessage and FaceTime conversation across your device. Also when using Apple pay, any purchase done with your MacBook a unique transaction code is used which can not be saved or shared to any device. While when you are using Safari, your password is safely saved and safely monitored to prevent it from being re-used.
6. Less choices
Have you ever been into a market and ready to purchase a device, but you haven't decided on what to buy? If yes, then you know how it's hard to choose because of the many choices available in the market. But when it comes to the MacBook the case is not the same. This is because only Apple Company manufactures the MacBook. This monopoly of Apple makes it hard for you to get a fake MacBook.
7. MacBook is easy to set up
The process of setting up your MacBook is not complicated. You just need to sign in your iCloud account with your Apple ID and all information on your iPhone or iPad will automatically reflect on your MacBook. Also you can be having an old Mac or PC and you need to transfer accounts, settings or data to your MacBook you will just need to use immigration assistance.
8. MacBooks have good battery
Imagine you are working, studying or doing your stuff on your device and the power goes out and it takes like a whole day for the power to reconnect. Your device will probably run out of charge in like two hours, thus making you stop what you're doing. Good news with your MacBook, because it can stay upto twenty one hours with one single charge. This will be a good boon advantage of a Macbook if you have battery concerns.
9. Productivity
You just need to have your MacBook to bring your work to the next level. The MacBook is powerful, capable and packed with everything you need in your work. No matter what you are or what you do, the MacBook can make it happen.
10. MacBooks are durable
Although the MacBook is a bit expensive, you get the value of your money. They are made up of quality material that helps them to stay for many years without getting older. MacBook is made up of aluminum instead of plastic like the common laptops and instead of cheap circuitry they are made to withstand use for a long time.
11. Stable Performance
Mac OS X is more reliable than other operating systems. Mac systems rarely suffer crashes and system lockups as compared to other operating systems. The system has pre-installed programs which directly come from Apple and the programs are well tested and optimized to work well with hardware.
12. Mac Is Less Vulnerable To Viruses
Mac computers are less vulnerable to viruses and other malware. However, you should bear in mind that they are not 100? attack proof and basic precautions need to be taken.
13. Top Class Customer Support
Apple customer support is consistent and is a thousandfold better than most competitors. If anything happens to your Mac, you can book an appointment and take it to your nearest Apple Store. There, an expert will help you out both for hardware and software related problems.
These are some advantages of having a MacBook
A MacBook can add a lot in your daily routine like productivity in your work, privacy, long battery life that will allow you to work continues and many other benefits we have discussed above. With the above reasons it might be clear to readers that Mac is the machine of choice if you're looking for a powerful, reliable and durable computer. Therefore it is not hard to imagine that it is highly preferred by professionals such as musicians, sound engineers, graphic designers and architects, all thanks to it's stable and lag free performance.
See also: 30 Best macOS Monterey Tips and Tricks You Should Try First