Learn what to do if your iPhone gets wet accidentally.
The world suddenly freezes when you see your iPhone dunked in water. Whether it's in a pool, the sea, or a toilet, you know nothing good will come out of the next few seconds. After all, that's a high-tech device worth a significant amount of cash, and chances are it will be deemed unusable.
The iPhone 7 and iPhone 7 Plus were the first iPhones rated as IP67, which means the phones are resistant to splashes and can be submerged in just over three feet of fresh water for up to 30 minutes without damage.
Subsequent iPhone models, including the 8, 8 Plus, X, and XR have the same IP67 rating. But Apple took this water resistance further with the iPhone XS, XS Max, 11, 11 Pro, 11 Pro Max, and now with the iPhone 14, 14 Plus, 14 Pro, and 14 Pro Max.
In case you were wondering, the iPhone 12, iPhone 12 Mini, iPhone 12 Pro, iPhone 12 Pro Max, iPhone 13, iPhone 13 pro, iPhone 13 Pro Max all have a water resistance rating of IP68, the same as the previous iPhone 11, XS and XS Max. This means that they can withstand a 30-minute exposure in a little more than six feet of fresh water.
Note, however, that water-resistant isn't the same as waterproof. Any iPhone can still be damaged by heavy or frequent water exposure. With that in mind, you may want to learn how to fix a water-damaged iPhone.
Let's start by saying trying to rescue a water-damaged iPhone is a bit of a coin flip. Nothing can guarantee a positive outcome, but it's always worth trying. Our upcoming tips may give you a higher chance of success.
what to do if you dropped your iPhone in water,
1. Get it out of the water right away
I know it's hard to react quickly after such a devastating event, but you must snap out of it! The longer your iPhone stays underwater, the lower its chances of survival are. You must dig in and take that iPhone out of the water immediately. Yes… even if it's in the toilet!
2. Turn it off ASAP!
Once you've taken the iPhone out of water, shut it down immediately and let it stay that way. Even if it seems okay… it is important to shut it off just in case. Turning off the iPhone ensures that water doesn't reach and damage important internal components. While electronics are active. Water reaching operating components is more likely to cause irreparable damage.
3. remove the iPhone case, and take out the SIM card
If the wet iPhone is in a case, take it out. Remove the SIM card too. Leave the SIM card tray open so you don't trap water inside.
4. Wipe your iPhone off
We first have to try to get rid of all the excess water found on the exterior of your iPhone. Use a cloth or paper towel to dry out everything as much as possible. Just make sure you don't mess with the iPhone too much. Gently dry everything out without moving things around too much. All this water can still make its way inside the iPhone, which isn't good news.
You could try a vacuum cleaner
Of course, there are areas the paper towel can't access. And while we told you not to blow anything into the iPhone, we didn't tell you not to suction the water out. In fact, a vacuum cleaner can suck off bits of water from the iPhone without too much risk. Just make sure the suctioning doesn't make the iPhone move around excessively.
5. Time to dry out the water damaged iPhone
The hardest part is now, because it involves leaving the iPhone alone for some time. We know that simply waiting isn't easy, but it's necessary. If you have another iPhone or one you can borrow, make sure the SIM card is completely dry and stick it into the working handset.
So how do you dry your iPhone out?
Air Dry your iPhone
It may seem like an over-simplified solution, but simply letting your iPhone air dry is more effective than you might think. You could leave the iPhone on the counter or inside a drawer, but some people like giving it a little help. The idea is to put it in an environment that will ease its drying process. Next to a window works great, as the moving air (if the window is open) and sunlight might help a bit. It could also help to position a fan or air conditioning vent to blow on the iPhone to speed up the drying process. Resist the urge to check if the iPhone works; let it air dry for at least 24 hours, preferably 48, before turning it on.
6. Try turning it on and see what happens
So you did everything you could, and a few days passed. It's time to see if all your efforts paid off. Take the iPhone out of wherever you left it and put it all together. Then plug the iPhone in and try to turn it on. If it works, you have succeeded! Stay on the lookout for any odd behavior, though, at least for a few days. Also, test all the components. Make a call to see if the microphone and earphone work, test the speaker, etc.
What should I do if my iPhone got wet, and now its speaker sounds muffled?
Check to see if water is in the microphone or speaker: Place your iPhone, speaker side down, on a lint-free cloth and see if water drips out. Water in the port might degrade speaker or microphone performance until it completely evaporates. Dry your iPhone using the previous instructions.
How can you tell if your iPhone has water damage?
You can tell if your iPhone has water damage by removing the SIM tray and looking for a red color inside the SIM card slot.
If it's red, that means the Liquid Contact Indicator (LCI) has been activated and there is water damage. It should appear white or silver if there is no damage.
When you connect a Lightning cable or an accessory to your iPhone XS, iPhone XS Max, iPhone XR, or later, your iPhone can warn you if there's liquid in the Lightning port.
Charging not available: Appears if you connect your iPhone to a charger and liquid is detected.
Liquid detected in Lightning Connector: Appears if you connect an accessory to your iPhone that doesn't charge your iPhone and liquid is detected.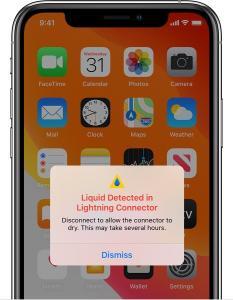 Does rice fix water-damaged iPhones?
Despite what you've heard, putting your iPhone in a bag of uncooked rice won't dry out your iPhone, and might actually do even harm than good. Dust, starch and small grains of rice can get lodged in the charging port. Instead, use silica gel packets. They are used in packaged and boxed products (such as shoes) to absorb moisture, and can do the same for your iPhone. Place a few silica gel packets under your iPhone and on top. Let the iPhone sit for a few hours while the silica gel packets absorb the water.
Can you blow-dry a water-damaged iPhone?
Blow-drying your iPhone when it's exposed to water is not recommended. Blow dryers can generate heat which may cause irreparable damage to iPhone's internal components. Blow-drying can also push water further into the iPhone instead of drying it out.
How do you remove water from iPhone's charging port?
To remove water from an iPhone's charging port, follow the steps below:
Tap it gently against your hand with the Lightning connector facing down to remove excess liquid.
Prop the iPhone against a wall so the charging port is facing down.
Leave it in a dry area with some airflow for a few hours.
Placing your iPhone in front of a fan blowing cool air directly into the Lightning connector might help the drying process.
If my iPhone gets wet, can I charge it?
If your iPhone has been exposed to liquid, disconnect all cables and do not charge your device until it's fully dry. Using accessories or charging when wet might damage your iPhone. Allow at least 5 hours before charging with a Lightning cable or connecting a Lightning accessory.
For wireless charging, wipe off your iPhone with a soft, lint-free cloth—for example, a lens cloth. Make sure that your iPhone is dry before you place it on a compatible wireless charging mat.
Does Apple cover water damage?
Apple's warranty does not cover water damage, so that one little drop that manages to find its way in may lead to hundreds of dollars less in your bank account.
With AppleCare up to two water damage accidents are covered, but you might have to pay an extra fee for the repairs.
What not to do when you drop your iPhone in water?
Do not turn on your iPhone, as we already mentioned. Electrical components don't play well with water when operating.
Don't plug it in, either! For the same reason.
Don't press any buttons. This can push water further into the iPhone. It's best to mess with the iPhone as little as possible.
Don't insert a foreign object, such as a cotton swab or a paper towel, into the Lightning connector.
Do not apply any heat to the iPhone. Remember, excessive heat can also damage the iPhone.
Don't move the iPhone around too much. Same deal; you don't want the water moving around inside the iPhone.
Don't dry your iPhone using an external heat source or compressed air.
Don't put your iPhone in a bag of rice. Doing so could allow small particles of rice to damage your iPhone.
Repair options for your iPhone
Now, if the iPhone doesn't work, it's time to accept defeat, take it to the nearest Apple store or authorized repair center, and see if it can be salvaged. You can also claim insurance if you have it. Not to sound like a doctor, but after this point, we have done everything we could. Sometimes you have to let the iPhone go.